Whiting Petroleum (NYSE:WLL) has had a good time on the stock market this year as the stock has shot up close to 120% in the past three months. However, of late, Whiting shares have been in trouble after the company reported a big earnings miss at the end of April. In fact, Whiting had posted a greater-than-expected loss of $0.85 per share as its revenue dropped almost 45% year-over-year.
As a result of its weak results, Whiting shares are down over 2% in the month of May. But, in my opinion, patient investors should continue holding on to Whiting shares and might even consider buying more stock. Let's see why.
Making the right operating moves
Whiting Petroleum is focused on increasing the efficiency levels of its production so that it can extract more oil at lower costs. The good thing is that the company has made impressive progress on this front in recent months. For instance, in the first quarter, Whiting entered into an agreement with an unnamed partner who has agreed to bear 65% of its well costs in the Williston Basin but at the cost of only half of the working interest. Additionally, Whiting has also received a cash payment of $30.7 million for wells that are already under development.
Due to this partnership, Whiting has decided to complete 44 well-bores in the Williston Basin as this will help the company in increasing its production at no additional cost. As such, the company has increased its production forecast for 2016 to a range of 131,400 BOE/day-136,900 BOE/day, while capital expenses will remain at $500 million.
The fact that Whiting will be able to raise production in the Williston Basin without raising capital expenses is not surprising. I'm saying this because the company has managed to bump up its capital efficiency in the area by deploying advanced production techniques. For instance, the latest completions in the Williams County area of Williston Basin revealed 60-day initial production rates that were more than twice of identical offset wells. This is shown in the chart below: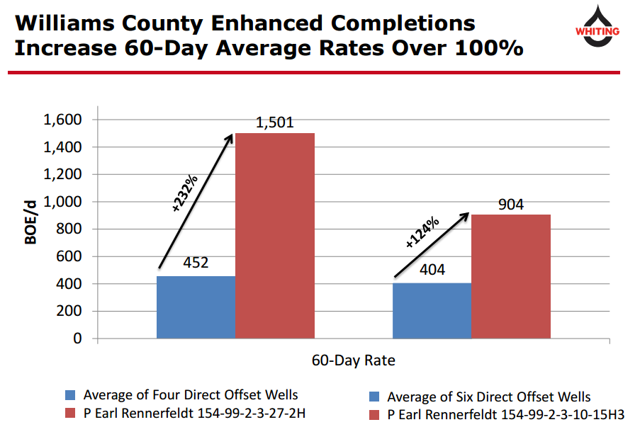 Click to enlarge
Source: Whiting Petroleum
As seen above, Whiting's initial production rates of its latest wells in Williams County has more than doubled. The reason behind the impressive increase in production rates at both the wells is the fact that Whiting has been deploying smart production techniques in these areas. For instance, the company has been using more frac sand volumes in the range of 7 million pounds at these wells, while also deploying diverter agents.
By using diverter agents, Whiting has been able to open up more points of entry in the shale formation by creating more fractures, apart from increasing the rate of oil flow. Meanwhile, in the Redtail area as well, Whiting has been able to cut its drilling times in half to just 4.44 days, with the best well drilled in just 2.79 days. The company was able to slash its drilling times at Redtail by modifying the well design. Whiting eliminated the intermediate casing string in this area by way of an in-built 5.5-inch casing from the depth to the surface.
Hence, by using higher frac sand volumes, using more diverter agents, and changing the well design, Whiting has been able to increase its production at lower costs. This is the reason why Whiting has been able to reduce the rate of decline in its gross profit margin of late, as shown in the chart below: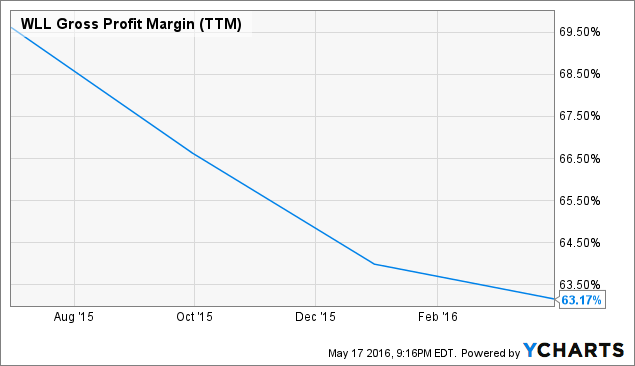 WLL Gross Profit Margin (NYSE:TTM) data by YCharts
Improving oil balance in the U.S. will be a tailwind
Whiting Petroleum stock has benefited from the resurgence in oil prices this year and it is likely that the trend of better oil prices will continue going forward. I'm saying this because oil production in the U.S. is currently on the decline due to weak capital spending. In fact, according to the EIA, crude oil production in the U.S. is set to go down to 8.6 million barrels per day in 2016. In comparison, oil production in the U.S. stood at 9.4 million barrels per day in 2015.
The decline in oil production in the U.S. is being driven by a curb on capital spending. For instance, in 2015, energy companies in the U.S. reduced their mining and exploration budgets by 35% to $87.7 billion. The trend of slashing capital budgets has continued this year as 60% of the top 30 oil companies in the country have reduced their spending forecasts by an average of 40%. As a result of further declines in capital spending, it is anticipated that oil production will further drop to 8 million barrels per day in 2017.
To complement the reduction in oil supply, the demand will increase in both 2016 and 2017. This year, it is anticipated that oil demand will increase by 120,000 barrels per day, and then go up by a higher quantum of 190,000 barrels per day in 2017. As the demand for oil rises and production declines, the excess inventory of oil in the U.S. will come down and lead to better pricing, which is exactly the reason why oil prices have been on the upswing in the past few months.
Conclusion
Whiting Petroleum shares have hit a roadblock of late due to a weak quarterly result, but investors should not miss the bigger picture. The company has taken smart steps to improve its production profile and reduce costs, while positives in the U.S. oil patch will continue to drive oil prices higher. So, in my opinion, it will be a good idea for investors to buy more shares of Whiting Petroleum and take advantage of the weakness in its share price.
Disclosure: I/we have no positions in any stocks mentioned, and no plans to initiate any positions within the next 72 hours.
I wrote this article myself, and it expresses my own opinions. I am not receiving compensation for it (other than from Seeking Alpha). I have no business relationship with any company whose stock is mentioned in this article.