Digital Realty (NYSE: DLR) was already poised to have a great week, as it replaced Time Warner Cable (NYSE: TWC) in the S&P 500 after the close of trading on Tuesday, May 17th.
Digital will join Equinix, Inc. (NASDAQ: EQIX), as the second data center REIT to be included in the prestigious S&P 500 index. Equinix is the largest data center REIT by market cap. It is primarily focused on "retail" colocation and interconnection and is Digital's third largest tenant measured by revenue.
Digital is the largest data center REIT measured by square footage, with a fleet of more than 130 data centers, containing over 24 million square feet.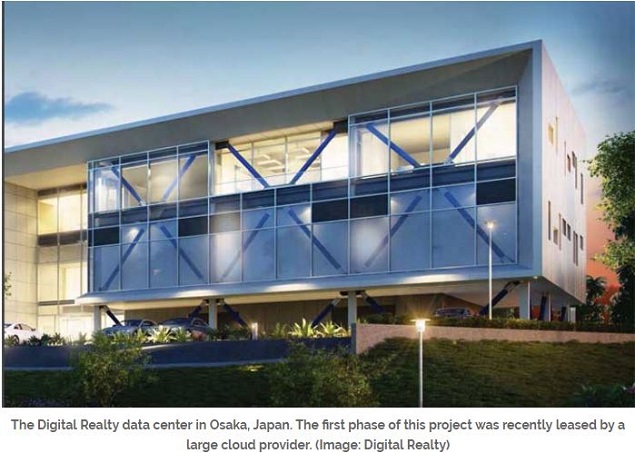 Source: Data Center Frontier - DLR
Digital's Unexpected Win
Christmas came early for Digital Realty shareholders, who woke up on Monday to news that DLR had negotiated a deal with Equinix to acquire one data center and assume the leasehold interests for seven others. The European Commission required Equinix to divest these eight locations in conjunction with the Equinix approval to acquire competitor TelecityGroup.
This was clearly a huge win for Digital Realty, which is looking to grow its Telx interconnection focused colocation business. Digital, traditionally a wholesale data center REIT provider, made a pivot toward connectivity when it purchased Telx for $1.9 billion last year. The Telx acquisition made Digital a competitor in the US with Equinix in some markets.
This portfolio increases Digital's footprint in London and Amsterdam, and will provide Digital with an immediate presence in the Frankfurt market. Digital had recently announced that it had bought land suitable for a three-building campus in Frankfurt. This is a strategic market Digital has been eyeing for some time.
Tale Of The Tape - New Highs
During the past 52 weeks, DLR shares have traded in a range of $58.92-$98.49 per share.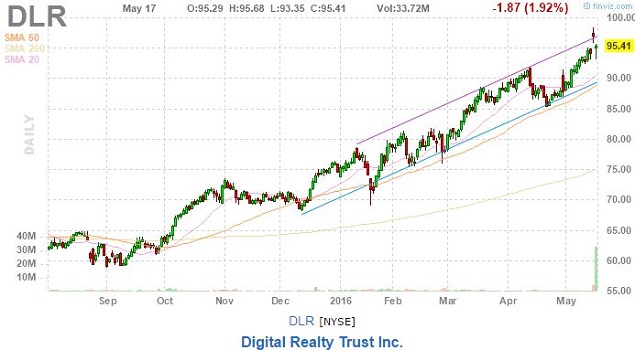 Digital is funding the EQIX/Telecity deal with proceeds from a 13,225,000 share offering, including a 1,725,000 share underwriter greenshoe. The DLR secondary priced at $96.00 per share, near all-time highs.
Digital shares are up 27.5% year-to-date. The institutional investor demand for the secondary offering at this price level was impressive. The conservative approach of CEO Bill Stein has resulted in what looks to be a great deal for Digital shareholders.
According to the Digital release, the price of $874.4 million was based upon 13x full-year 2016 portfolio EBITDA for the eight data centers. This should make the EQIX/Telecity deal immediately accretive.
Customer Acquisition
The acquisition of 650 existing EQIX customers collocated in these data centers, may be even more valuable. These data centers are network-dense, highly interconnected facilities, which Telx would manage. It can take many years to create these interconnected customer "ecosystems" from scratch. These are a different data center "product" than traditional Digital Realty wholesale facilities in Europe.
Equinix does not typically offer customers large footprint options. These new customers will also represent an opportunity for Digital to cross-sell its wholesale "Scale" product offerings available around the world. It is unclear at this time how many of these customers represent new logos for Digital Realty.
EQIX - An Undesirable Outcome?
Equinix CEO Steve Smith had mentioned during presentations and on earnings calls that one of his goals was to divest the Telecity EU data centers without creating a new competitor in Western Europe. Selling them all to Digital Realty was an outcome that Smith clearly was looking to avoid.
Here are highlights from the Equinix release:
"As a condition of obtaining clearance from the European Commission in November 2015 for Equinix's acquisition of TelecityGroup plc, Equinix selected and agreed to divest the following facilities: TelecityGroup's Bonnington House, Sovereign House, Meridian Gate and Oliver's Yard data centers and Equinix's West Drayton data center in London; TelecityGroup's Science Park and Amstel Business Park I in Amsterdam; and TelecityGroup's Lyonerstrasse data center in Frankfurt."

"Additionally, Equinix has separately negotiated with Digital Realty a binding option for Equinix to acquire Digital Realty's operating business including its real estate and facility in St. Denis, Paris where Equinix has an established presence with its PA2 and PA3 International Business Exchange (IBX®) data centers."
Digital was able to offer up a consolation prize, a definitive contract for Equinix to purchase the Paris assets, which it currently leases.
Equinix had historically leased the majority of its data center locations. However, after REIT approval in 2015, Equinix announced the intention to increase the revenues it receives from owned vs. leased properties.
The evolving relationship between Digital Realty and its large tenant, Equinix, continues to become more complex.
Digital Gains Inventory To Lease
The EQIX/Telecity properties include: five leasehold interests in London, one fee-simple and one leasehold in Amsterdam, and one leasehold in Frankfurt, totaling 454,000 gross square feet. The leases have an average of 23 years remaining term.
According to the Digital release: "These clients are predominantly concentrated in the network, cloud and IT services, content and digital media and financial services verticals, and are expected to be highly complementary to Digital Realty's target customer verticals."
In aggregate, there is a total of 213,000 net rentable square feet. The current 72% average utilization will provide Digital with cash flow from day one. It appears that there is a significant upside opportunity over time from expansions and new leases.
Digital Realty will have 62,700 SF and 6.9 MW of available IT load available to lease immediately, with expansion capable of supporting another 88,900 SF and 14.9 MW of load.
Digital's 8-K filing revealed 4.5 MW can be added adjacent to Bonnington House in the Docklands (London), and 7.7 MW can be added on a phased basis in the Amsterdam Science Park. These areas were described by Digital as being "high-connectivity hubs."
Digital's US Expansions
Given the strong results announced by publicly traded peers for Q1 2016, Digital Realty just reported a "solid quarter" by comparison. However, Digital did not have much inventory available in many of the top US markets.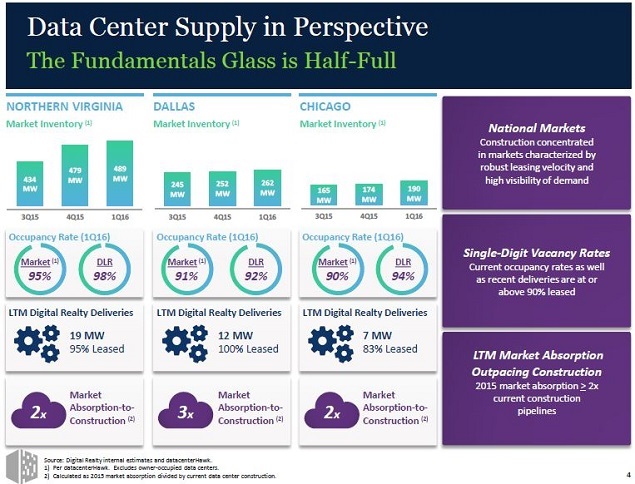 Source: Digital Realty - Q1 2016 presentation
In Digital's Q1 2016 Supplemental, there was a detailed description on pages 41-44 of expansions and active developments underway.
These included Dallas with 24 MW scheduled for November 2016, Chicago with a 16 MW new expansion, and Ashburn, VA where 30 MW is being added to build-out the remaining phases of Digital Loudon Plaza.
In December 2015, Digital closed on 125.9 acres of undeveloped land located one mile from its Loudon Plaza campus in Northern Virginia.
The recent "cloud burst" of leasing activity by hyperscale public cloud providers has accelerated absorption of data center space in all of these markets, as well as in the Silicon Valley.
It looks like Digital will be well positioned for 2017, with more space available for lease in top US markets, and fertile ground to cultivate in Europe.
If you are unfamiliar with Digital Realty, an SA article I wrote in April 2016, is available here. It highlights the significance of the Telx acquisition, and provides background and a context to appreciate the significance of Digital's expansion into Western Europe.
Additional information on the data center REIT sector can be found in a recent SA interview piece, and in "My Top REIT Ideas For 2016 - Shining The Spotlight On Data Centers," published in early January, which I update regularly.
Investor Takeaway
Digital Realty had previously announced that Telx was expanding in Ashburn, VA, where it had not previously been a tenant prior to acquisition by Digital last year.
This week's announcement, moves up the timetable significantly for Telx to expand in Western Europe. This was not contemplated in previous guidance. Digital planned to initially focus on expanding Telx in US markets, prior to expanding in Europe.
Clearly, the Equinix goal to divest the Telecity data center properties without creating a major competitor in Europe was not achievable. It appears that Digital's strong balance sheet won the day, as time was running out for Equinix to announce a definitive deal for the divestitures.
While the European Commission must still approve the deal, it would appear that would be a slam-dunk. Establishing Telx as a new competitor in Western Europe, along with Equinix and Amsterdam-based InterXion, is an excellent outcome for Digital Realty shareholders.
The ability for Digital to float such a large secondary offering at close to 52-week high share prices appears to be icing on the cake. Digital remains the only data center REIT with an investment grade rated balance sheet. This announcement underscores the competitive edge that it gives Digital compared to its peers.
I relentlessly hunt for diamonds in the rough and rising stars, in addition to closely following data centers, covering REIT blue chips and breaking news. Please consider following me as a Seeking Alpha author if you would like to be notified when my future articles are published.
Disclosure: I/we have no positions in any stocks mentioned, and no plans to initiate any positions within the next 72 hours.
I wrote this article myself, and it expresses my own opinions. I am not receiving compensation for it (other than from Seeking Alpha). I have no business relationship with any company whose stock is mentioned in this article.