The last week and a half has been a bloodbath in the retail sector with basically every major brick-and-mortar retailer seeing significant losses. Nordstrom (NYSE:JWN) alone saw over 13% fade away on Friday the 13th (there is another coincidence to bolster the superstition) thanks to missing estimates amidst dropping consumer spending. Other giants like Target (NYSE:TGT), Wal Mart (NYSE:WMT), and Macy's (NYSE:M) saw much of their recent gains evaporate over the course of the last week as well.
Nike (NYSE:NKE) and Under Armour (NYSE:UA) (NYSE:UA.C) managed to hitch a ride on the retail concerns as well and are down further than the S&P 500 as concerns about consumer spending mixes with China concerns and a host of other issues.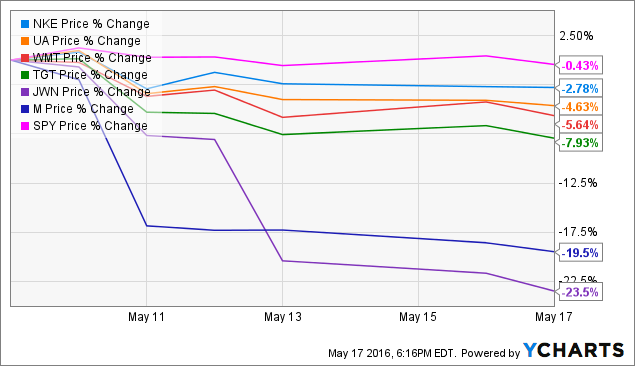 While the long-term promise of traditional retailers seems to be eroding thanks to consumer spending habits and the unanswerable domination of Amazon (NASDAQ:AMZN) both Nike and Under Armour appear to have bright futures despite all the doom and gloom.
Athleisure
What a fun word. Athleisure is the blending of athletic and leisure wear and it is a beautiful market. To see the proliferation of this trend one must only observe the dress of those around them, or look at their own. It is now not just socially acceptable but encouraged to wear the most comfortable clothes you can. Basketball shorts and sneakers for men and yoga pants and tank tops for women is now the norm. Less prevalent are jeans, khakis, and casual-dress attire. Instead of self-drying jackets and wearing our pants inside out (yes, Back to the Future reference) we have "workout" clothes even though they many won't ever see a workout.
There is actual data to back this notion up, thankfully. In October of 2015 Morgan Stanley published a very enlightening article explaining the worldwide growth of this segment. At the time of it's writing sportswear and footwear was a $270 billion industry and estimates are that by 2020 it will be over $350 billion. This 30% in growth is expected to occur thanks to a rising number of high-school athletes, heavy Chinese participation in the market, and a growing awareness to the benefits of a healthier lifestyle.
Both of these companies have been capitalizing on this growing segment as seen in their revenues.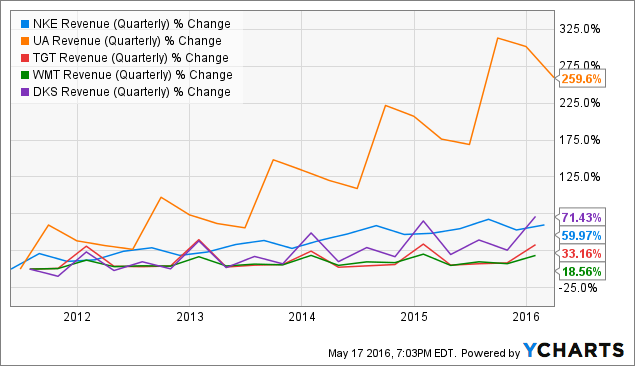 NKE Revenue (Quarterly) data by YCharts
Over the past five years Nike and Under Armor revenue has increased 60% and 260% respectively while other major retailers have underperformed these two. While this isn't a hit piece on major retailers it is important to see the shift in consumer preference. Notice the growth as well in Dick's Sporting Goods (NYSE:DKS) revenue. The company is benefiting greatly from the increased success of Nike and especially Under Armour. This further illustrates the shift of consumer dollars to athletic wear.
Direct To Consumer Sales
A metric easily glanced over in both of their recent quarterly filings is the growth in direct to consumer sales. Both companies have been expanding their presence, both online and in factory stores, and greatly improving the relationship they have with consumers. This improving relationship is having a material effect on revenues and is easily seen in DTC sales.
Nike provides the most data on this aspect of their business and the last quarter was impressive. DTC sales grew by 29% (currency neutral) thanks to strong showings by Nike owned website sales and factory owned stores. In the last quarter the company reported just over $8 billion in revenues and 27% of that came from DTC channels. Inside that figure the Nike owned websites saw a 56% growth in sales and accounted for 27% of overall DTC, a 6% YoY increase. Comparable store sales grew by 10% and the company continues to grow its footprint. Their improving relationship with the consumer is creating a great vehicle for revenue growth and the company is generating large amounts of sales on their websites.
Not to be outdone, Under Armour is posting impressive direct to consumer figures as well. Their DTC figures grew by 33% for their quarter and settled at $266 million of the $1 billion total. To ensure this number continues to grow QoQ the company is investing heavily in itself and increased selling, general and administrative expenses by 27% YoY. The company plans to open 200 retail stores in 2016 across the globe in different formats. This expansion will greatly increase their presence and grow the higher margin DTC segment.
The Future Is Bright
Both companies have been showing strong organic growth. The athleisure market will continue to grow and by improving their DTC sales channels both stand to benefit greatly. The retail landscape is changing rapidly and consumer priorities are shifting away from traditional stores. With Nike and Under Armour executing well on their plans there is no reason both companies cannot succeed and share this huge market space. With two passionate and focused CEOs and the future looks pretty good from here. The recent weakness in the overall retail landscape is providing more buying opportunities for these companies as they came off their highs, and personally I would like to increase my stake in both but will probably wait and see if I can't get a better deal in the coming weeks.
Disclosure: I am/we are long NKE, UA.
I wrote this article myself, and it expresses my own opinions. I am not receiving compensation for it (other than from Seeking Alpha). I have no business relationship with any company whose stock is mentioned in this article.