Although the poorly laid plans of the TSA interfered with our usual posting schedule this week, we're fortunate in that recent developments in the market are giving us something far more interesting to write about today that what we might otherwise have discussed this past Monday.
Picking up on the market's action from last Friday, 13th May, 2016 through Tuesday, 17th May, 2016, it would appear that investors are shifting their focus away from the more distant future represented by 2016-Q4 toward the nearer-term future of 2016-Q3. You can see the small magnitude shift take place in the following chart over the last several days.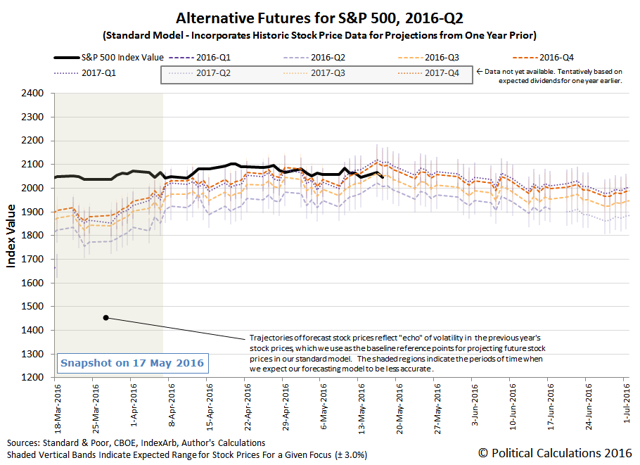 Click to enlarge
With the relatively tight compression of the alternative futures that stock prices might take dependent upon how far forward investors are collectively looking into the future, this particular Lévy flight in the trajectory of the S&P 500 (NYSEARCA:SPY) is almost indistinguishable from noise.
But we might get a bigger, more volatile response if certain Fed officials get their way and if the U.S. economy is able to show additional signs of strength, which the Fed would take as a green light for hiking short-term interest rates sooner rather than later as investors had previously believed. You can see the news that moved investors to shift their forward-looking focus to the nearer term in the headlines of note that we recorded over the past seven trading days, spanning all of week 2 of May 2016 and the first part of week 3...
9th May, 2016
10th May, 2016
11th May, 2016
12th May, 2016 - This is the day when hawkish Fed officials really began to get to work in attempting to direct the attention of investors to the nearer-term future, which they did by indicating that they want a rate hike much sooner than investors have been expecting.
13th May, 2016 - And the hits just kept on coming!
16th May, 2016
17th May, 2016

Fed officials say 2-3 U.S. rate hikes possible this year - the "Fed officials" in the story are Atlanta Fed President Dennis Lockhart and San Francisco Fed President John Williams. Lockhart would be the seventh Fed official in the last week calling for a short-term interest rate hike to happen sooner.
Why, it's as if the Fed's minions are working overtime to set investor expectations! At least until they might get mugged by a different reality...
If the Fed's June 2016 meeting becomes a "live" meeting for implementing a rate hike, U.S. stock prices can be expected to converge with the trajectory our dividend futures-based model is projecting for 2016-Q2, which would mean the S&P 500 would fall from its present level. Potentially by as much as 200-240 points by the time the meeting concludes, given the current expectations for future dividends.
But if the Fed is prompted to back off its rate hike plans, the S&P 500 would only be likely to move sideways from where it is now, plus or minus three percent. At least, in the absence of a noise event that might prompt stock prices to deviate from our futures-based model's projected trajectories.