Lately retail stocks have been getting hammered, and there is a perception that weakness in retail sales should be reflected in the price of the landlords. Normally, I would agree with that type of logic, but not this time. One of the biggest landlords is Realty Income Corporation (NYSE:O) and their share price reflects anything but a troubled company. The reason Realty Income Corporation doesn't get punished when retail sales disappoint is because of the way they structure their portfolio of investments.
Take a look at some of the key metrics for Realty Income Corporation: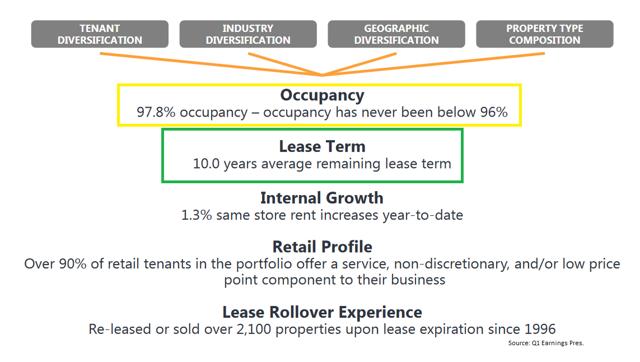 Click to enlarge
I put a yellow box around the occupancy numbers to highlight that the current occupancy rate is actually fairly low for Realty Income Corporation. Most landlords would consider 97.8% to be very high but Realty Income Corporation often has this value over 98%.
The green box around the lease term indicates one of the major reasons that Realty Income Corporation doesn't get hammered with retail stocks when retail sales are disappointing. Realty Income Corporation has an average remaining lease term of 10 years. These revenues are already contractually agreed upon with the client. These are not apartments where renters can simply move out after giving notice. So long as renters are not defaulting, a substantial portion of Realty Income Corporation's revenue for the next several years is already under contract.
Weak sales by the retail companies will send retail stocks lower much quicker than it will send retail bonds lower. Since Realty Income Corporation is setting long lease terms, they would be vulnerable to a tenant going bankrupt or to slowly losing their occupancy rate if the industry got decimated but a slight pullback in retail sales does not generate a material weakness in their business structure. Occasional weak retail sales can even be positive since Realty Income Corporation will still want to acquire new properties. The REIT can access capital very effectively and that makes them a useful partner for many retail chains that cannot finance their own property as cheaply as the REIT can. This simply comes back to the WACC for Realty Income Corporation being lower than it is for the tenants.
Of course, Realty Income Corporation wouldn't want to sign a long-term lease with a tenant of poor credit quality. They don't want to have tenants defaulting, but they do want to be able to buy properties from motivated sellers. A lower price on the physical real estate would result in immediately having a higher capitalization rate and the FFO generated from new investments is important to the growth of dividends.
A Conservative Balance Sheet
Another reason for the lack of vulnerability to weaker retail sales is the very strong balance sheet. A company with less leverage should generally be less volatile. As you can see, the balance sheet is very conservative: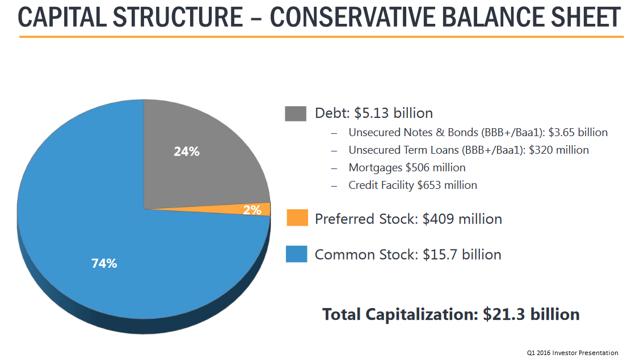 Click to enlarge
The total capitalization of the REIT relies heavily on common stock. The lack of leverage here results in less volatility. To be fair, I think a little more debt would be perfectly reasonable in the capital structure but the high share price is giving the highest quality triple net lease REITs a favorable environment for issuing new shares.
The preferred stock is a fairly small part of the financing structure for O. I expect them to call the shares as soon as they are eligible for a call and to issue a new series of preferred stock at a lower coupon rate.
As an example of the issuing new equity, STORE Capital (NYSE:STOR) recently indicated another issuance. When a triple net lease REIT announces issuance of new shares, it typically sent share prices lower for a day or two as investors feared excess share supply rather than recognizing that the new issuance would fund new acquisitions at attractive rates and result in growth in dividends for future periods. To the investor's credit, STORE Capital did not underperform the sector on the announcement.
I'd be happy to see Realty Income Corporation announce a similar issuance to fund more acquisitions. The simple case right now is that Realty Income Corporation has a very low WACC (weighted average cost of capital) which should make growing the portfolio very attractive.
A Harsh Sell Off
Today (written Tuesday), 05/17/2016, during the trading hours, I see O down 2.03%, STOR down 2.14%, and National Retail Properties (NYSE:NNN) down 2.6%. This is a fairly absurd selloff because the iShares 20+ Year Treasury Bond ETF (NYSEARCA:TLT) and the Vanguard Long-Term Corporate Bond Index ETF (NASDAQ:VCLT) are both up on the day, .16% and .07%, respectively. Even if investors want to treat rental revenues as being more dangerous, perhaps on par with junk bonds, the SPDR Barclays Capital High Yield Bond ETF (NYSEARCA:JNK) is only down .09%.
The Vanguard REIT Index ETF (NYSEARCA:VNQ) is down 1.84% on the day. The REIT ETF is covering a much larger portion of the economy and most REITs don't offer the same level of revenue stability. When equity markets are selling off and bond markets are rallying, O, NNN, and STOR should not be underperforming the REIT index funds. I'm long NNN, STOR, and VNQ. I would've expected the triple net lease REITs to be outperforming VNQ when investors are scared about the state of the economy and VNQ to outperform when the broader market is rallying and investors are feeling more optimistic about the macroeconomic situation.
Disclosure: I am/we are long NNN, STOR, VNQ.
I wrote this article myself, and it expresses my own opinions. I am not receiving compensation for it (other than from Seeking Alpha). I have no business relationship with any company whose stock is mentioned in this article.
Additional disclosure: Information in this article represents the opinion of the analyst. All statements are represented as opinions, rather than facts, and should not be construed as advice to buy or sell a security. This article is prepared solely for publication on Seeking Alpha and any reproduction of it on other sites is unauthorized. Ratings of "outperform" and "underperform" reflect the analyst's estimation of a divergence between the market value for a security and the price that would be appropriate given the potential for risks and returns relative to other securities. The analyst does not know your particular objectives for returns or constraints upon investing. All investors are encouraged to do their own research before making any investment decision. Information is regularly obtained from Yahoo Finance, Google Finance, and SEC Database. If Yahoo, Google, or the SEC database contained faulty or old information it could be incorporated into my analysis.