Where we stand
This is a difficult investment case to make.
I mean, we have all read the news on Petrobras's (NYSE:PBR) (NYSE:PBR.A) huge debt, on Brazil's deepest recession since 1901, on the recent political instability in the country and many remain skeptical of the recent recovery in oil prices. In fact, there are strong reasons to avoid Petrobras as an investment:
It is the most-indebted oil company in the world: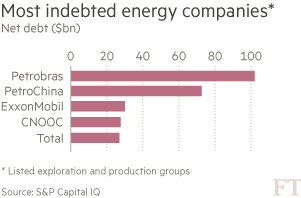 Source: S&P Capital IQ
When you look at the evolution of gross, net and short-term debt over the years it can get quite creepy: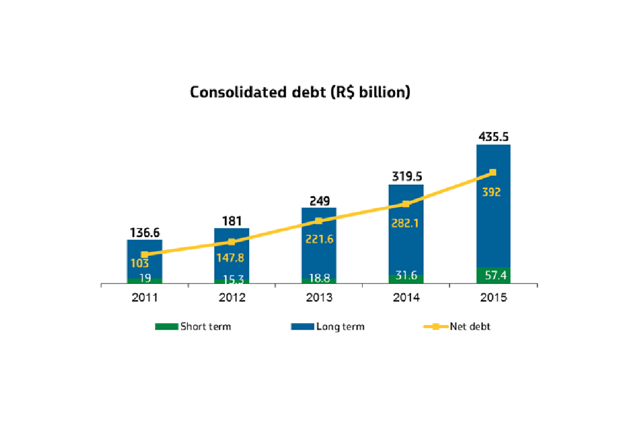 Source: Petrobras Management Report 2015
With no surprise, the debt ratios also look problematic: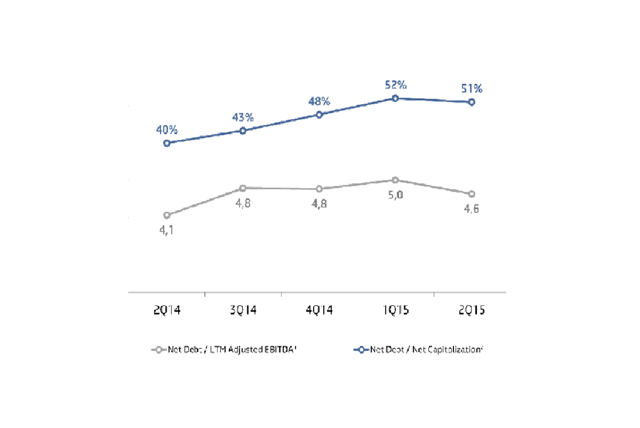 Click to enlarge
Source: Petrobras Management Report 2015
Brazil is in the deepest recession since 1901, with the economy expected to contract by 2.8% this year after falling 3.7% last year; unemployment and inflation both rose above 10% and the currency fell to 13-year lows against the dollar (given that 84% of Petrobras's debt is issued in foreign currency, this had quite a severe impact on the company's indebtedness problem):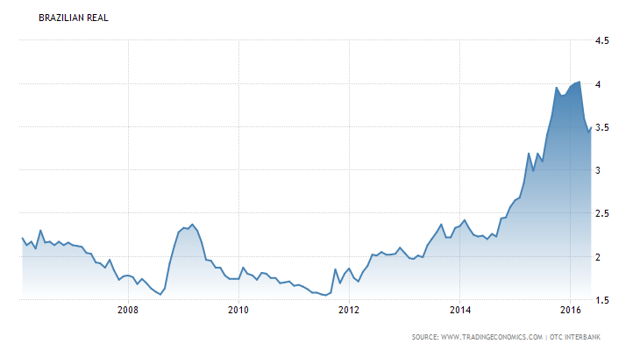 Click to enlarge
Source: Trading Economics
Also, after the recent rally in both equity and bond prices one can ask: isn't this the time to be selling instead of buying? Isn't it too late to get into the game? Or isn't this just a "dead-cat bounce?"
In fact, equity prices jumped over 160% from its January lows of $3.00 to its May highs of $8.00: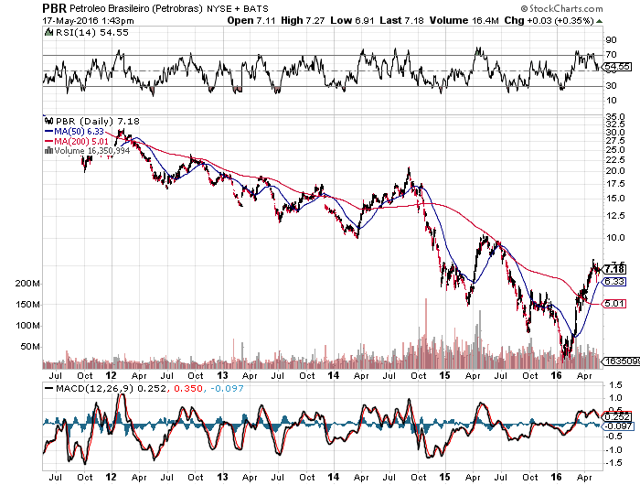 Click to enlarge
Source: StockCharts
And bond prices also recovered sharply. For example, its 5.375% USD issue maturing in January 2021 gained more than 30% from the bottom to its recent peak: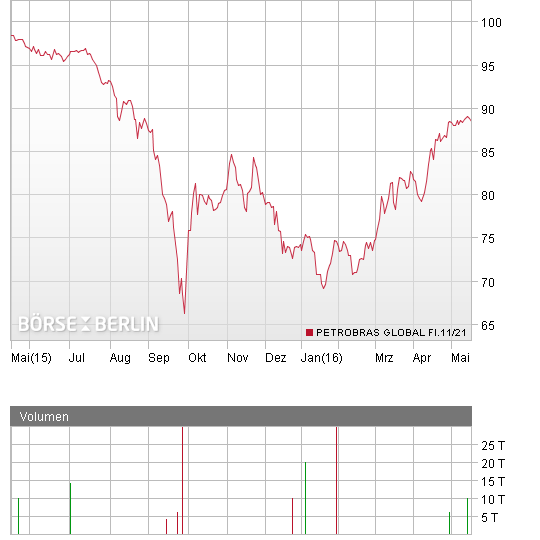 Source: Boerse Berlin
Starting with the conclusion, I think you should stay away from the equity but the bonds still look attractive. Here's why.
Government Bailout
In mid-January 2016, when oil was trading below $30 the former Brazilian President Dilma Rousseff said she wouldn't "rule out" assistance to Petrobras: "It's not just the Brazilian government that won't rule it out, no government would rule it out."
Yes, I know: who trusts the government, right? But in Petrobras's case, the government may not have any other option.
To start with, its main shareholders are the government and other Quasi-Sovereign or government controlled entities such as BNDES or Banco do Brasil. They control 48.7% of the total capital and 60.2% of the voting capital.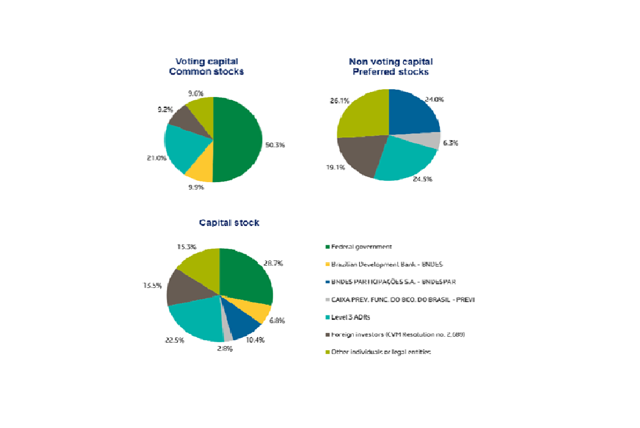 Source: Petrobras Management Report 2015
So it's not like the government would be bailing out an entirely private company, it's more like they would somehow be bailing out themselves.
Second, Petrobras is "too big to fail" and a structural and systemic company in the Brazilian economy.
Petrobras is the main player in the Brazilian Oil & Gas sector which accounts for 13% of Brazil's GDP (up from 3% in 2000), it employs directly over 78,000 people and it is responsible for 320,000 indirect jobs.
But Petrobras's impact on the economy goes well beyond the Oil & Gas sector. The corruption scandal Carwash shows a glimpse of Petrobras's importance for the construction sector with some of the main Brazilian companies allegedly involved in the process: Camargo Correa, OAS, UTC Engenharia, Andrade Gutierrez and Odebrecht (this last one is the largest builder in Latin America by revenue).
Also, we have all seen the side effects of its reduction in capex with Sete Brazil Participações filing for bankruptcy when Petrobras cut the number of rigs it wanted to lease from Sete to 10 from the initial 28, or what happened to the construction firm Galvao Engenharia when Petrobras didn't pay $156 million for services provided on corruption allegations.
One could say that the government would somehow be bailing out not only Petrobras, but also the Brazilian economy.
In fact, there is no doubt that Petrobras played an important role on Brazil's biggest recession since 1901 and it is certain that it will play an important role in its recovery.
Finally, the spill-over effects of a Petrobras (one of Brazil's flagship companies) default would be dramatic and could shut down the access to international markets to both its sovereign and corporate sectors.
Ok, most will agree that it would be political, economical and financial nonsense not to act. But is the government able to do it? To put it in perspective, Petrobras's debt of $110 billion (bonds and loans with private banks) is around 5% of Brazil's GDP, certainly less than the costs of a default.
Selling Assets
In order to reduce leverage and improve cash flow, Petrobras intends to reduce its capex for the next 5 years from the $130 billion initially predicted to $98 billion, and to sell as much as $15 billion of assets by the end of this year.
But in terms of asset sales very little was seen so far apart from the recent sale of a 67% stake in its Argentine subsidiary to Argentina's Pampa Energia for $892 million and the sale of its entire Chilean subsidiary to Southern Cross Group (also an Argentina-based firm) for $490 million (interesting to see the recent change in fortune of Brazil and Argentina).
Still, it is likely that the biggest portion of this sales will come from Petrobras's deep-water oilfields. That's the reason why the Senate approved in February this year a bill eliminating the requirement for Petrobras to operate all pre-salt operations and hold a minimum 30% stake in the projects, while giving it first dibs to explore an area if it so chooses. And one of the bidders might well be Shell (NYSE:RDS.A) (NYSE:RDS.B) who said the same week that Brazil "will remain a key destination country for us for investment dollars for at least another decade." Here's a snapshot of the number of barrels of oil and equivalent reserves Petrobras currently owns: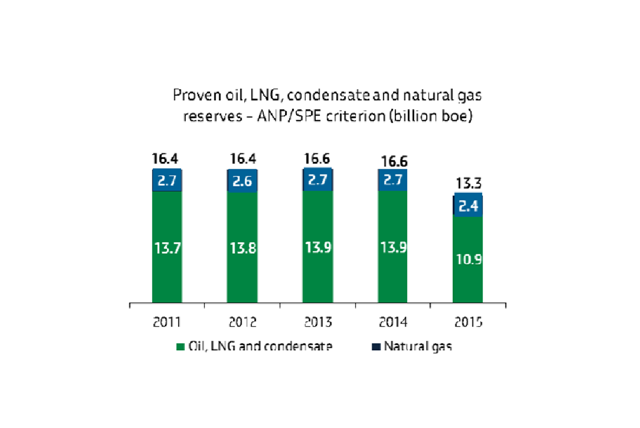 Click to enlarge
Source: Petrobras Management Report 2015
The price Petrobras will get from these reserves will depend on the price of oil (both current and expected future price) and on the cost of drilling those reserves. Here, I must say that as in any trade, the party that is most willing to the business is usually the one that makes the worst deal. In this case, given Petrobras's pressure to sell I'm skeptical they'll get a good price out of it. But once again it will be good news for bondholders, but certainly not for shareholders.
Liquidity
Petrobras ended 2015 with around $20 billion in liquidity after generating $26 billion in operating cash flow and paying $22 billion in interests and amortizations and investing $28 billion: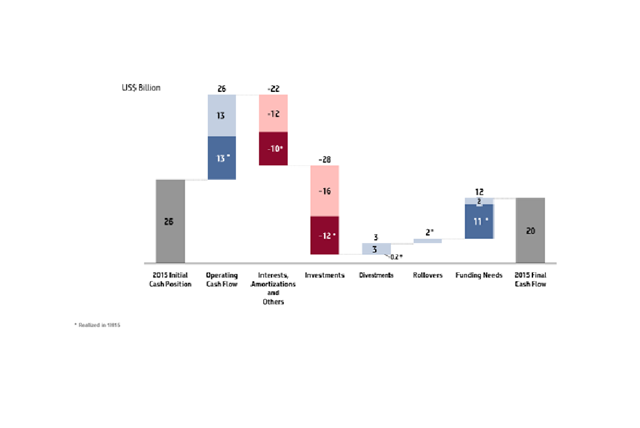 Click to enlarge
Source: Petrobras Factsheet 2015
At the end of February, Petrobras closed a $10 billion credit line from China State Development Bank. This gave Petrobras some breathing room as it is almost enough by itself to pay the $12 billion in debt coming due this same year.
Capital Increase
Earlier this year there were rumors of a potential debt-to-equity swap in Petrobras. Reuters pointed out that BNDES would be considering changing 30 billion BRL in loans for more shares in the oil company (where it is already its second biggest shareholder).
Also, if Banco do Brasil and Caixa Economica were to participate in the swap the total amount could reach 88 billion BRL or $22 billion which is around 20% of Petrobras's current total debt.
This would be great news for the bondholders as debt metrics would improve considerably, but would severely hurt shareholders as the dilution would be quite substantial given Petrobras's current market cap is around $26 billion. A scenario like this would represent a loss of almost half of the share in the company for current shareholders and is one of the reasons why I think you should stay away from the equity.
Other drivers
Sure there are other drivers that can help Petrobras over the coming months (in this case both its equity and bonds) such as a recovery of the BRL (we saw earlier that 84% of Petrobras's debt is issued in USD), a continuation of the rally in oil prices or a new oil discovery (who knows?). Still, these are more of exogenous drivers that do not depend on the company's actions. So, unless you have a strong view on the currency, on oil or you have some inside information on a new oil discovery, these shouldn't be the main reasons for you to invest.
In Summary
Given that selling assets (at a discount), a capital increase or even a government bailout (depending on the terms) is bad news for shareholders, I think you should avoid equity.
However, any of these 3 would be in bondholders' interest and that is why I think bonds are still attractive. But after the recent rally what's the upside potential? Let's have a closer look at the 5.375% USD issue maturing in January 2021 identified earlier in the article.
If you're in to "buy & hold," note that this issue is currently yielding almost 8% with a four- to five-month duration.
If you're going for "bottom fishing," note that 12 months ago it was trading close to par which would represent a 12% capital gain (plus interests at a rate of 5.375% per year for the holding period).
If you're playing a government spread tightening, note that the Brazilian Republic 4.875% bonds in USD maturing in January 2021 are trading above par and currently yielding less than 4.5%. That leaves this Petrobras issue with around 350 basis points government spread (the average Corporate spread over Sovereign for Latin America since 2012 is around 150 basis points):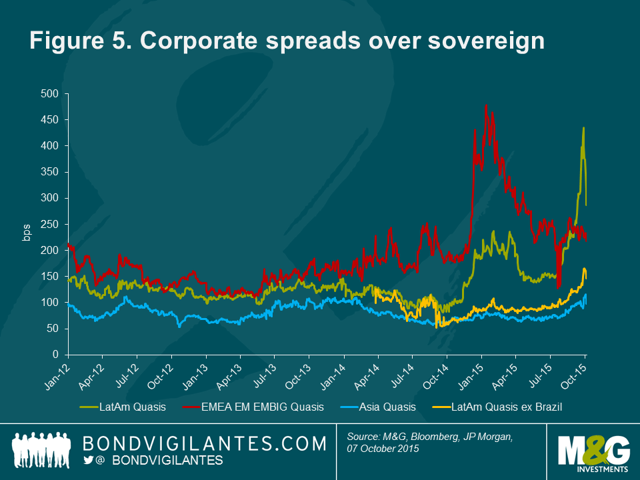 Click to enlarge
Source: BondVigilantes
Note that a 200-basis point recovery towards average government Spreads would give this bonds a 10% capital gain (plus interests for the period plus a very likely tightening of the Brazilian Sovereign credit spread itself over the coming months).
Finally, if you just want to "ride the yield curve," this is a nice maturity to invest in because it is when the curve starts to steep: 3-year yields 6%, 5-year yields almost 8% and 7-year yields 7.5%.
Disclosure: I am/we are long PETROBRAS (PBR) BONDS IN EUR.
I wrote this article myself, and it expresses my own opinions. I am not receiving compensation for it (other than from Seeking Alpha). I have no business relationship with any company whose stock is mentioned in this article.