In my last article I predicted the poor sales of BlackBerry's (NASDAQ:BBRY) latest device and stated that it may end BlackBerry hardware. Even with improvements in manufacturing and distribution we saw disastrous sales and a continued downward trend in the latest quarterly results. In recent interviews CEO John Chen has been saying that he plans to release two mid-range smartphones this fiscal year and actually believes the company has a good plan to reach hardware breakeven and even profitability. Is Chen completely delusional and just trying to get shareholders to hang on or is there more to the story than we know? In this article I explore some efforts of the company that have flown under the radar and that may end up contributing to the hardware business.
Secure Android
With the introduction of the Priv smartphone came BlackBerry's "secure" version of Android. Chen previously said BlackBerry would not release a phone running the Android OS unless the company could secure it and that's what is claimed to have been done here. What's more is the company committed to releasing monthly security patches to the OS to protect its users from the latest security threats. It has been several months since the Priv launch and BlackBerry has successfully released these monthly security patches. In a blog post the company boasted about how BlackBerry is the first OEM to deliver patches in line with Google's public disclosure. BlackBerry's speed at updating seems to be better than other big Android OEMs like Samsung (OTC:SSNLF), LG, HTC, and Sony (NYSE:SNE). Priv owners that bought the device from ShopBlackBerry.com can receive these updates on the day of the release without any delay from the carriers, making it more attractive to buy the phones directly from BlackBerry.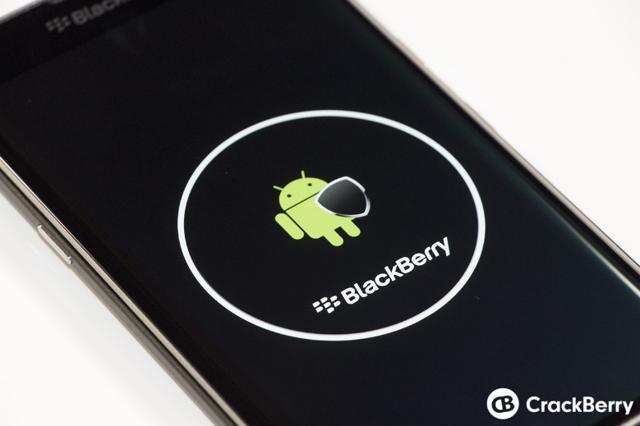 Click to enlarge
Source: CrackBerry
Last month BlackBerry further demonstrated their commitment to Android by pushing out their Android 6.0 Marshmallow OS to Priv users. This OS included updates to security, the BlackBerry keyboard, BlackBerry Hub, BlackBerry launcher, and battery performance. Several core apps from the BB10 OS have been ported over to Android but remain only available to Priv owners which, considering the entire Android pool of users, is a very small number. These apps are quite popular with some Android users and especially those that came from a BB10 device previously.
The BlackBerry Hub for the BB10 operating system is recognized as one of the major differentiators between iOS and Android and one of the best features of the OS. Even the Android version of this app is not as good as the BB10 one, but is sure to get better as it is continually upgraded. The popularity of the app hasn't been ignored by competitors and Samsung has been be rumored to be working on a similar feature for their upcoming Galaxy Note 6 device called Samsung Focus. A move like this confirms and increases the value of the BlackBerry Hub.
Licensing BlackBerry's Secured Android
Judging from BlackBerry's last two quarter's results I'd estimate the current number of Priv sales to be somewhere between 500k and 1 million. One million Android phones is just a drop in the bucket considering there are over a billion active Android users right now. BlackBerry has to find ways to move beyond their own Android devices and reach the entire Android community.
In a recent Q&A Ralph Pini, BlackBerry's new COO and General Manager for Devices, revealed some insights to the device business. The most important takeaway for me was his comment on software licensing "which could include everything from the virtual keyboard to a more secure Android operating system."
With the enormous number of OEMs that produce Android phones there's incredible competition but also opportunity for licensing. Almost two years ago now CEO John Chen went to China to meet the heads of Lenovo and Xiaomi. At that time Chen said it was "way early" to be looking for results from the talks in China but also that "there may be opportunities for agreements on technology licensing." Now it may be just that time.
What's interesting is how BlackBerry has chosen not to release its Android apps (such as Hub, VKB, Calendar, Contacts, DTEK) to all Android users through the Google Play Store. BlackBerry could charge for these apps either individually or in a bundle for some fee. I'm sure these apps have value and there would be users willing to pay for just these apps instead of having to shell out the ridiculous $700 for the Priv device. For what it's worth the Priv has demonstrated the proof of concept that BlackBerry can secure the Android OS and provide some great Android apps. The next step is getting those licensing deals.
BlackBerry's IoT Strategy About to Materialize?
After introducing Project Ion, BlackBerry's vision to offer end-to-end solutions for the Internet of Things, back in May of 2014 no serious advances in monetization have been made. In January of this year the company then launched an IoT platform with goals of targeting the automotive and asset tracking industries. Still no serious monetization. Finally, at the end of March the company revealed BlackBerry Radar, an IoT-based device that can be used to monitor the locations of trailers and containers.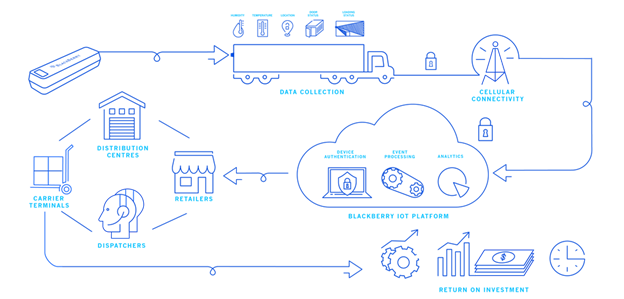 BlackBerry Radar asset tracking solution
According to their press release some trucking companies and private fleet operators have already been selected to participate in a customer pilot program. The solution is set to be available this summer and may finally contribute meaningfully to the top line. Although the device is not a smartphone I have no doubt that sales of this device would fall under the hardware segment. It's difficult to know how this solution is different and better than other solutions in the market right now but it is good to see BlackBerry utilizing their technology and looking at new revenue streams.
Final Thoughts
CEO John "next quarter" Chen is the master of "moving the goalpost." Back when the company released BES12 and their full EMM solutions he announced the goal of doubling software revenue from $250mil to $500mil. At the time this feat seemed utterly impossible. We now know the company only reached that goal by lumping in patent licensing revenue and the acquired revenues of companies like AtHoc and Good Technology.
Similarly it seems impossible for BlackBerry's traditional hardware business to become profitable as phone sales slide every quarter. First it was 10 million devices in sales to become profitable, then 8 mil, 5 mil, and most recently only 3 million devices with an average selling price of $315. Since the price of the BlackBerry Priv and Passport have been slashed I see ASPs also taking a hit. But unlikely hardware profitability is there for just the traditional business. The hardware business segment is evolving and I'm sure revenues from more than smartphone sales will be lumped in to bolster up the division. Keep an eye out for these events and invest accordingly.
Disclosure: I am/we are long BBRY.
I wrote this article myself, and it expresses my own opinions. I am not receiving compensation for it (other than from Seeking Alpha). I have no business relationship with any company whose stock is mentioned in this article.
Additional disclosure: Only long for the short term unless success is actually seen in the hardware business.