Introduction
When I refer to the pre-split ABBOTT LABS, I am going to use all caps. When referencing the stump that was left when ABBOTT LABS split creating AbbVie (NYSE:ABBV) in the process, I will use regular typeface to refer to the new Abbott Labs. This article mirrors one I wrote in response to Abbot Lab's recent decisions to buy Alere and then shortly thereafter St. Jude Medical. As a result of the research I did for that article and helpful comments from the Seeking Alpha community, I held onto my shares of Abbott Labs. I am steeled for the duration to hold on to the Abbott Labs piece of the old warrior, ABBOTT LABS.
My question now applies to AbbVie alone. Shall I retain, prune or disgorge?
AbbVie the Company
The ABBOTT LABS division into Abbott Labs and AbbVie closed in January 2013. AbbVie was generally considered the riskier part of the deal. It compensated its initial holders with a juicy yield exceeding 4.5%. As it has turned out, AbbVie to date has been a worthy investment even apart from its dividend yield.
Its FastGraphs chart set out below, pictures a very attractive opportunity.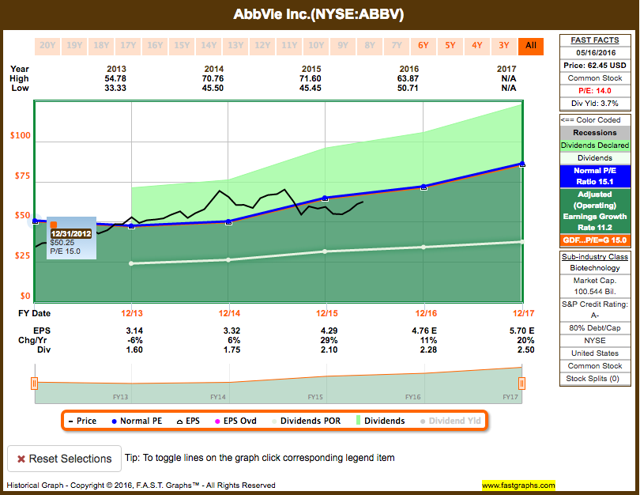 Click to enlarge
It would be wrong to make a decision on its current financial metrics alone.
In its first quarter of 2016, AbbVie reported gross revenues of $5.958 billion. Humira represented $3.577 billion of this amount which is slightly over 60% of the total. AbbVie's next biggest seller was its HCV medication Viekira. Viekira's gross revenues were a comparatively paltry $0.414 billion. They represent just 7% of AbbVie's total revenues. Imbruvica was the next, coming in at $0.381 billion. Certainly as matters now stand Humira's fortunes are critical to those of AbbVie.
AbbVie has a very promising pipeline. In January 2016 following J. P. Morgan's Healthcare conference, AbbVie's CEO Richard Gonzales offered his best spin on several key components of AbbVie's pipeline. Afterwards his remarks in this regard were reported as follows:
"Gonzalez brought up a drug AbbVie is working on that would be taken once a day to compete with Harvoni and Sovaldi. […] AbbVie believes it'll soon have a pan-genomic, once-daily formulation that could achieve 90%+ HCV clearance in as little as eight weeks. The plan would be to launch its next-generation HCV therapy in 2017.

"Gonzalez also mentioned several other promising pipeline products, including ABT-494 in immunology, venetoclax in cancer, and the above-mentioned HCV product. ABT-494 is a JAK-1 inhibitor in Phase III trials for rheumatoid arthritis. It also has venetoclax, a BCL2 inhibitor being studied as a monotherapy and in combination with Rituxan for relapsed and refractory (R/R) chronic lymphocytic leukemia (CLL)."
This is a pipeline to cherish. If its HCV drug were approved and shown to be safe and effective it could become the standard of care. Gilead's success with Harvoni has shown the value of that position.
The Reasons to Sell
Pipelines are important. They are, however, inherently uncertain. As noted above Humira generates 60% of AbbVie's revenues. Obviously anything that puts these revenues at risk presents a serious problem, regardless of pipeline hopes and dreams.
On its face there is just such a problem. Humira's composition patent expires this year. As a result, numerous companies including Amgen Novartis Coherus and others are all working on biosimilars to Humira.
This is not news, but it will keep generating news. As such it will put AbbVie under constant pressure each time a court or agency makes an adverse ruling or otherwise fails to protect an important AbbVie patent. This pressure will have an ongoing negative impact on AbbVie's multiple, retarding the stock's forward price momentum.
Humira is hardly the most expensive biologic. It is reported to cost $20,000 per patient per year depending on dosage. This is only a fraction of the cost of other biologics; it is still a significant sum. As such it falls within the purview of crusading politicians or other populists who worry more about present patient hardships than capitalist incentives.
The Reasons to Hold
AbbVie's price is sure to be adversely impacted by its patent issues associated with Humira. Nonetheless there is a countervailing argument that this drag is fully reflected in AbbVie's price. AbbVie's president makes much of the fact that AbbVie has another 70 patents which protect Humira.
At the current time revenue projections for Humira keep increasing. Barron's November 2015 Stocks to Watch feature sets out a scenario whereby Humira continues its sales growth substantially unimpeded for several years beyond any nominal 2016 patent expiration based on Abbie's 2020 guidance issued in October 2015.
Conclusion
AbbVie's Humira patent issues are sure to be vexing investors for years to come. Stalwart types will relish the uncertainty, seeing every dip as an opportunity to buy a great stock at a discount. Others will be more circumspect.
I for one am at a crossroads. Just like I use to do before I could drive back in the early 1960's I am sticking my thumb out to see if I can hitch a ride on the community's collective wisdom. Should I stay or should I go?
Disclosure: I am/we are long ABBV, BUT MAY SELL SOME OR ALL OF MY POSITION IN THE NEXT 72 HOURS.
I wrote this article myself, and it expresses my own opinions. I am not receiving compensation for it (other than from Seeking Alpha). I have no business relationship with any company whose stock is mentioned in this article.