By Jean Boivin, PhD, Head of Economic and Markets Research at the Blackrock Investment Institute
The eurozone has been caught in crosscurrents over the past few months. The European Central Bank (ECB) in March doubled-down on its efforts to stimulate inflation by taking its deposit rate deeper into negative territory and expanding its asset purchases program. Since then, a slew of positive economic activity data from across the region appeared to signal the stimulus was working.
Among the positives: Many leading economic indicators point to stronger household consumption, according to data accessible via Bloomberg. Also, private credit is expanding after years of contraction, albeit at a modest pace. Small business borrowing costs have come down even further this year, as the chart below shows.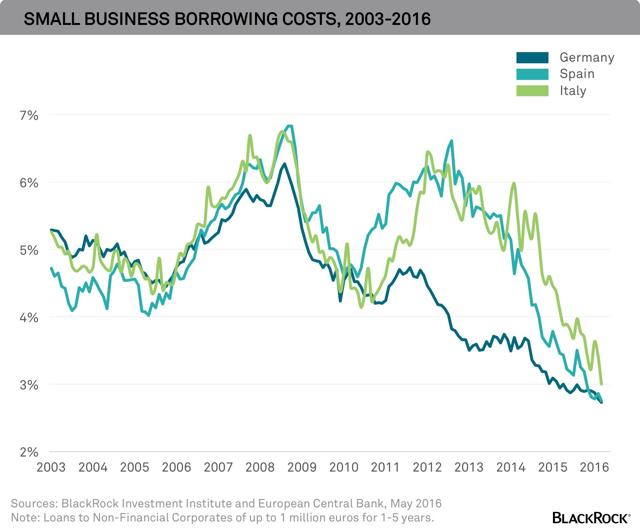 Click to enlarge
Yet credit is not always easy to come by for those businesses that need it. Plus, data on inflation and corporate earnings have disappointed. Market concerns have been growing about the stability of Italy's fragile banking system. And investor sentiment toward Europe has soured, as reflected in hefty flows out of equity exchange traded products focused on the region, according to Bloomberg data.
Is the eurozone's consumption-led growth uptick sustainable? The BlackRock Investment Institute took some of the firm's most senior portfolio managers to Frankfurt, Berlin and Milan earlier this month to understand what's taking place on the ground, and whether the recovery is for real. Here are the key takeaways.
The recent pickup in economic activity likely has legs, but progress on structural reforms and a rebound in investment are needed to make the recovery sustainable beyond the next 12-18 months.
Growth in Germany's "golden decade" looks to be plateauing. The economy is doing fine, but signs of complacency are starting to seep in, with backtracking on some economic reforms.
The periphery and the core in Europe are finally starting to converge. Italy is a bright spot. Reforms to jumpstart the economy, such as a more flexible labor market, are showing early results. An October referendum on the government's reform agenda will be critical.
Small business loan rates have come down, and private credit is growing again. This is a key development and makes the state of the banking sector critical to the outlook. Banks are facing profitability challenges from increased regulation and negative interest rates.
Italy's banks look vulnerable due to a mountain of crisis-era bad debts. A new bailout fund and rules that aim to strengthen creditors may help nurse the sector back to health, but we expect slow progress. This leaves the financial system and economy vulnerable.
Key risks to the outlook include a possible Brexit vote and a renewed refugee influx that poses integration challenges with no discernible economic benefits in the short run.
This post originally appeared on the BlackRock Blog.