ONEOK Partners (NYSE:OKS) has been on a pretty good run so far in 2016. The stock has gained nearly 50% over the past three months pushing the distribution yield from a very high 12% to a more modest 8%. This rally is well deserved. OKS had trouble covering the distribution in early 2015. Now, the company is seeing improving fundamentals, which may result in a distribution increase in the medium term.

Click to enlarge
Distribution coverage improves
Looking over OKS' Q1 2016 report, the most important metric reported is clearly distributable cash flow, or DCF. This key metric increased to $240.3 million, up 3% from last year. The distribution coverage for the quarter was 1.06x, up from 1.03x last quarter, and 0.60x in Q1 2015. In other words, OKS now seems to be able to cover its distribution.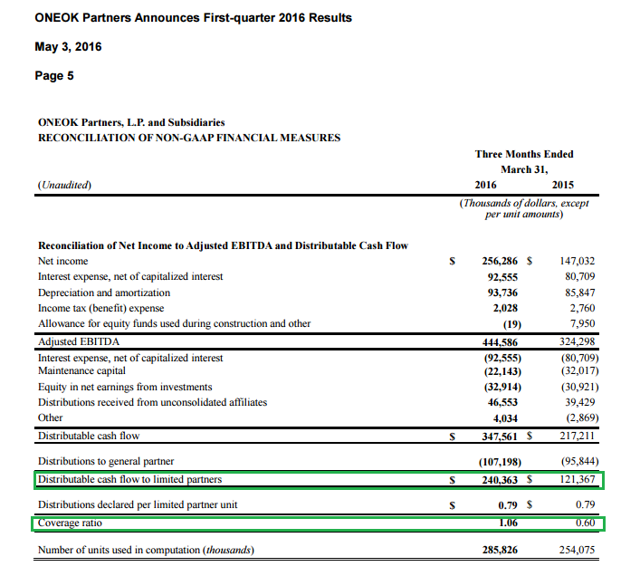 Click to enlarge
As for what is driving OKS' improved results, the answer has to do with improved natural gas volumes. The company made major investments in 2015 in order to capture large flared gas volumes which are finally paying off. Keep in mind that OKS entered into a $1 billion three-year unsecured term loan earlier this year, removing its capital needs for now.
Processing volumes grew 6% in the Rocky Mountain segment and 8% in the Mid-Continent quarter over quarter. The company also has connected large amounts of NGL volumes, with expected gather growth of 9% and fractionation growth of 5% this year.
OKS also has been able to restructure gathering and processing contracts, increasing its fee-based earnings stream to 75% versus 33% in 2014. This has significantly reduced OKS' earnings volatility.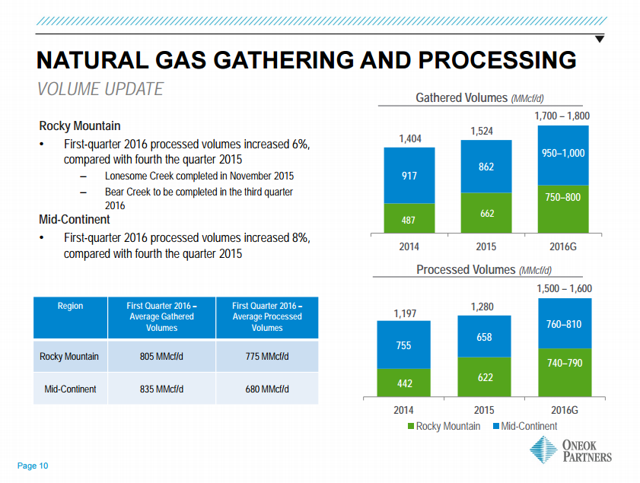 Click to enlarge
Ethane rejection upside
Another major reason for OKS' improved performance is the end of ethane rejection. As a byproduct of natural gas liquids"NGLs," ethane prices had been low for the year. Now, due to increased demand for NGLs from exports and increase petrochemical use, prices have started to recover.
In Q2, OKS has intermittently started to recover ethane. The company expects a full recovery by 2017. With up to 175,000 bpd rejected in the past, this will add a considerable tailwind for earnings estimated at around $200 million per year. Best of all, this increase in earnings will not need any additional capital spending from OKS, so most of it will be free to flow down to DCF and eventually unitholders.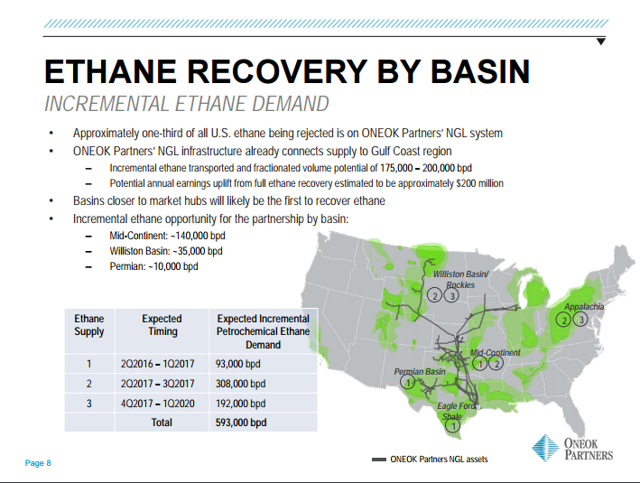 Click to enlarge
Distribution is likely heading higher
Given OKS' improved distribution coverage, it is now time to start thinking of an increase. As noted above, OKS expects to see $200 million in incremental earnings growth just from ethane volumes by 2017. This represents ~10% of annual EBITDA and an even larger share of DCF.
Doing some back of the envelope numbers, OKS' annual EBITDA could climb to as much as $2.0 billion in 2017 and total DCF would rise to ~$1.6 billion, or ~$3.84 per unit after IDRs. At this level, OKS would have a fairly robust 1.2x coverage ratio and debt-to-EBITDA of ~4.2x.
While it is hard to say for certain, I believe OKS DCF growth is good enough for them to raise the distribution in the medium term. Keep in mind that the distribution has been frozen at $0.79 per unit since late 2014 largely as a result of the oil price decline. Assuming a 1.10x coverage ratio, this would result in a distribution of $0.87 per unit by 2017.
Conclusion
OKS, as well as its general partner ONEOK (NYSE:OKE), have enough upside catalysts to merit holding despite their recent rallies. Both EBITDA and DCF are growing as OKS executes on its expansion into flare gas. The end of ethane rejection also is huge, leading to several upgrades from Barclays and Credit Suisse as the analysts play catch up.
Disclaimer: The opinions in this article are for informational purposes only and should not be construed as a recommendation to buy or sell the stocks mentioned. Please do your own due diligence before making any investment decision.
Disclosure: I am/we are long OKE.
I wrote this article myself, and it expresses my own opinions. I am not receiving compensation for it (other than from Seeking Alpha). I have no business relationship with any company whose stock is mentioned in this article.