Last year I restructured my position in Ford Motor (NYSE:F) because I expected the near term prospects for capital appreciation for auto manufacturers, but especially Ford Motor, to be dim. I still believed that Ford Motor was on a good run, but felt that Mr. Market was no longer willing to appreciate Ford Motor's growth and sales successes in the United States and abroad. The reason for that growing pessimism on my part was that investors priced a cyclical earnings recession into Ford Motor's shares, which made my warrant-heavy position in the automaker kind of obsolete. Further, investors didn't react in a positive way to good news from the auto company which is always a sign for caution.
Consequently, I sold my warrants with a strike price of $17 and a 2017 maturity date, and moved back in the common stock. I did so because of two reasons, first and foremost:
1. Ford Motor's common shares are paying a handsome 5 percent dividend, while there is a good shot that the auto company will continue to increase its regular cash dividend, albeit at a slower growth rate than in the past. So even if the shares go nowhere for the next twelve months or the next three years, income investors at least get a very nice dividend.
2. Common shares come without an expiration date, whereas option holders have to watch the time value of their options. The big risk with taking option positions is that one could be right on the thesis, but may not be right "at the right time".
Moving back into the common stock for income and yield made good sense at the time (and it still does), especially since Ford Motor decided to pay a $1.0 billion special dividend to shareholders at the beginning of the year, growing an already respectable dividend yield.
Poor Investor Sentiment And Expected Earnings Recession Are Major Obstacles For Share Advancement Over The Short Haul
Ford Motor continued to be on a roll in April, growing domestic vehicle sales by 4 percent Y/Y to 231,316 vehicles, thanks to strong customer demand for sport utility vehicles and trucks. While the company itself guided for a robust year in financial terms, Mr. Market would have none of it. Investors are effectively on strike, refusing to buy Ford Motor even though the fundamentals make buying the auto company a no-brainer: F sells for only ~6.2x this year's estimated profits, and ~0.34x sales.
But investors are not buying Ford's sales and growth story, which is kind of a shame since the auto company is on track to a record year, especially in the United States, the company's most important market.
In fact, poor investor sentiment, due to concerns that the global auto sales cycle is maturing, is the biggest obstacle to significant share price appreciation for Ford Motor. The unfortunate truth is that Ford's results can hardly get any better than they are now. And if investors don't care about good results, then that sort of limits Ford's upside for the foreseeable future. Since Ford Motor has an uphill battle to fight in order to overcome adverse investor sentiment, despite edging from one sales record to the next, I expect Ford Motor's shares to go nowhere over the next twelve months.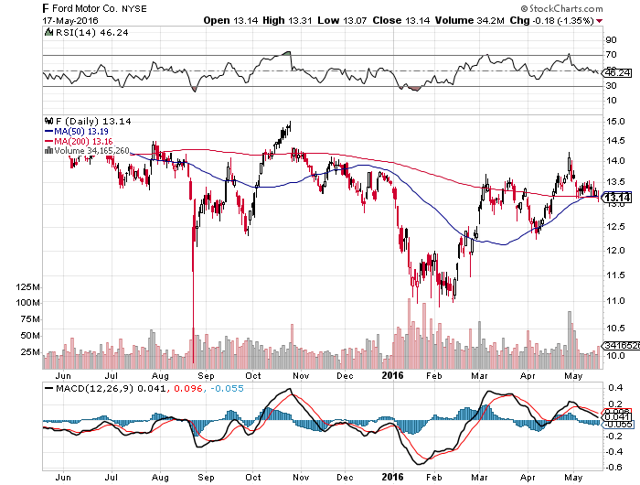 Click to enlarge
Your Takeaway
I'd love for Ford Motor's shares to edge higher, simply because the automaker is doing a fantastic job, especially in America. Ford Motor deserves a higher market valuation since it sells for ~6.2x 2016 estimated profits. However, investors are not prepared to appreciate the automaker's recent gains because they price a sales and earnings recession into Ford's shares.
I am afraid that this lack of enthusiasm for Ford Motor will be a major obstacle for the shares, limiting Ford Motor's appreciation potential over the short haul. On the other hand, Ford Motor is a promising income investment that might throw off yet another special dividend next year. Buy for income, not capital appreciation.
Disclosure: I am/we are long F.
I wrote this article myself, and it expresses my own opinions. I am not receiving compensation for it (other than from Seeking Alpha). I have no business relationship with any company whose stock is mentioned in this article.