For gold, it seems Friday's retail sales data marked the beginning of the end. Confirming my suspicions about the economy, April's data was far better than the winter reports. It supports my "negative feedback loop" theory, and it means the dollar is more likely to appreciate moving forward. I have been warning for months about the likelihood of a Fed rate hike in June, and the idea is now gaining traction among some pundits as well. It all adds up to a strengthening dollar, which means it's the beginning of the end for the year's early gold run.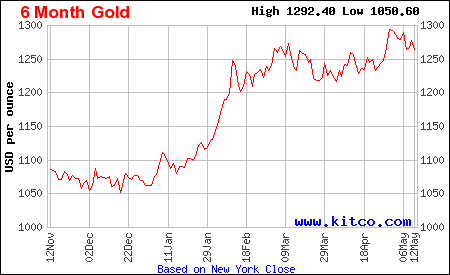 6-Month Chart of Gold at Kitco.com
I formally recommended gold on January 25 via my report Gold Gaining Fundamental Favor in 2016. I started seeing reason for profit taking on that first spike you see in this chart here and stated so via this report on February 12 after the sharp gain. But gold caught the interest of momentum investors and has managed to hold ground I believe it should have given back. It helped that U.S. economic data was notably soft through February and March. But something tangible has changed in that regard, and gold should start to reflect that now.
Friday's release of April's Retail Sales Report showed recovery for one important sector of the American economy. Yes, I know U.S. retailers are reporting poor first quarter results now, but those are probably the result of disruption in February and March, and not reflective of the current environment. I think April's data is starting to confirm that.
On March 29, I formally introduced my "negative feedback loop" theory, explaining why I thought the economic data for February and March was anomalous. I explained that the financial market performance in early 2016 was concerning enough (especially after what happened in August) to stall consumer spending, especially for high ticket items like vehicles and homes. We saw both sectors stall, and we saw retail sales data decline as well. Now, short-sighted mavens are blaming non-store retail or ecommerce for the sudden troubles of brick and mortar stores. Obviously, there is a secular trend underway that has ecommerce stealing share from brick and mortar for years now, but that is not the reason for the sudden stall for retail in February and March. It was the negative feedback loop effect friends.
But what's this all have to do with gold?
Weak economic data is the key factor behind the U.S. dollar's backtracking and the nascent run of gold higher. The apparently weak U.S. economy, based on February and March data, drove down the dollar. We noted the data dive in housing and in consumer behavior, but each have since corrected. The poor data, without understanding of its cause and its likely temporary nature, required a downward adjustment to the dollar and we got it. The Fed even held back from raising interest rates in March partly because of it, and the market took expectations for a June rate hike to near null based on it. But something has changed.
Friday's Retail Sales Report produced a fresh and quite different perspective of economic activity. Top line aggregate sales grew 1.3% month-to-month, against an unrevised March decline of 0.3%. April's growth surpassed the economists' consensus forecast for 0.9% growth. Even after excluding rising gasoline and auto sales, retail sales grew 0.6% against a 0.2% gain in March and economists' expectations for a 0.4% gain.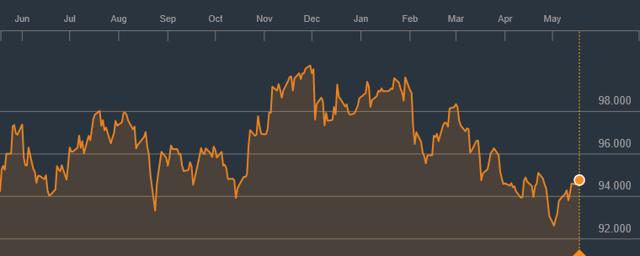 Click to enlarge
After recently marking trough, the dollar is appreciating again, but gold has only just started to flutter. Still, if economic data continues to follow the retail sales trend toward recovery and strengthening, the dollar will likely continue to gain back ground.
Today, the Federal Open Market Committee (FOMC) meeting minutes are being released, and expectations are they could illustrate the Fed is closer to raising rates in June than the market has priced in. Fed Funds Rate Futures reflect a 19% chance of a Fed rate hike in June, and that percentage is on the rise. If the Fed raises rates, you can expect gold prices to decline on an even faster pace of dollar appreciation or perhaps even immediate restoration to prior dollar highs. In the meantime, speculation should allow for it to rise toward higher ground. It all spells trouble for gold.
| | |
| --- | --- |
| Precious Metal Securities | 05-18-16 |
| SPDR Gold Trust (NYSE: GLD) | -0.6% |
| iShares Gold Trust (NYSE: IAU) | -0.6% |
| iShares Silver Trust (NYSE: SLV) | -1.0% |
| Direxion Daily Gold Miners Bull 3X (NYSE: NUGT) | -5.4% |
| Direxion Daily Gold Miners Bearish 3X (NYSE: DUST) | NM |
| Market Vectors Gold Miners (NYSE: GDX) | -1.6% |
| Market Vectors Junior Gold Miners (NYSE: GDXJ) | -1.3% |
| Goldcorp (NYSE: GG) | -1.6% |
| Newmont Mining (NYSE: NEM) | -0.8% |
| Randgold Resources (NASDAQ: GOLD) | -1.0% |
| Barrick Resources (NYSE: ABX) | -1.2% |
| Yamana Gold (NYSE: AUY) | -2.5% |
| Gold Fields Ltd. (NYSE: GFI) | -0.7% |
| Silver Wheaton (NYSE: SLW) | -2.1% |
| Coeur Mining (NYSE: CDE) | -2.5% |
Precious metal relative issues are reflecting that risk today, with the SPDR Gold Trust down 0.6% along with physical gold. We may see another uptick or march higher later this year on geopolitical or other factor, but I believe this is the beginning of the end to this year's early gold run. It is losing its fuel as the U.S. economy begins to look healthier and the Federal Reserve prepares to raise interest rates. Thus, I suggest investors take their profits and consider betting against metals relatives. I cover gold closely and invite relative investors to follow my column here at Seeking Alpha.
Disclosure: I/we have no positions in any stocks mentioned, but may initiate a short position in GLD, GDX, GDXJ, NUGT over the next 72 hours.
I wrote this article myself, and it expresses my own opinions. I am not receiving compensation for it (other than from Seeking Alpha). I have no business relationship with any company whose stock is mentioned in this article.