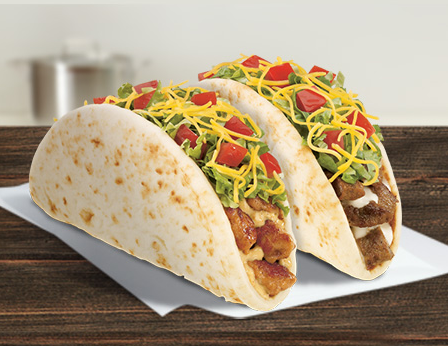 Del Taco (NASDAQ:TACO) has certainly met the definition of a busted IPO since it began trading in its current form. The company's initial valuation was clearly untenable and since that time, results haven't proven enough to spur bulls to sustainably bid the stock up. I've had different stances on TACO at different times with sub-$10 prices offering some sort of value to me in the past. After a nice Q1 report, shares are still languishing so is the value argument still valid or is TACO set to continue to descend?
I'll be using some charts from Simply Wall St. throughout the article.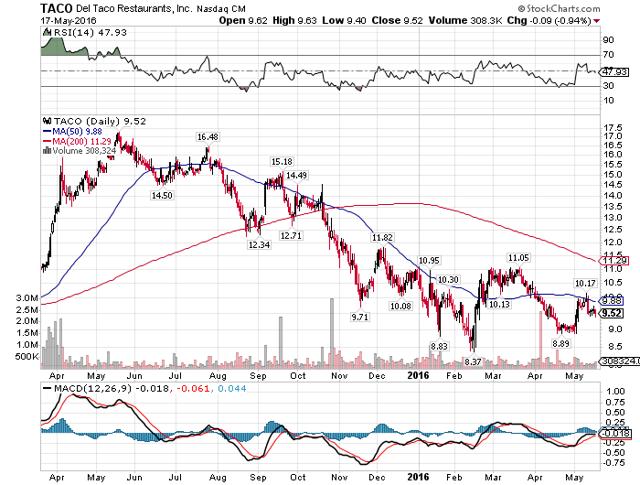 Click to enlarge
Total revenue was up 3% in Q1 as system-wide comp sales rose by a similar amount. The company-owned stores produced a comp gain of 2.8%, the 15th consecutive quarter of growth. But when we dig a little deeper, the comp number wasn't quite so rosy. Average check growth came in at a very robust 5.4% but transactions fell by 2.6%, indicating that while customers spent more on average, there were fewer customers. That's a big problem because check average can always be increased later; you need customers to do that, however. I never like to see decreasing transactions even if check growth is strong because the ceiling on check growth - in general - can be reached much more quickly than traffic. I wasn't impressed by TACO's revenue growth in Q1 due to the weak traffic number.
Unit-level margins were up fractionally during the quarter which is actually not bad considering that labor cost pressures are mounting for restaurants. In particular, with TACO's concentration in California, it is particularly susceptible to such pressures. The fact that it maintained and slightly grew its unit-level margins is actually quite strong and bodes well for future state profitability. The company's labor costs will permanently reset higher along with the rest of the industry so unfortunately, the deterioration in labor costs isn't transitory. Still, TACO has demonstrated the ability to overcome that and maintain its current level of profitability.
So TACO had a decent Q1 but what about moving forward? This chart shows us what analysts think of TACO's revenue generation for the next couple of years.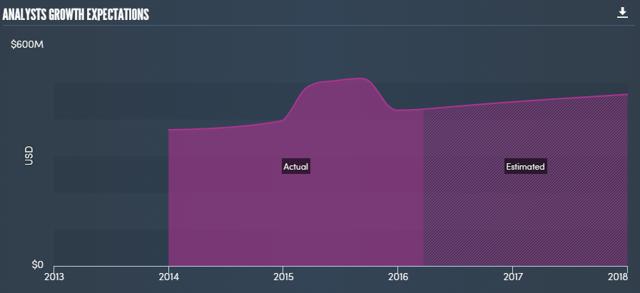 Click to enlarge
We see a nice steady trajectory of revenue gains coming but to be fair, TACO is not a growth story. The company is already fairly mature so this is not about unit growth; most of the revenue gains will likely come from comps. However, that doesn't mean TACO should be left for dead; it just means we have to have realistic expectations for what the company can reasonably do. I think low to mid-single digit revenue growth is going to be the norm for TACO forever so we need to frame our analysis in that light.
On the profit side, things are a bit rosier.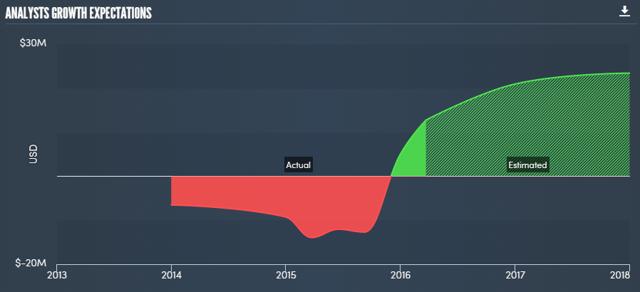 Click to enlarge
We can see a nice recovery in profits from artificially depressed levels - that's not important. But what is important is that TACO's profit levels are expecting to move higher by a factor of roughly two times revenue growth. TACO's improvement in food and paper costs will need to continue because labor costs will be higher; we know that for a fact. But TACO has some other levers it can pull including occupancy and back office costs so this trajectory looks total reasonable to me. And when we factor in the $25 million buyback TACO is working on, EPS growth could even bit a bit quicker than what this chart shows. Revenue growth is weak at TACO but profit growth could provide some upside potential.
While I wouldn't classify TACO as a growth story, it does have some levers it can pull to produce EPS expansion for years to come. However, I certainly wouldn't be surprised if EPS growth is consistently at 10% or less. That presents a problem at 17.6 times this year's earnings; that's not a multiple for a company that is growing EPS at 10% or so. That is more of a growth multiple and given that TACO will have to fight and claw for its gains instead of simply opening lots of new units, its EPS growth trajectory is at risk more than some younger chains. I'm not saying TACO can't hit 10% EPS growth consistently but it is worth mentioning that TACO can't rely on unit growth to fuel EPS expansion.
For that reason, I think TACO probably needs to trade lower than it is now. That kind of multiple is for a company that is growing EPS at double digits with some room for upside. It would take a gargantuan effort to produce that for TACO given that labor costs are necessarily moving up over time. That isn't a TACO-specific problem but it is a problem for TACO nonetheless and that will keep a lid on operating margins. TACO is a well-run company but that isn't enough for almost 18 times earnings so for me, there are better places to put new money if you want to own a restaurant stock. TACO already has most or all of its future earnings growth priced in.
Disclosure: I/we have no positions in any stocks mentioned, and no plans to initiate any positions within the next 72 hours.
I wrote this article myself, and it expresses my own opinions. I am not receiving compensation for it (other than from Seeking Alpha). I have no business relationship with any company whose stock is mentioned in this article.