Yesterday was an interesting day for shareholders of Home Depot (NYSE:HD). On a day in which the home improvement retailer delivered a solid first quarter result, with a beat on both the top and bottom lines, the shares took a 2.5% tumble. This is all the more surprising considering it raised it guidance for full year sales, comparable sales, and earnings per share.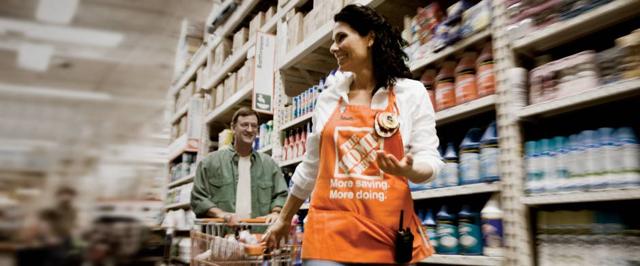 Click to enlarge
A little under a month ago we raised our concern that a slowdown in the housing market could be detrimental to its long-term growth. We weren't concerned enough to sell our shares, but we did class the shares as being a hold until we learned more about how the company has been tracking. Well, Home Depot has been tracking very well. Better yet, housing starts surprised yesterday which we feel is positive for long-term growth. The drop in its share price appears to be the result of management's comments on the analyst call.
When talking about how the company came to achieve positive comps of 6.5% company-wide and 7.4% for US stores management said that:
"Our total company comps or same store sales were positive 6.5% for the quarter, with positive comps of 10.2% in February, 6.7% in March and 4.3% in April. Comps for US stores were positive 7.4% for the quarter, with positive comps of 11.8% in February, 7.7% in March and 4.6% in April."
It is clear to see what has spooked the market. Dropping from 11.8% down to 4.6% is not great reading. It is a clear downward trend that we are seeing and one of which needs to stop. Well, we are quite confident it has. We don't believe management would be so bold as to raise its guidance if it had not seen a positive start to the second quarter. Management alluded to a strong start to May on the call and we expect the company to achieve its forecast of comparable store sales growth of 4.9% for the full year. We view the increase in housing starts and building permits as having the potential to contribute to this.
We expect the market will accept this to be the case also, and believe the share price is destined to move higher. Increasing its earnings per share guidance from $6.20 to $6.27 means our price target has shifted upwards to $144.21, which represents a return in the region of 9.25%. Factor in a 2%+ dividend and we believe this becomes a very attractive investment today.
One other thing that makes us very positive is the company's performance in Texas. With 178 stores in the state, the drop in oil prices was something of a worry. But these stores outperformed the company average during the quarter, which is a very positive thing to hear. The diversification of the economy in Texas and its low unemployment rate all appear to have played their part. With oil close to $50 a barrel at the moment, this could potentially keep the strong performance going, as well as offer a lift in less diversified economies such as western Canada. We expect this will help the company's comps grow.
Furthermore, the increase in ticket really caught our eye. Transactions for tickets under $50 increased 2.7%, accounting for 20% of total sales in the quarter, but the real winner was tickets over $900. These grew by a huge 9.5% in the first quarter, also representing 20% of total sales. We see this as being very encouraging and expect more of the same in the next quarter.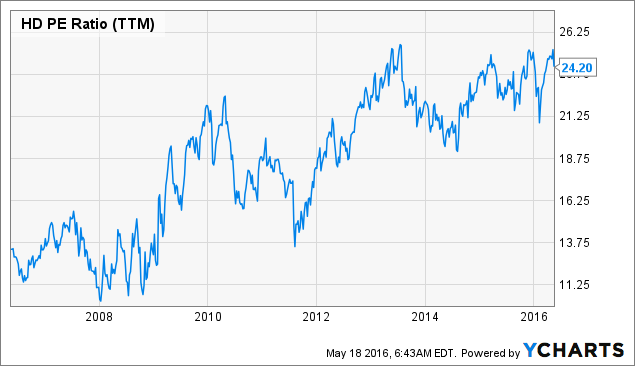 This for us justifies paying 23 times earnings for the shares. As you can see above, this ratio is a premium to its 10-year average, but considering its growth prospects and market-leading position we believe it is worth paying this. When growth begins to stagnate, a drop down toward 17 times earnings might occur. But thankfully we see Home Depot being able to achieve double-digit growth for the next five years. This should provide investors with strong returns between now and then.
Because of this we now believe Home Depot is a buy and thank our lucky stars that we held onto our shares. We see the post-earnings sell off as a great opportunity to buy in at a reasonable price, with potential upside in the region of over 11% in the next 12 months when including the dividend.
Disclosure: I am/we are long HD.
I wrote this article myself, and it expresses my own opinions. I am not receiving compensation for it (other than from Seeking Alpha). I have no business relationship with any company whose stock is mentioned in this article.