How do you decide what stock or which sector to invest in? You rely on the media? You just invest in the latest hot stock? Or you setup a process to strategically help you out?
When all is good, it seems easy to buy a stock but when the markets turn sour, it becomes more challenging and emotions start to make their way in. For example, did you ever sell a stock because you weren't happy with the customer service you got? That would be an emotional transaction.
Finding the Story…
There are a number of ways to look at the graph… It's important to put all the data points into context between your investments and the markets and economies impacting your investments.
The graph below is a snapshot of my diversification by sector as of May 2016. First and foremost, the graph tells me that I should rebalance between my consumer defensive and technology sectors with the other deficient sectors. However, I do not like to sell that way, instead I just focus on those sectors when I add new money.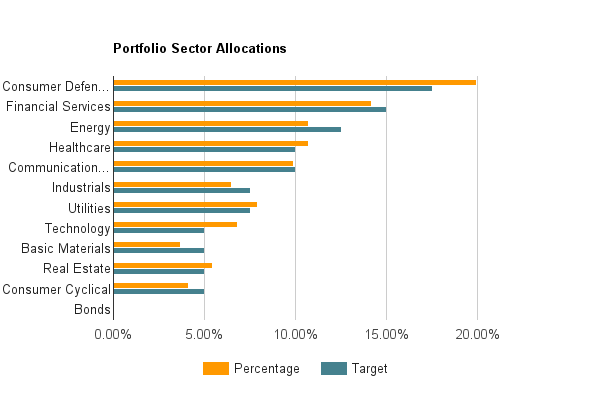 The other story it tells when you take the markets into account is that the energy and basic materials sectors are out of favour. This is where the graph can start conflicting with emotions. You may not be happy about the performance of your current energy or basic material investments and the graph is telling you to pour more money in it. This is when you have a chance to buy low and sell high if you can pick a strong company that will bounce back. For me, that's Suncor (NYSE:SU), Enbridge (NYSE:ENB), or TransCanada Corporation (NYSE:TRP).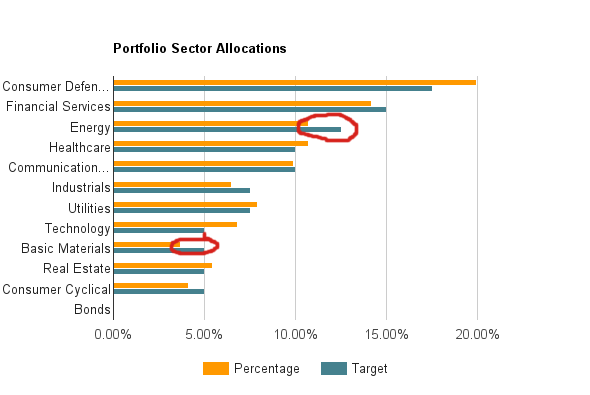 As for the industrial and consumer cyclical sector, they have just fallen behind due to the movement of the others. When looking at my holdings, I only have 1 investment in each of those sectors and they have been doing fine over the past couple of years.
McDondald's (NYSE:MCD) is doing remarkably well considering the lull it was in for a while. The sector deficiency isn't based on performance but rather due to an increase in portfolio size. As it grows, so does the percentage of each sector.


The same applies to Canadian National Railway (TSX:CNR, NYSE:CNI)

Final Graph Reading
As you can see, there has been 3 ways to read the graph each with its own story to tell. As I get ready to invest new money, I take into consideration the following:
Any investment opportunity too good to pass on

I do need to consider the impact of adding a new holding against the number of stocks I hold.

The stories of my diversification graph

Opportunities for out of favor sectors

How much I have in a specific holding

Sometimes I initiate a position with a small amount with the goal of adding to it later
Readers: What's your process?