As an investor and author that specializes in writing about BDCs and CEFs that invest in CLOs, Oxford Lane Capital (NASDAQ:OXLC) and their sister organization TICC Capital (NASDAQ:TICC) (see my recent article on their 1st quarter results (TICC Article) are the gifts that keep giving. I previously wrote an article about OXLC "Analysis of Oxford Lane Capital's Q4 Financial Results - Management May Need to Issue New Common Shares at Below NAV" (OXLC Article). As I will outline in more detail in this article, I believe that OXLC's Asset Coverage Test is still not satisfied at March 31, 2016 (absent the issuance of new common shares) and management has the following two viable options to solve the problem before June 30, 2016:
On March 7, 2016, OXLC filed with the SEC a registration statement for the issuance of up to $25 million in common shares at a net issuance price that is greater than their most recently reported Fair Value NAV of $8.13, or
be patient and see whether the current strong recovery in the CLO Equity markets solves the problem.
CLO valuations are extremely difficult for the average investor to get any meaningful insight on other than from 10-Qs or 10-Ks. Luckily, Eagle Point Credit (NYSE:ECC) publishes monthly estimated NAV figures, which gives investors an insight into a very opaque market. In their most recent published projected results as of March 31, 2016, ECC reported estimated NII of approximately $0.61 and NAV of $13.00 a share, which is a 5% drop from their 4th quarter NAV. In my recent article "Analysis of Eagle Point's 4th Quarter Earnings and Projections for 2016 Performance" (ECC Article), I assumed that they would earn NII of $0.60, so I guess I was not too far off.
While ECC has not provided more details, their results confirm my assumption that they were able to invest the proceeds from their early December $25 million debt offering in high yield investments. I assumed an average yield of 25% on their 1st quarter investments, so given their reported NII, my estimates must have been relatively accurate (if anything my estimate might have been a touch low).
I still stand by my prediction that ECC will increase their quarterly dividend to at least $0.65 in the near future. In fact, there is a decent chance that they will increase their dividend by a larger amount. During 2015, 20% of their dividend was made up of ROC, if ECC decides to keep the percentage of ROC contained in their dividend at the same level as last year (due to tax reasons) they could increase their quarterly dividend to $0.70-$0.75.
Chart 1
ECC Historical and Projected "Intrinsic" and Fair Value NAVs

Click to enlarge
In this article, I will try to extrapolate ECC's reported preliminary results and TICC's actual 1st Quarter results, which were published last week, to project OXLC's 1st Quarter results. When OXLC did not declare a dividend prior to the end of the first quarter, I initially thought their Asset Coverage Test was satisfied. However, with the drop in ECC's and TICC's CLO Equity valuations, I now doubt that OXLC will be in compliance with their Asset Coverage Test at March 31, 2016 (absent the issuance of new shares, which I will discuss later in this article).
Based upon my projections in Chart 2 below, OXLC's Asset Coverage Ratio will be roughly 1.83x, lower than its ratio at December 31, 2015. I would like to note that my estimate of $6.70 is simply my best guess given my very limited knowledge of their 1st Quarter investment activities. Please take the calculated NAV with a grain of salt; it is just for discussion purposes only. Also, I projected that OXLC's Intrinsic Value NAV would drop by roughly $1.13 to $12.79 or 8.5% drop. I will go into the main estimates that went into the projected figures outlined below in detail later in this article.
Chart 2
OXLC Historical and Projected "Intrinsic" and Fair Value NAVs

Click to enlarge
As the following chart shows, OXLC had quite an interesting last six months or so. At the end of September, everything was looking quite positive for OXLC. They reported NII of $0.77 for the previous two periods, their NAV was $11.33 and their Asset Coverage Ratio was a comfortable 2.25x. However, management was not prepared for the steep and swift drop in CLO Equity prices that would occur over the next six months.
By the end of the calendar year, their NAV fell 28% to $8.13 and their Asset Coverage Test was breached. Just prior to the year-end, OXLC announced dividend payments for the first two quarters of 2016. By declaring two dividends prior to the year-end, OXLC gave themselves until June 30, 2016 to fix the Asset Coverage Test without incurring any further negative implications.
Even though OXLC's management bought themselves time to fix the problem, they decided to sell investments while the market was in full panic mode and paid down approximately $27.4 million par balance of their preferred shares to retroactively fix the Asset Coverage Ratio. This repurchase occurred just a few days after the market hit its nadir. In this article, I am going to look at the decisions made by OXLC's management over the last few quarters and the impact that those decisions will have on their 1st Quarter and future results.
Chart 3
CLO Equity Proxy Index Annotated
For the Period June 30, 2015 to March 31, 2016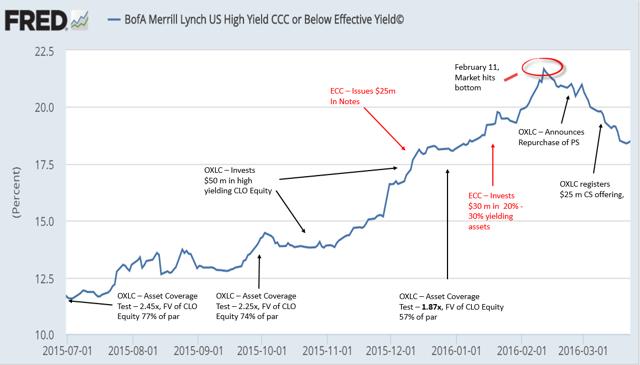 Click to enlarge
Please note that the above chart shows the yield on CCC rated assets so the prices of these assets would move inversely.
$800 Million Atrium XII CLO
In my last article on OXLC, I questioned management's decision to invest almost $40 million in the equity of the CSAM's sponsored $800 million Atrium XII CLO ("Atrium CLO") at October 29, 2015. My critique was based upon the fact that OXLC's management prematurely invested these funds since the collapse in CLO Equity valuations was just starting. If OXLC's management would have waited a few months, like ECC, they could have invested in secondary CLO Equity tranches with much higher yields. However, hindsight is twenty-twenty and given OXLC's situation at the time their decision to invest in Atrium XII was probably wise and should be a home run over the long term.
OXLC had invested $20 million in the Atrium CLO Loan Accumulation Fund so they probably had a commitment to invest in the Equity of the CLO. By pricing the CLO in September, when the cost of CLO debt was quite reasonable, they locked in attractive financing. In addition, by closing in late October, CSAM had roughly $250 million of available funds to invest in a quickly collapsing leveraged loan market.
When a CLO closes, their leverage loan par balance ("Par Balance") is only about 70% invested ($800 million * 30% = $240 million of funds available to invest). I am quite confident that CSAM, one of the most respected and aggressive CLO Managers, was able to put those funds to excellent use. My guess is that they were able to increase the expected $800 million Par Balance by at least $10 million by buying loans at 90-95%. As Alex Jackson, Head of Bank Loan Portfolio Management at Insight Investments, stated in my ECC Article, minimizing credit losses and building par are the most important tasks for a CLO manager.
Chart 4
Leverage Loan Average Cost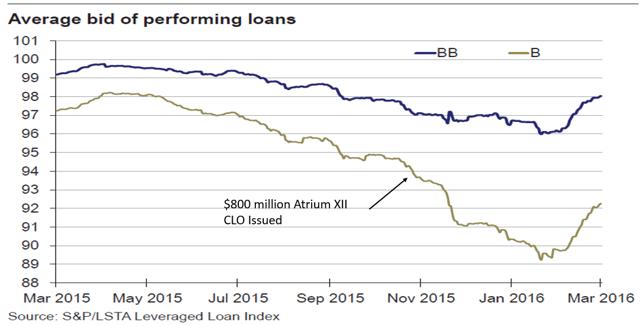 Click to enlarge
Repurchase of Preferred Shares at February 24, 2016
At December 31, 2015, OXLC's Asset Coverage Test stood at 1.87x, which was below the required 2x amount. They had $315.9 million in assets at fair value and approximately $170.0 million in preferred shares outstanding. To retroactively satisfy the Asset Coverage Test as of December 31, 2015, OXLC repurchased 1,094,036 preferred shares on or around February 24th at an average price of $24.40 (total cost of the repurchase was $26.7 million). Also, OXLC realized a gain on the repurchase of the preferred shares of approximately $650,000 or $0.04 a share. After the repurchase, I calculated that their Asset Coverage Test was retroactively satisfied with a ratio of 2.22x.
Chart 5
Asset Coverage Test

Click to enlarge
The real question is how did OXLC fund the $26.7 million used to repurchase the shares? The only feasible way that they could have come up with the funds was by selling investments. OXLC has earned about $6 million a quarter of free cash flows so they could not have funded the repurchase with operating cash flows.
Sale of Investments during the 1st Quarter
The CLO Equity market, while bad in the latter part of 2015, was in complete panic mode from the middle of January through mid-February. OXCL had marked their CLO Equity portfolio at 57% of par as of December 31, 2015. According to my contacts in the CLO markets, CLO Equity valuations fell by 20-25% during this period. And there were numerous "panic" or "forced" sellers that were selling at fire sale prices.
American Capital Senior Floating (NASDAQ:ACSF) was on the other side of one of these "panic" sales during the 1st quarter. They made two investments in CLO Equity, OZLM VI and OZLM VII, with a combined purchase price of roughly $1.5 million and a par balance of $3 million and an expected Effective Yield of 39%. OXLC has an $11.1 million at FV investment in OZLM VII (par balance of $20 million) with an expected Effective Yield of 17.5%.
For a purchaser to obtain an expected Effective Yield on OXLC's OZLM VII, they would have to purchase it at a price between 30%-40% of par, which is significantly lower than its fair value at December 31, 2015. Please note, ACSF bought their investment for roughly $0.50, so I believe they must have gotten some type of sweetener to get a 38% expected Effective Yield, probably a portion of the CLO manager's fees.
It would be my guess that OXLC's CLO Equity portfolio would have fallen to well under 50% of par if marked at the bottom of the market. Luckily, the market staged a strong rebound in the middle of February that continues today (see chart 3 for a proxy index of CLO Equity valuations). ECC and TICC reported about 5% drops in the FV of their CLO Equity portfolios during the 1st Quarter.
Chart 6
American Capital Senior Floating
1st Quarter 2016 Investment Activity

Click to enlarge
It appears OXLC's management picked the absolutely worse time to sell investments. The way I see it, OXLC had two options in selecting the investments to sell. They could sell their "crown jewels" with the highest yields (Atrium CLO and OZLM VIX) to limit the realized losses but hurting future returns. Or they could sell average or poor performing assets and incur much larger realized losses but maintaining or even improving their portfolio yield. I assumed in my calculation that OXLC sold off their $13 million CLO debt portfolio at a price of 50% or $6.5 million. In addition, I assumed that they sold average investments at a price of 45% of par. See Chart 7 below:
Chart 7
Assumed Investment Sales during the 1st Quarter

Click to enlarge
As I said before, there are too many unknowns for my numbers to be calculated with much confidence, however, I believe my assumptions represent a realistic outcome. When OXLC publishes their first quarter results (which is actually the 4th quarter of the 2016 financial year), I will be looking at the amount of realized losses and the overall CLO Equity portfolio yield, which was 15.4% at December 31, 2015. In calculating their projected 1st Quarter NII (chart 2), I assumed that the CLO equity portfolio yield stayed relatively static. If OXLC's management decided to sell their higher yielding assets, then their first quarter NII (and going forward) will be lower but again their realized losses should be lower.
TICC's write-down of their CLO Equity Effective Yield
In their 1st quarter conference call, Mr. Cohen, CEO of TICC, basically stated that they had to reduce the expected Effective Yield on their CLO Equity investments from 11.3% to 8.5%, a 25% drop, due to increased expected defaults. I assume that OXLC will also be forced to write down their Effective Yield of their portfolio; however, I did not include those write-downs in m projections. Obviously, the write-downs could have a significant and negative impact on OXLC's 1st quarter results and on-going.
There are simply too many unknown variables to gauge whether OXLC's dividend is safe but based upon my initial calculations and assumptions, it appears that their $0.60 dividend should be safe. Unlike TICC, OXLC has a decent amount of cushion to absorb credit losses and reductions in cash flows from their CLOs. For the 4th quarter, they had Net Taxable Interest Income of $0.96 and a dividend of $0.60, which equates to a dividend coverage ratio of 160%.
Issuance of Additional Common Shares
On March 7, 2016, OXLC's management filed with the SEC a registration statement that allows them to issue shares with a net value of up to $25 million. The shares must be sold at a net price, including selling costs, greater than par. OXLC's current stock price of just under $10.00 is $1.77 or 22% above their current NAV (and $3.70 or 55% above my projected March 31, 2016 NAV).
For the last month, the stock has more or less traded above $8.50 (roughly the net price needed to return par to OXLC) so OXLC could have been issuing a steady stream of shares for a month. However, if you look at the stock's trading volume, there does not appear to be any increased trading. My guess, and it is purely a guess, OXLC has not issued shares (at least not a meaningful amount). The stock has performed exceedingly well during the last month, up 9%. Given OXLC's thin trading volume I believe that if OXLC were selling shares into the market, the price of the stock would suffer. I must admit this is outside my knowledge base so this is simply my best guess.
As most of my readers know, I put a lot of faith into the "intrinsic value" NAV calculations for OXLC and ECC. I believe that the market dislocation that occurred over the last few months was irrational and CLO Equity will more or less return back to a more normalized range. By selling shares or investments significantly below their Intrinsic Value NAV or amortized cost, respectively, management is destroying long-term shareholder value.
In fact, based upon my analysis, CLO Equity values increased by about 10% in the April. Hopefully, OXLC has decided to forego the opportunity to issue shares at significantly below their "Intrinsic Value" NAV of approximately $12.30 at March 31, 2016. While technically an issuance of share at $9 will not be currently dilutive, it would destroy roughly $3 a share of long-term value.
I believe that the current increase in CLO valuations has fixed the breach of OXLC's Asset Coverage Test at April 30, 2016. I am fairly confident that over the next two months, CLO valuations will continue to improve and therefore, OXLC's Asset Coverage Test will no longer be a problem and they will be able to declare a third quarter dividend at June 30, 2016 without destroying any long-term intrinsic value.
Conclusion
Both ECC's and OXLC's stock prices have made impressive gains since their recent lows of February. The recovery in their stock prices has outpaced the current recovery in CLO Equity valuations. As I have explained in great details in all of my recent CLO Equity articles, CLOs are cash flow structures that are built to withstand defaults (2%-3% per year) and still be able to return healthy yields their equity holders (12%-15% IRR). The recent precipitous drop in CLO equity valuations was based upon irrational fears of credit losses and not based upon the true economic situation. It turns out the much maligned BDC/CEF investors class might be more savvy than their institutional peers.
ECC's and OXLC's stock prices have approached their Intrinsic Value NAV (ECC's price exceeded their Intrinsic Value prior to the announcement to issue new shares). The recent increase in these stock prices provides credence to my repeated argument that these companies should be valued at their long-term Intrinsic Value and not based upon the vagaries of an inefficient CLO market.
As most of my readers know, I generally try to lay out the facts in a detailed and hopefully in a cogent manner and leave the reader to draw their own conclusions; however, I have to make an exception in the case of OXLC's management. To put it bluntly, I believe their management team has done a horrible job of protecting shareholders' value. First, they overlevered OXLC's balance sheet, which ultimately caused them to breach their Asset Coverage Ratio. However, they astutely mitigated the damage of the breach by declaring dividends for the first two quarters of 2016. By doing this, they bought themselves six months to fix the problem. In fact, with the recent recovery in CLO Equity valuations, the breach would have fixed itself by the end of April.
Management squandered the one positive step they took during this period by panicking and selling a significant portion of their investments at the very worst time possible and probably at fire sale prices. We will have to wait until Thursday morning to learn the exact amount of the long-term shareholder value management destroyed with their short-sighted and reckless decision to sell investment. I do feel it is necessary to reiterate that I do not know the amount of their losses and if my assumptions turn out to be wrong, I will quickly apologize and retract this article but I am quite certain that I won't have to.
I simply don't understand why investors would decide to trust their funds with OXLC's management that has shown so little regard for shareholder value when an investor can get exposure to the same asset class with a much better and trustworthy management team - ECC.
Disclosure: I am/we are long ECC.
I wrote this article myself, and it expresses my own opinions. I am not receiving compensation for it (other than from Seeking Alpha). I have no business relationship with any company whose stock is mentioned in this article.