Introduction
GoPro (NASDAQ:GPRO) is an American manufacturer of action cameras. Its lineup includes several fixed-lens "HD HERO" cameras, and the company plans to release a drone some time in 2016. As of 5/18/16, the company is trading at $8.87 with a market capitalization of $1.23 billion.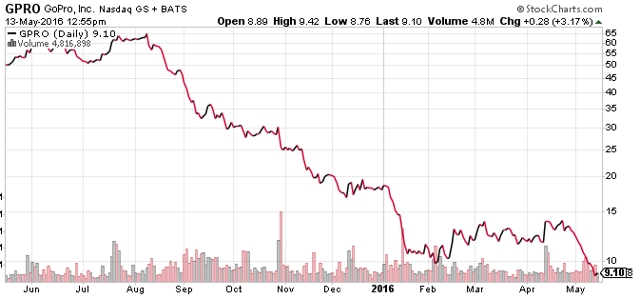 Click to enlarge
From a purely consumer standpoint, I've always been a big fan of GoPro. I bought my first action camera in 2015, and still use it quite often. Regardless of the company's recent woes, it is still without a doubt the face of this industry. However, its inability to lead the market is largely why GoPro is down 81% since Q2 last year. Reductions in sales, questionable management, poor historical pricing strategies, and the delay of its drone give me a negative outlook for 2016.
Recent Earnings
The action camera market has reached a ceiling in terms of sales and product pricing. This conclusion was also reached in Eagle Alpha's assessment of relative market conditions and the company as a whole. Market saturation has resulted in increased competition for the company. The graph below reinforces the saturation with data collected between November 2013 and January 2016.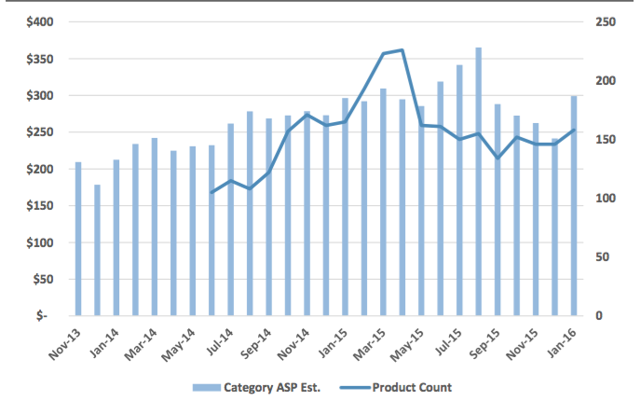 Click to enlarge
Source: Eagle Alpha-Evidence of Saturation in Action Camera Category
Earnings for Q1 '16 reflect a change in consumer spending in the action camera market, and its effect on sales throughout the year. Prior to this release, GoPro had underdelivered on two consecutive earnings releases. Results were mixed this quarter, but were yet again disappointing.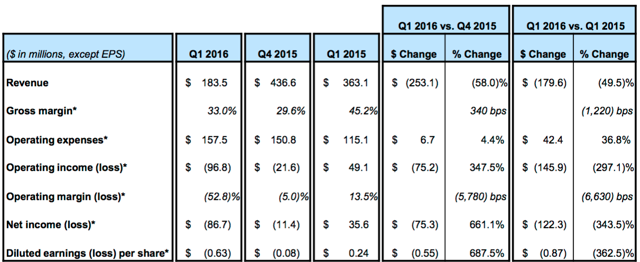 Click to enlarge
The company achieved revenue of $183.5 million for Q1, down 49% from the same quarter last year. Retail spending was down leading up to the earnings release, but more importantly, the company lost considerable revenue from its mismanagement of the new Hero 4 Session. The company was forced to markdown its newest installment by 50%, which accounted for most of the missed revenue. There should be a reasonable expectation from investors that GoPro, at a minimum, can adequately price its products at a level that generates maximum possible revenue. Frankly, this was the most concerning piece of evidence from the 10-Q.
When GoPro initially went public, the company derived roughly 80% of its revenue from products selling for more than $200. Today, it derives just 50% of its revenue from the same product categories, a point reflected in the graph below.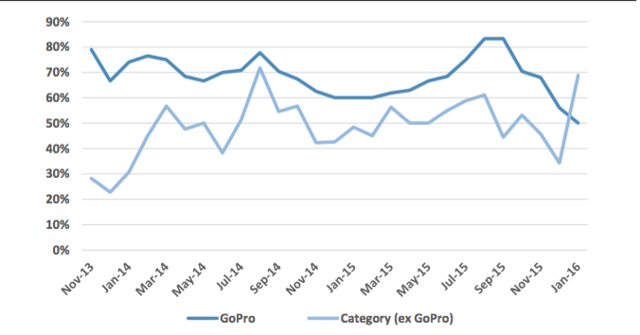 Click to enlarge
Source: Eagle Alpha Analysis
The trend above is evidently not one which GoPro intends to continue, as the company will soon be removing its Hero, Hero+, and Hero+LCD models. This will leave its other premium models as its new lineup. I'd still like to hear more from the company regarding its pricing strategy for future models.
GoPro acquired software companies "Replay" and "Splice" for roughly $100 million. One of GoPro's major weaknesses has been its inability to release a good mobile video-editing platform, and it hopes that these acquisitions will help fix this issue. In a Q4 conference call from last year, CEO Nichols Woodman had already acknowledged that video editing has been a big challenge for his company. An easy-to-use software platform would have been an instrumental part in helping GoPro break away from its niche status, and into the mainstream market. Though I'm negative on the company, I include this point because it's one of the few good moves from GoPro. If there's a reason to have long-term hopes for the company, software could be it. I recommend that investors monitor the success of GoPro's future software platforms.
Present
Investors and Wall Street have been down on GoPro recently, and rightfully so. A senior analyst at Oppenheimer has said that management is "juggling multiple initiatives" which include creating a better software platform on mobile, the release of the Hero 5, and a drone which will be discussed shortly.
Pacific Crest analyst Brad Erickson has said he "estimate[s] current sell-through run-rates are ranging 800,000 to 1 million units per quarter versus Street expectations of ~1.1 million in Q2 and ~1.2 million to 1.3 million in Q3." He perceives major softness in the action camera industry. I agree wholeheartedly. I will explain below.
Some analysts have compared Apple (NASDAQ:AAPL) and former CEO Steve Jobs to GoPro's current CEO Nick Woodman. I disagree with the comparison for two reasons. First, action cameras are far different from products like the iPhone. GoPro largely caters to a niche audience of athletes and thrill seekers hoping to capture their adventures and upload the videos online. Average people with desk jobs have no use for a GoPro. However, according to the Pew Research Center, 64% of Americans now own smartphones. That's roughly 190 million people. Aside from inherent product differences, the audience size is not even remotely comparable. Secondly, and with no disrespect meant to Mr. Woodman, he is no Steve Jobs. The former Apple CEO did not just create products, he helped created entire industries. While Apple was not always the first to launch a product, it did consistently drive industries. If Woodman truly were the Steve Jobs of the action camera industry, GoPro's product line would not still be without a drone. Frankly, as an investor, the company's lack of vision is concerning.
Lastly, the company has been incredibly disappointing with its drone program. At this point, the market is filled with several major competitors, and the company will not have the market share it enjoys in the action-cam industry. As early as 2014, the WSJ wrote that GoPro would be launching its own line of consumer drones to the market, which would be named "Karma". Last October, the company released the first footage taken from the Karma drone, and reiterated that the product should be released in early 2016. After the last earnings report, however, the company said it planned to delay the release until the holiday season of 2016. The longer GoPro delays this release, the more saturated the market becomes as new companies are constantly entering. Furthermore, with the current regulatory environment and public safety concerns, which Oppenheimer recently noted in its February Drone Industry Report, GoPro may face greater challenges once it actually enters this market.
What now?
GoPro will not bounce back in the near future. The company's inability to take advantage of the changing technological landscape has ensured that it will face an uphill battle. It entered the drone market too late, though the Hero 4 Silver remains popular, sales for its other devices have been lagging, and it did not appropriately price its newest installment, the Hero 4 Session. A poor pricing strategy and underfunded marketing team forced the company to mark down the camera repeatedly from $400 at release to $200 last December. Management needs to regain control of this industry and restructure itself to become more profitable. Whether this is through greater emphasis on its drone program, software development, or other segments is yet to be seen.
Conclusion
Though I do not recommend an investment in the company for 2016, I will be looking at future earnings reports to see if GoPro can find a way to become more profitable. New circumstances would dictate that I reevaluate my current outlook. Regardless, for now, this company is not going up.
Disclosure: I/we have no positions in any stocks mentioned, and no plans to initiate any positions within the next 72 hours.
I wrote this article myself, and it expresses my own opinions. I am not receiving compensation for it (other than from Seeking Alpha). I have no business relationship with any company whose stock is mentioned in this article.