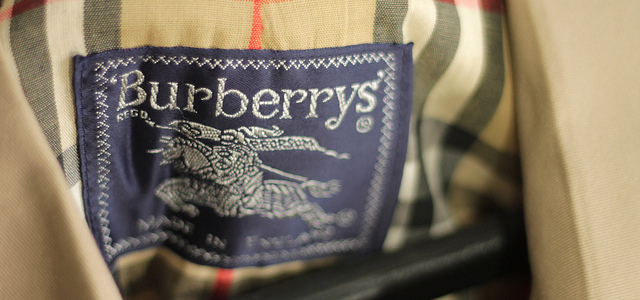 Burberry (OTCPK:BURBY) impressed me when I last reviewed it at the start of 2016. Yet today it released it FY 2016 results which seem to have left investors unimpressed. Their London-listed shares dropped as much as 6% in response. Chief Designer and CEO Christopher Bailey also faced further questions as to whether he is up to the dual demands of his role.
As it happens, I think he is doing a good job on both the design and corporate front but perhaps a co-CEO with broader commercial experience would be welcome. Yet, as I note, I think he is doing a good job. Looking at Burberry's FY results seems to justify this view.
All told, I think investors' negative reaction to the results were overplayed. Let's take a look at what I mean.
Top- and Bottom-Line Woe?
It may not be obviously apparent why I still like Burberry from their top and bottom line figures. They were hardly attractive with an underlying revenue shrinkage of 1% and operating income of 11%.
Note: For readers used to looking at companies reporting in USD, remember to recalibrate your eyes: Underlying (that is, currency-neutral) results are lower than reported results. Burberry's results are declared in GBP.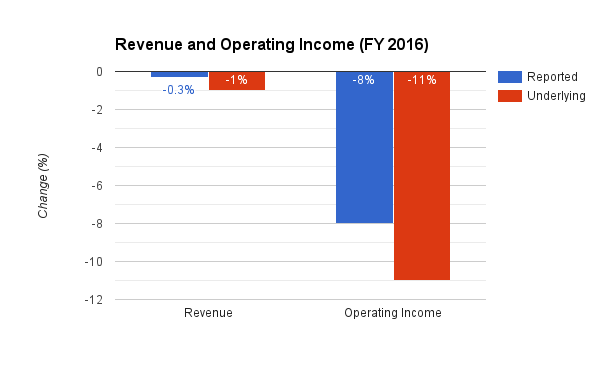 On the revenue front, this is particularly startling as it has marked the end of the revenue stampede Burberry has produced in recent years: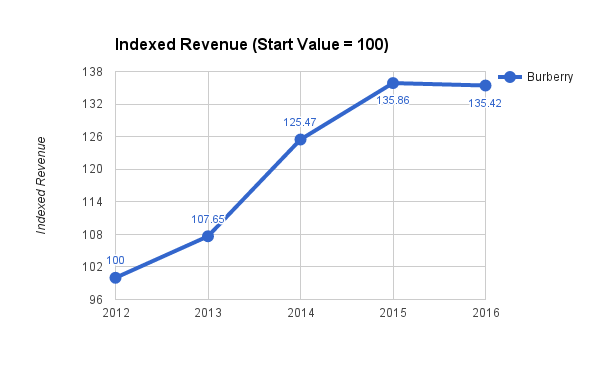 Central to this slight decline in revenue is Burberry's Asian market. With the slowdown in Asia it is unsurprising to see that it was here that the slowdown in growth was most marked from both a reported and underlying basis:

Click to enlarge
As important as the Asia Pacific market is, however, note that Burberry is well diversified across the globe. Indeed, the EMEIA region (Burberry's second-largest) pulled out an impressive performance during the year. This is very encouraging to see. Burberry's "Asia Pacific Narrative" is perhaps very attractive, yet it is not the only narrative important in looking at the company.
Profit Decline
Nonetheless, it was not the revenue that caught people's eye. The biggest worry for some was the decline in profit. Understandably, seeing profit decline 11% on underlying performance is not what you want to see. Similarly, finding yourself faced by further declines in margins performance is hardly happy reading: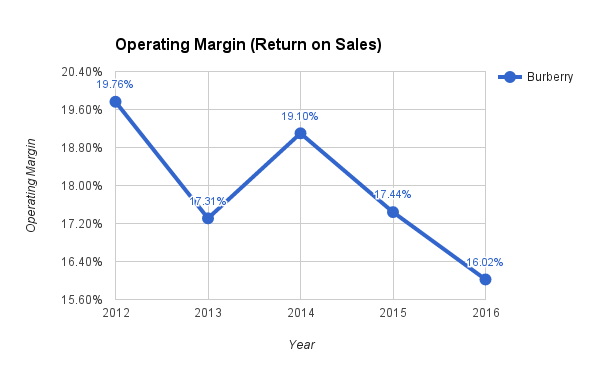 Yet, let's be clear, Burberry (even faced with a tough luxury market) was able to produce margins above 16%. Certainly, I'd like to see them heading back up towards 20% again sooner rather than later. Yet it can hardly be argued they are operating on wafer thin margins we should worry about.
There is more. It is important to recognize that a significant driver of this profit drop was licensing profit. The core Retail/Wholesale segment still declined in profitability, yet at a slower 4.6%: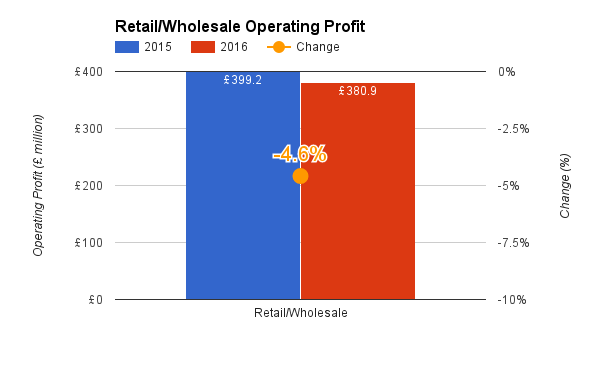 In contrast, Licensing saw much heavier declines: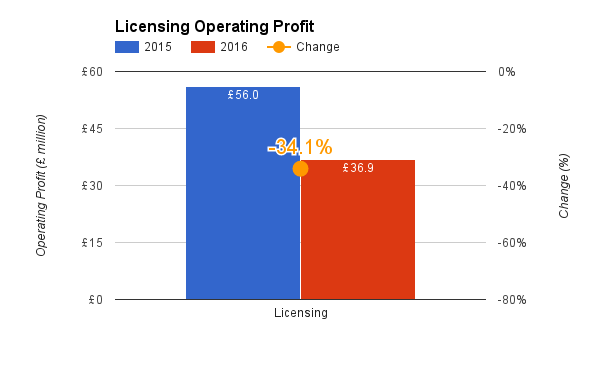 Now, although licensing only composed less than 3% of revenues in 2015, it contributed over 12% of profit: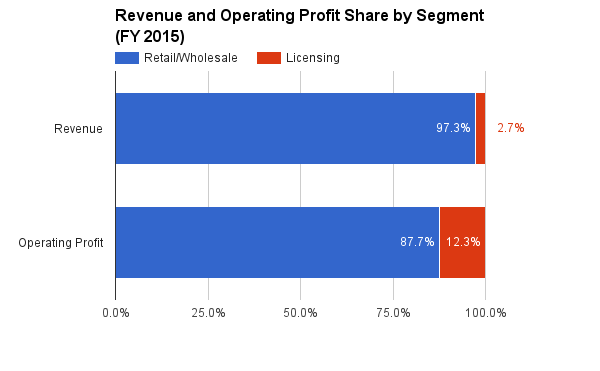 A profit decline like this in the licensing segment was always going to have a sizeable effect of total company profit. Yet this decline was, as we shall see, entirely expected by the company and (peculiarly enough) to be encouraged. Let me explain.
Japan Influence
Licensing profit declines were driven largely by the termination of their licensing contracts in Japan. Up until June 2015 Burberry licensed their products in this luxury goods growth market. Yet this resulted in them losing a great deal of control over their brand there.
The move is attractive over the long-term. Japan remains a key driver of luxury goods growth in the future. Controlling their brand (ultimately, their most valuable asset) is therefore of paramount importance. Yet the shift from licensing means they have to then build up their retail offering there. Prior to the termination of the licensing agreement, over 400 stores in the country sold their branded goods. Although making progress, Burberry is still only starting its process of rebuilding its presence through direct retail offerings: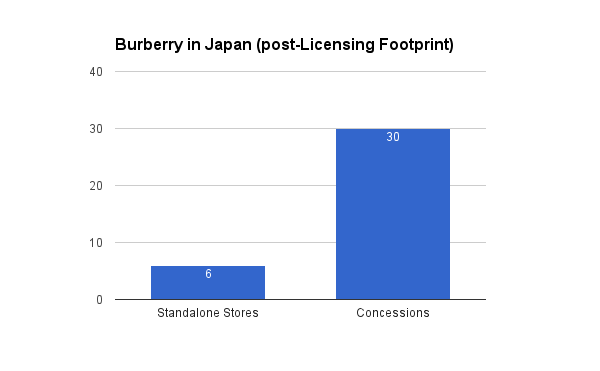 Clearly they still have some way to go to build up their physical store footprint in the country. Yet progress is being made. Revenue doubled from this fresh direct retail position in Japan (although, admittedly, from a small base).
This is a story that has to be watched as it unravels in the future. Yet, right now, progress is happening and should continue apace in the near future and beyond.
Corporate Strength
So, for me, the results were largely as I was expecting and remain (despite first impressions) pretty robust. Yet where Burberry continues to shine in my eyes is its fundamental strength. Debt levels have never really been high, but they continue to come down: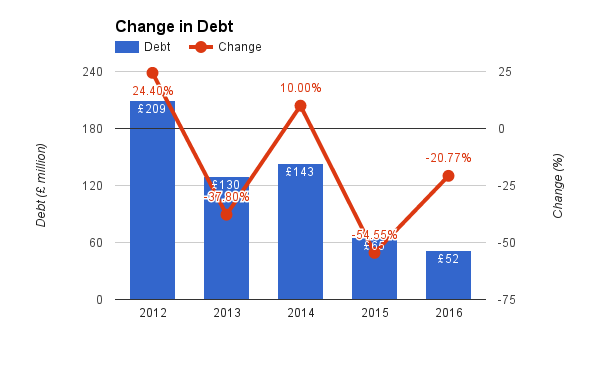 That is a nice movement in debt. Yet it is matched by an equally nice trend in shareholders' equity: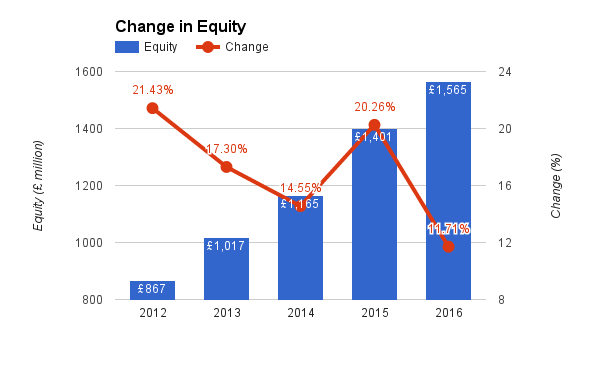 The effect is telling. For those of you who like to see a small debt-to-equity level you're in luck. Burberry's is miniscule: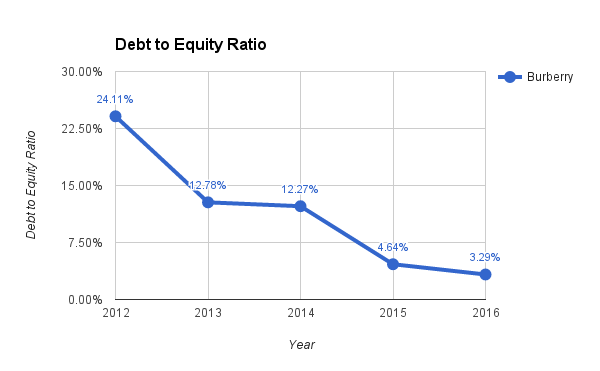 As if that was not enough, it is also sitting on an epic cash pile which continues to grow: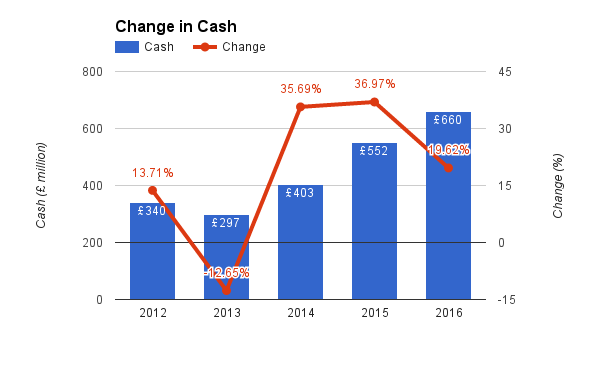 This is a company, therefore, continues to be in great health. This comes across even clearer when we look at it from a cash flow perspective.
Cash Flow Remains Compelling
On the back of profit declines, operating cash flow understandably dropped to £411 million rather than £455 million last year. Free cash flow, however, fell less sharply courtesy of declining CapEx: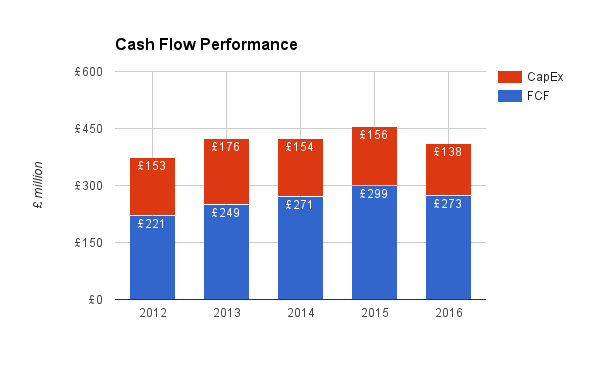 Backed by a strong debt and equity position, Burberry is therefore still generating an impressive CROIC (cash return on invested capital) despite obvious declines: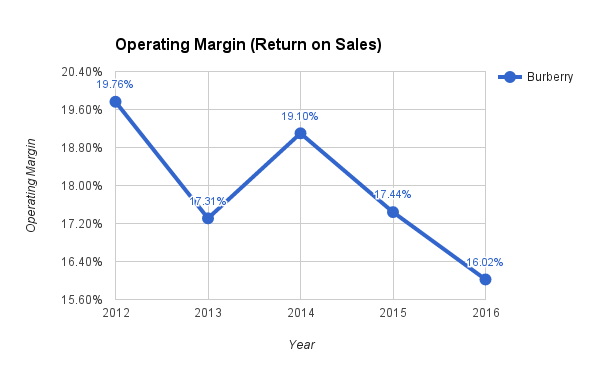 Generating over $16 for every $100 of capital invested (that is, total debt and shareholders' equity) still remains comfortably above my 10% target for highly attractive cash-generative businesses.
Heading back to the debt matter, Burberry's cash flow continues to cover its entire debt massively (over 5 times, in fact):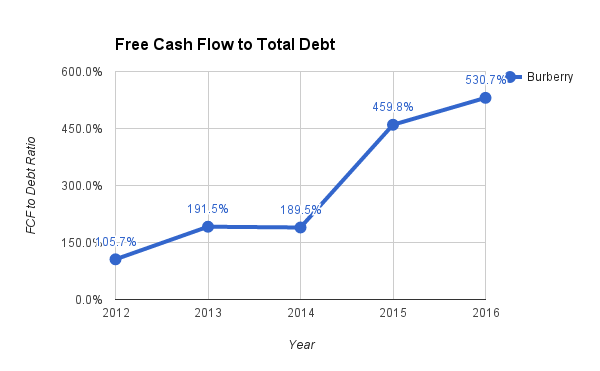 In theory this means it could repay its entire outstanding debt load in a little over two months using just FCF.
Cash flow performance remains compelling as a result courtesy of a strong luxury fashion brand backed by a n equally strong company. There is little to find here to unsettle an investor.
Shareholder Returns
Investors have little to complain about regarding shareholder returns. Burberry also announced their final dividend meaning that the FY dividend has grown another 5% for 2016. Admittedly, this does mean growth has slowed markedly recently: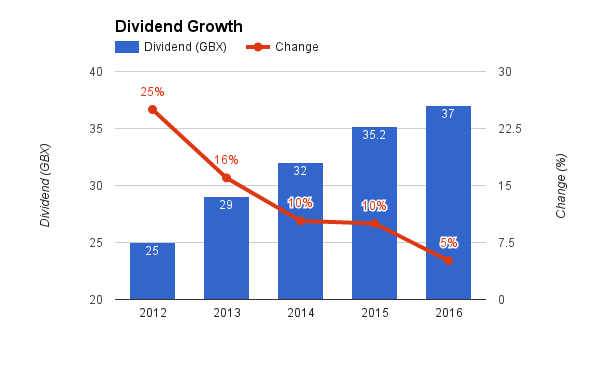 Yet it is hard to argue that in a flat inflation environment a 5% growth is hardly insubstantial (especially when even consumer goods heavyweights like Procter & Gamble (NYSE:PG) have been forced to cut back dividend growth). This is especially true as even in light of this strong dividend growth and additional (if modest) share buybacks Burberry still only pays out a modest amount of its FCF to shareholders: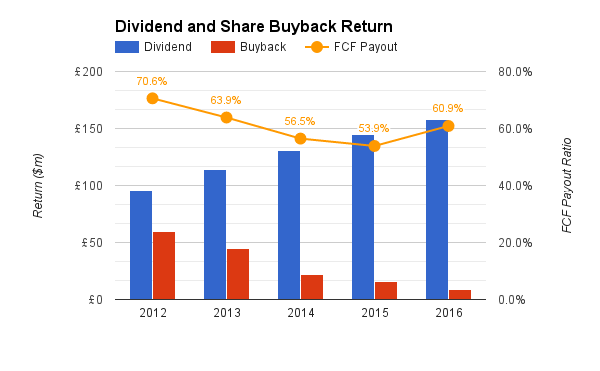 The reality is that Burberry still comes with a strong dividend which is also now presenting a pretty attractive yield: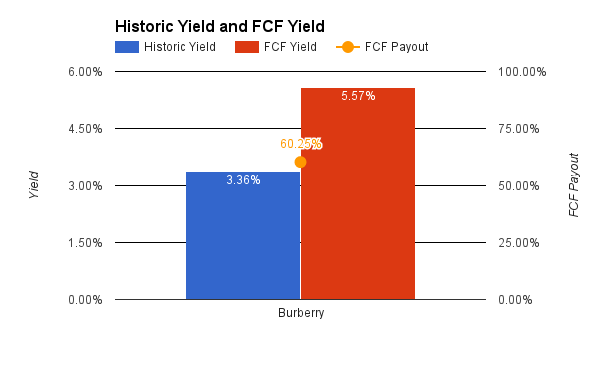 In light of this cash flow payout strength, low debt load and continued robust performance I think managements claims of a dividend "at least in line" with 2016 for next year is conservative to say the least.
This seems emphasized by the proposed £150 million share buyback authorization for the coming FY2017 period. All told, shareholders look set to receive a pretty generous return in the coming year.
Conclusion
Burberry continues to impress me. Nothing in these results has undermined my view that they remain a compelling long-term pick. Clearly, the slowing luxury goods growth (fed by, in particular, concerns about the Chinese and general global slowdown) will continue to hold back results in the immediate term. Yet the company remains highly cash generative with massive potential for continued generous shareholder returns.
Profit worries are understandable. Yet the company remains highly profitable with very robust margins. What is more, profit declines were heavily influenced by the transformations the company is experiencing in the important Japanese market. Long-term, these changes are attractive for the business. Yet, clearly, it is leading to short-term profit headaches compounded by the general market trends.
With a pretty hefty, well-covered 3%+ historic yield and a brand that continues to attract customers despite a tough luxury goods environment is still strikes me as a strong company to add to your portfolio. Lumps and bumps still look set to face them in the near term. Yet it continues to have the brand and business brawn to flatten out the worse effects of these.
Sources: Unless otherwise stated, all graphs and the calculations contained within them were created by the author. Creative Commons image reproduced from Flickr user 85546319@N04.
Disclosure: I am/we are long BURBY, PG.
I wrote this article myself, and it expresses my own opinions. I am not receiving compensation for it (other than from Seeking Alpha). I have no business relationship with any company whose stock is mentioned in this article.
Editor's Note: This article discusses one or more securities that do not trade on a major U.S. exchange. Please be aware of the risks associated with these stocks.