On Wednesday, after the market close, Cisco (NASDAQ:CSCO) delivered a strong F3Q16 and next-quarter outlook. The company outperformed on nearly every metric, from top and bottom lines to margins and cash generation.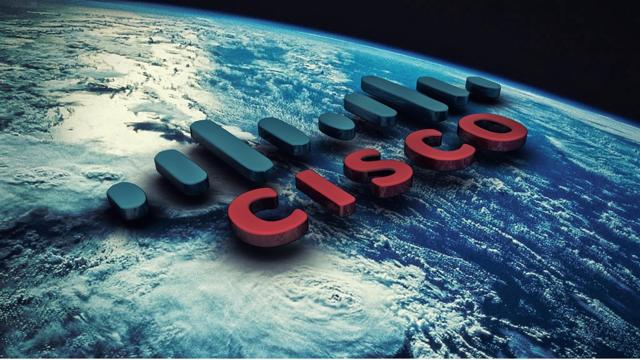 Click to enlarge
Image Credit: Wall Paper Stock
On total revenues of $12.0 billion that barely edged ahead of the Street consensus of $11.97 billion, the San Jose company beat non-GAAP EPS expectations by two cents, a 6% improvement YoY. Operating margins came in 140 bps higher than the same quarter last year, mostly driven by a 270 bps improvement in company gross margins.
FCF generation of $8.87 billion increased 18% YoY, driving the payout ratio down versus F3Q15 despite the recent quarterly dividend hike to $0.26/share. Net cash increased slightly to $6.90/share. On the next-quarter outlook, Cisco guided EPS to a mid-point of $0.60, which is 3.5% higher than consensus estimates.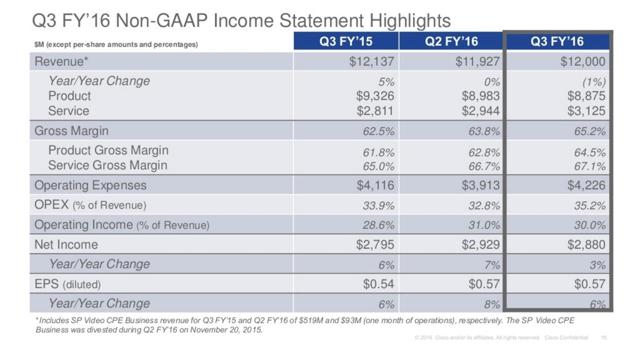 Click to enlarge
Source: Cisco's F3Q16 earnings presentation
The positive: A shift to software and services finally taking hold, bringing in better margins
The outperformance was driven by two key factors that are core to Cisco's strategy going forward. The first is a revenue mix shift towards services, a higher-margin business segment that grew at a solid 11% pace this quarter and now represents 26% of the company's revenues (versus 23% last year and 21% three years ago). This was a crucial pillar of Cisco's turnaround efforts ever since branded networking equipment began to lose ground to white-box and bare-metal solutions at a more mainstream level two to three years ago. Investors will probably be pleased to see the revenue shift and hope that the trend continues over the next several quarters. I calculate that each 1% increase in services revenues will generate, all else held constant, an extra $65 million in net income per year.
The second is the sizable improvement in the product division's profitability, which is likely the result of a shift from traditional hardware to software and subscriptions. Gross margins improved an impressive 270 bps YoY and 40 bps QoQ. The smoking gun is the revenue split across the different product categories, as the graph below illustrates. Cisco grew security - traditionally a software-heavy sub-segment that leans on the recurring revenue model - a very respectable 17% YoY in F3Q16. Meanwhile, traditional switching and routing dropped -3% and -5%, respectively.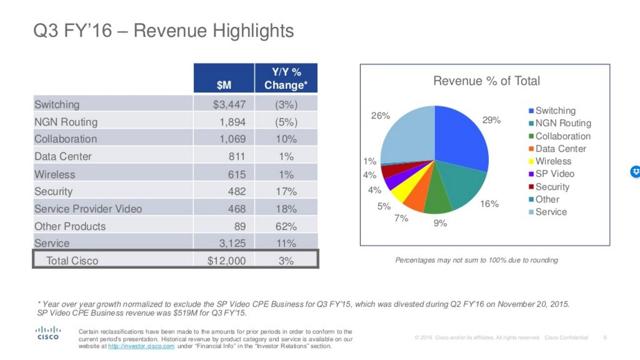 Click to enlarge
Source: Cisco's F3Q16 earnings presentation
I expect this product category shift to continue. The key reason, aside from technology changes, is the saturation of the traditional switching and routing markets. As the charts below suggest, Cisco dominates enterprise routing (more than 75% market share), carrier routing (more than 50% share), and switching (about 65% share). Growth in these areas will be increasingly hard to achieve. On the other hand, the company controls only 20-25% of the network security market, and splits the bulk of the pie with 6 other large players. Therefore, I expect Cisco to grow its software- and subscription-based revenues at a faster pace than the rest of the business.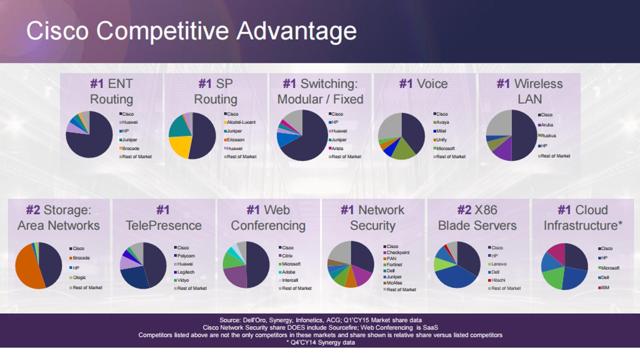 Click to enlarge
Source: Cisco's 2015 Investor Day presentation
The negative: Cisco will probably continue to fight lower carrier budgets
As I have argued in the past, most network equipment providers are facing secular headwinds on the carrier end due to lower spend and tighter budgets. The average service provider is expected to deploy 2% less in capital investments in 2016 than it did in 2013 as 4G network upgrade cycles unwind. These pains are unlikely to subside anytime in the near future. Therefore, I believe carriers will provide network equipment companies with little-to-no top line support in the foreseeable future.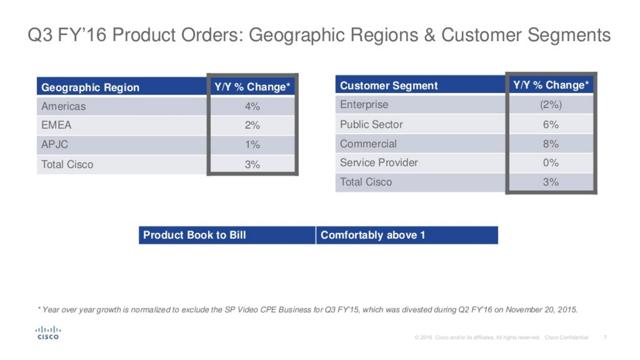 Click to enlarge
Source: Cisco's F3Q16 earnings presentation
Not all is bad news for Cisco, however. As the chart above indicates, other verticals aside from carriers appear to remain healthy. The commercial and public sector verticals improved product orders 8% and 6% in F3Q16, respectively, driving the company's total order growth of 3%. And I see no reason why enterprise, down 2% this time, might not rebound in the upcoming quarters.
Is CSCO a buy?
I expect shares to move higher tomorrow, in response to a solid F3Q16. Still, as the table below indicates, CSCO continues to be one of the most undervalued stocks in the network equipment sector. Trading at 12.2x 2016 consensus EPS (this multiple may drop once the Street revises its earnings estimates up over the next few days), CSCO is valued below the peer group's 12.4x. And on a cash-adjusted basis, the stock trades at a 2016 P/E ex-cash multiple of 9.2x, 25% lower than the peer group average of 12.4x.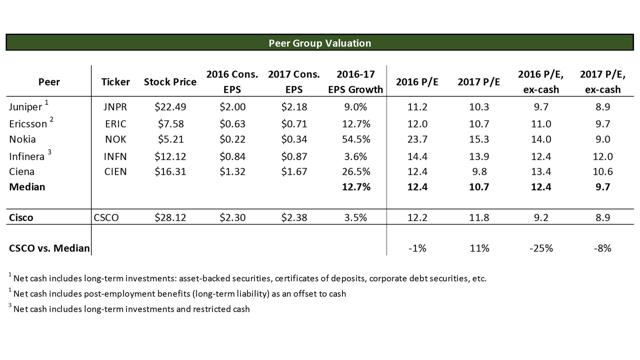 Click to enlarge
Source: DM Martins Research, using data from company reports, SEC filings, and Yahoo Finance
As a result, I continue to see CSCO as an interesting investment option despite the challenges faced by the network equipment sector. I doubt that the macro environment will improve significantly in the next 12-24 months. But an industry leader executing on its software and services businesses, driving margin expansion, generating a hefty dividend yield of nearly 4%, and trading at sector-low multiples seems like a good buy to me.
Disclosure: I am/we are long CSCO.
I wrote this article myself, and it expresses my own opinions. I am not receiving compensation for it (other than from Seeking Alpha). I have no business relationship with any company whose stock is mentioned in this article.