Annaly Capital Management (NYSE:NLY) finally had another day with poor stock price performance. The sharp drop in mortgage REITs comes along with a sharp drop in most equity REITs and in most bond funds. The market wasn't selling off on the general equity side (such as the S&P 500) but the rate sensitive instruments (including utilities) took a beating that ranged from mild to severe depending on which stock or ETF we are considering.
The big risk to the sector, at least the risk investors are focusing on, is the risk of higher short-term rates. The market has been remarkably willing to overlook the flattening of the yield curve and the impact low long term rates will have on mortgage performance. The Federal Reserve indicated in their meeting notes that the market was not properly assessing the odds of an increase in short term rates.
To better understand why this matters so much to Annaly Capital Management, it helps to consider their hedge structure.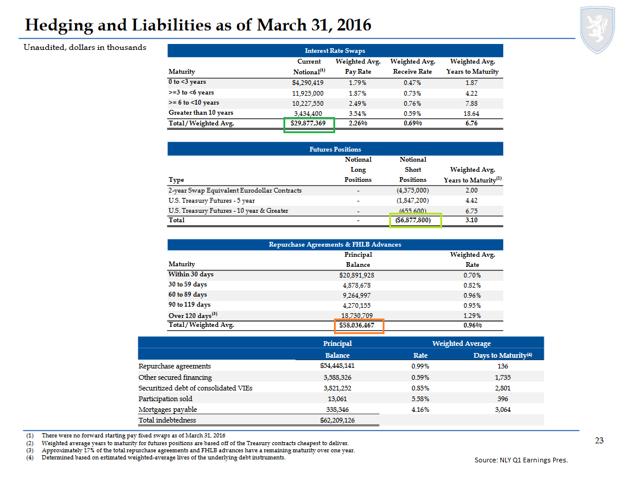 Click to enlarge
The green box near the top and the light green both near the middle both represent different hedge positions. The orange box below indicates the total value of borrowings for Annaly Capital Management under their two major funding sources.
The light green box is highlighted to point out that it exists, but the way futures positions work will result in some protection to book value but no impact on Core EPS. For dividend sustainability, I expect Annaly Capital Management to focus on normalized Core EPS.
That means the major focus is on the dark green box near the top and the orange box below. We can estimate the increase in interest costs. I opened a new spread sheet and put together a quick table to demonstrate:
| | |
| --- | --- |
| Total Financing | $58,036,467.00 |
| LIBOR Swaps | $29,877,369.00 |
| Net Exposure | $28,159,098.00 |
| Potential Increase in Annual Cost From 25BP | $70,397.75 |
| Shares | 924853 |
| Increase in Net Interest Cost Per Year Per Share | $0.08 |
| On a Quarterly Basis | $0.02 |
| | |
| Current Normalized Core EPS Trend Per Quarter | $0.30 |
| Dividend Per Quarter | $0.30 |
This gives us a rough estimate that if the Federal Reserve were increasing short term rates and all else was held constant it would result in a decrease in the sustainable dividend level of about $.02 per quarter. Keep in mind that such a cut would eliminate 6.66% of the pay to shareholders, so that would be material.
Other Mortgage REITs Are At Risk
Annaly Capital Management isn't the only mortgage REIT at risk for dividend reductions from an increase in rates. They are one of the safer mortgage REITs and would be less likely to face a dividend cut than many peers.
Net Interest Spread
The big problem here is that the net interest spread and net interest margin get hammered when the yield curve flattens. If the yield curve steepens, book value gets hammered. How can investors win? A gradual steepening of the yield curve is the most favorable long-term development, but in the process there may be some great sale prices offered on the mortgage REITs. So far, sale prices are still a long ways away.
Flattening
The yield curve is still fairly flat. There are two things that a typical agency mortgage REIT absolutely hates. They are volatility in interest rates (due to prepayments) and a flat yield curve. Prepayments drive down MBS yields when the bond is paid off for par value and was purchased at a premium and a flat yield curve means the net interest spread is collapsing and dividend cuts are likely for many of the mREITs that have not issued those cuts yet.
Other Mortgage REITs
This is the kind of development I would normally cover in my "thoughts on mREITs column," so I want to bring it up for the other mREITs as well because it drove large losses in share price for most of them.
| | |
| --- | --- |
| (NASDAQ:AGNC) | American Capital Agency Corp |
| (NYSE:ARR) | ARMOUR Residential REIT |
| (NYSE:CMO) | Capstead Mortgage Corporation |
| (NYSE:CYS) | CYS Investments |
| (NYSE:DX) | Dynex Capital |
| (NYSE:JMI) | Javelin Mortgage Investment |
| (NASDAQ:NYMT) | New York Mortgage Trust |
| (NYSE:ORC) | Orchid Island Capital |
| (NYSE:TWO) | Two Harbors Investment Corp |
| (NYSE:WMC) | Western Asset Mortgage Capital Corp. |
| (NYSE:MFA) | MFA Financial |
| (NYSE:EARN) | Ellington Residential Mortgage REIT |
| (NYSE:AI) | Arlington Asset Investment Corporation |
| (NYSE:ZFC) | ZAIS Financial |
| (NYSE:AMTG) | Apollo Residential Mortgage |
| (NYSE:ANH) | Anworth Mortgage Asset Corporation |
| (NASDAQ:MTGE) | American Capital Mortgage Investment |
| (NYSE:CHMI) | Cherry Hill Mortgage Investment |
| (NYSE:STWD) | Starwood Property Trust |
| (NYSE:BXMT) | Blackstone Mortgage Trust |
| (NYSE:CIM) | Chimera Investment Corporation |
| (NYSE:NRZ) | New Residential Investment Corp. |
| (NYSEARCA:REM) | iShares Mortgage Real Estate Capped ETF |
| (NYSEARCA:MORT) | Market Vectors Mortgage REIT Income ETF |
My Positions
I'm long in the preferred shares of Dynex Capital and have a few open limit-buy orders on preferred shares. With the trends towards a flattening yield curve and the relatively small discounts to book value throughout most of the sector I find the preferred shares safer for a long-term investment.
Disclosure: I am/we are long PREFERRED SHARES OF DYNEX CAPITAL.
I wrote this article myself, and it expresses my own opinions. I am not receiving compensation for it (other than from Seeking Alpha). I have no business relationship with any company whose stock is mentioned in this article.
Additional disclosure: Information in this article represents the opinion of the analyst. All statements are represented as opinions, rather than facts, and should not be construed as advice to buy or sell a security. This article is prepared solely for publication on Seeking Alpha and any reproduction of it on other sites is unauthorized. Ratings of "outperform" and "underperform" reflect the analyst's estimation of a divergence between the market value for a security and the price that would be appropriate given the potential for risks and returns relative to other securities. The analyst does not know your particular objectives for returns or constraints upon investing. All investors are encouraged to do their own research before making any investment decision. Information is regularly obtained from Yahoo Finance, Google Finance, and SEC Database. If Yahoo, Google, or the SEC database contained faulty or old information it could be incorporated into my analysis.
Editor's Note: This article covers one or more stocks trading at less than $1 per share and/or with less than a $100 million market cap. Please be aware of the risks associated with these stocks.