Chevron (NYSE:CVX) has had a nice rally since oil bottomed on the 10th of February last but its rally has come nowhere near the returns that crude oil has realized over the same time frame. Furthermore if you look at the chart below, you will see that Chevron's share price is pretty much trading at the same levels as a month ago but the price of crude oil is up over 16%. Is Chevron's rally running out of steam? Are there better places to put ones capital in energy at the moment? I believe there may be especially with oil still trading below its long term 200 weekly moving average.

Click to enlarge
As we know the market always projects conditions 6 to 12 months out. This is why we saw Chevron rally hard out of its February bottom as the market was pricing in higher oil prices further out. The same happened to Caterpillar (NYSE:CAT) coming out of that February bottom but the machinery manufacturer has already turned over. Will Chevron be next? Currently we are holding Chevron in our Elevation portfolio and we have nice paper gains on the trade as we entered around the $95 mark. However we are going to place a stop at the $100 level as I don't like the stock's recent share price action when comparing it to the recent robust rally we have had in crude oil.
In saying this, I am still very much bullish on crude oil going forward. Why? Well just look at chart below which shows the price of crude where I'm using the 200 weekly moving average as an overlay. Now the 200 weekly moving average is well above $76 which is still well $27 from current levels. Now we all know this market always overshoots and before you mention the gap between the 200 week average and prices in 2006 for example, let me explain. The chart demonstrates that the maximum time the price of crude stayed above or below its 200 week average was 3 years (2004-2007). Crude oil has already been two years way below its 200 week average so either the average must drop to meet oil or oil must rise to meet it. It has always been this way which is why the likes of Golden Sachs has done a complete 180 from its initial stance of "oil in a glut"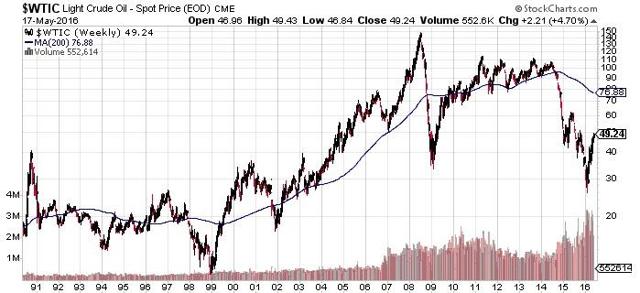 Click to enlarge
So here is where I believe we are in the crude oil cycle count at present. If we look at the daily chart below, we can see the where I have drawn the arrows are where crude oil printed its daily cycle lows. This means we are on the second daily cycle which should have another 10 to 15 days to go before we see a daily cycle low. 3 daily cycles make up an intermediate cycle which are usually about 20 to 22 weeks in length. We only are on week 14 which means oil should keep rising for another 6 to 8 weeks at least.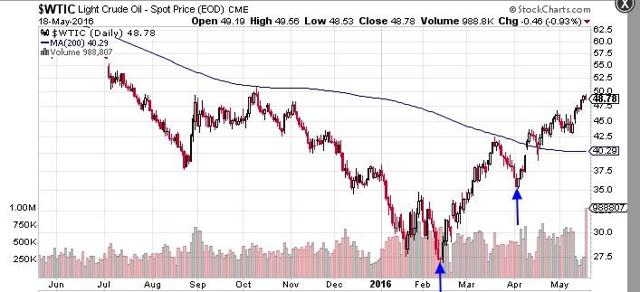 Click to enlarge
Now we could move down into a daily cycle low at any time but we will need sentiment to move down quite a bit (as it did in February and April - see chart). This is why selling Chevron now makes a lot of sense. Even though Chevron is heavily upstream orientated, I feel its stock would get punished if and when oil starts to drift down. Furthermore at some time sentiment will have to get ultra bearish for the next powerful rally to ensue..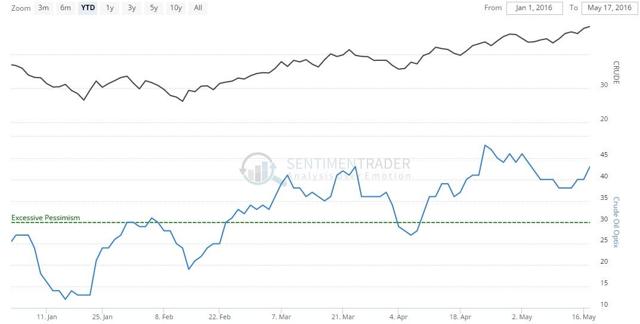 Click to enlarge
Source : Sentimentrader.com
To sum up, we are going to sell our Chevron position and take our profit. When crude oil prints its next daily cycle low, we will enter again in energy and probably go with a more upstream focused company which should give us better gains. I'm going to be adding a few good dividend and growth stocks to the Elevation Portfolio over the next several weeks, when I see value. It's imperative that they are not correlated and all don't have similar valuations in order to ensure that income is brought in every month; that, over time, will increase our share count. You can follow along by pressing the "Follow" button above. Action today : Sell 100 shares of Chevron
Disclosure: I/we have no positions in any stocks mentioned, and no plans to initiate any positions within the next 72 hours.
I wrote this article myself, and it expresses my own opinions. I am not receiving compensation for it (other than from Seeking Alpha). I have no business relationship with any company whose stock is mentioned in this article.