Overview
I will start by saying that 2016 has been a fantastic year for REIT investors. While the broader indices have largely traded sideways, many REITs have produced significant returns. At the forefront of this outperformance has been Realty Income (NYSE:O). The REIT has outperformed the S&P 500 by a considerable margin.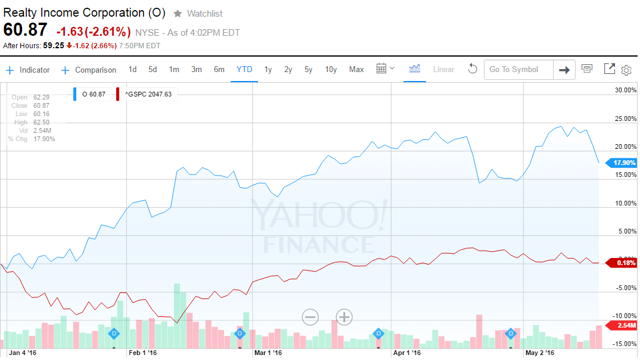 Source: Yahoo Finance, May 18, 2016
At the time of writing, and even in light of the pullback today, investors who have diligently held onto Realty Income have seen returns approaching 20 percent this year when factoring in price appreciation and dividends. To put it succinctly, it's been a great run.
As a result of the outsized return, we have seen Realty Income's valuation soar to levels previously unseen. Simply put, while longs have made money, the stock has gotten expensive.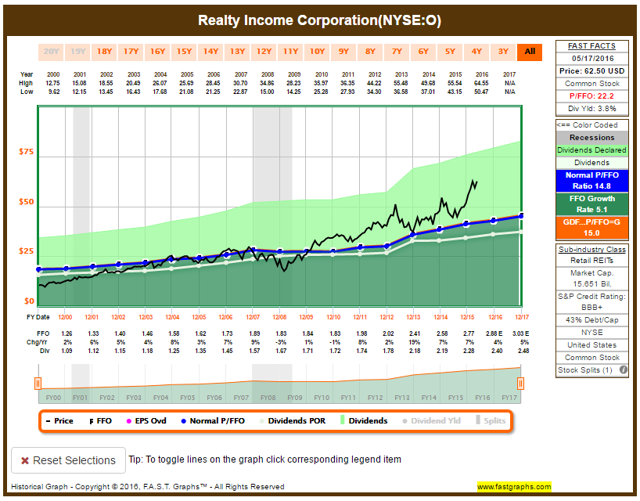 Source: F.A.S.T. Graphs, May 18, 2016
Given this run-up, it shouldn't surprise you to see authors lining up on all sides of the "What do I do with O now" argument. To me, it seems like a funny coincidence that Realty Income has become Seeking Alpha's version of Captain America: Civil War.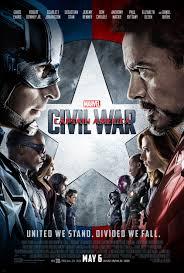 Investors and authors have lined up on all sides of the argument. We have Team Thomas (Brad) sticking with the long case, opting to hold the stock and highlighting management's ability to generate positive returns via a low cost of capital, while team Bowler (Dane) argues for the short position based upon excessive valuations. Numerous others have implemented or recommended strategies falling somewhere between the two.
It's important to note that most of these "strategy" articles that have appeared on Seeking Alpha were published after the stock had made most of its run-up. When you take a closer look at the charts, despite the volatility, Realty Income has been relatively flat since first running up to $60 three months ago, back on February 12th.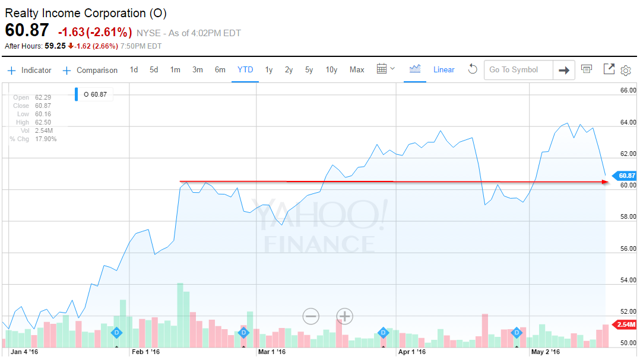 Source: Yahoo Finance, May 18, 2016
So, at this point in time, it appears that neither the long or short case would have resulted in significant returns. In the current environment, I am using volatility to generate excess returns.
Outperforming the bulls and the bears
I will remind everyone that I consider Realty Income to be a core position of my "MnM" (Minne n' Monthly) portfolio, which I write about frequently. I intend on holding it for the long term, and it's arguably been my most successful investment over the past five years.
This being said, I've been skeptical of the run the stock has been on this year. As recently as last week I asked investors if they should consider taking some profits on REITs, in an article published here. Going back to January, I even warned investors here that valuations were rich when the stock traded at $55 per share. Given this skepticism, and despite my intention to hold O for the long term, I have seized opportunities to take profits on it throughout the year.
"The trend is your friend"
As I alluded earlier, it has become clear to me that 2016 is going to be a very volatile year for Realty Income. This volatility has allowed me to trade the stock all the way up, taking profit along the way. I would also highlight that over the past few months, the stock has become largely range-bound. When you review the charts, since the February 12th date I alluded to earlier, Realty Income stock price has largely held steady between $60 and $64 per share, bouncing up and down on what I can only attribute is market sentiment towards rising interest rates.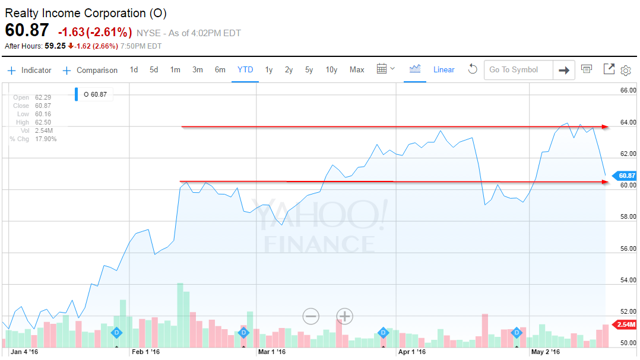 Source: Yahoo Finance, May 18, 2016
While I have not timed the peaks and valleys perfectly, I have generated excess returns by trading on the volatility in the stock. When I compare my near-27% return generated this year to the assumed performance of simply holding the stock, I note that I have generated approximately 7% of outperformance.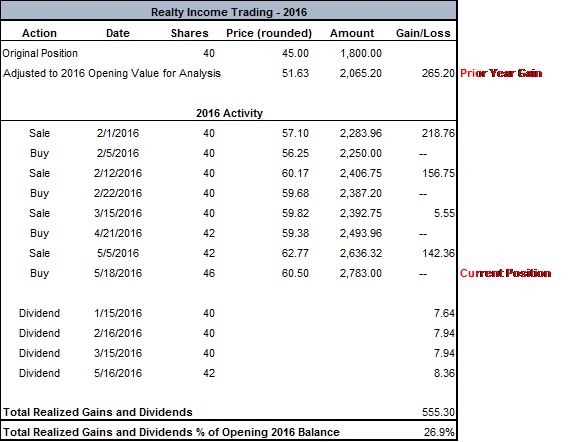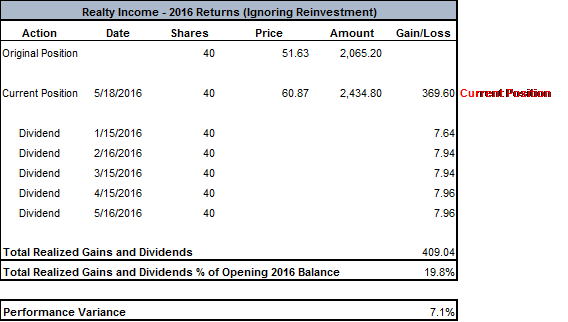 Note: For simplicity, I did not assume reinvestment of dividends, as the impact would have been largely negligible.
Summary
Recent volatility in Realty Income stock has presented opportunities for investors to generate excess returns as the stock moves with sentiment. I know this strategy may not work for everyone, particularly those who are not in tax-deferred accounts as I am, and who would not want a large tax bill on realized gains.
My plan is to hold O now that I have rebought on today's sell-off. Should I again see the price rise to $63-64 per share, I will take profits again. Should we see this range break down, and Realty Income experience further declines and move out of its recent range, I will hold and look for its return to attractive prices at which to add more shares. I am comfortable holding the stock either way. I will throw in a caveat to this recent purchase by noting that had I not had a significant run-up already in 2016, I would not be initiating an initial position in Realty Income at $60 per share.
Realty Income feels like it's become a case of "buy the rumor, sell the news," as over the past few months, every time the market has sold off on heightened fears of the Federal Reserve raising rates, we have only later come to see the Fed hold off. Part of my decision to re-buy was based upon a lack of confidence that the Fed will actually follow through and raise rates in June. Only time will tell, but something tells me the Fed does not want to upset the markets too much before November.
As it relates to the Civil War, it's largely a draw between the longs and shorts through the first three rounds. We will have to wait and see how the second half of the year pans out before we find out who was ultimately right.
Disclosure: I am/we are long O.
I wrote this article myself, and it expresses my own opinions. I am not receiving compensation for it (other than from Seeking Alpha). I have no business relationship with any company whose stock is mentioned in this article.