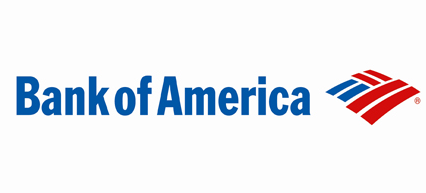 Bank of America's (NYSE:BAC) shares popped ~5 percent on Wednesday on growing expectations that the Federal Reserve will again hike the federal funds rate in June. Bank of America was not the only financial institution that saw its shares climb on such rate hike speculation. Citigroup (NYSE:C) was also up ~5 percent, whereas Wells Fargo's (NYSE:WFC) shares advanced ~2 percent. So why the surge in financials?
Because the Federal Reserve released the minutes of the Federal Open Market Committee meeting on April 26, 2016, and they strongly point towards a hike in the federal funds rate in June. The unusually frank language in the Fed's minutes positively surprised investors yesterday, who then rushed to buy shares in financial companies, many of which have interest rate-sensitive earnings that are set to get a boost from higher rates.
The Fed openly said that a rate hike in June is certainly within the realms of possibility:
Participants generally saw maintaining the target range for the federal funds rate at 1/4 to 1/2 percent at this meeting and continuing to assess developments carefully as consistent with setting policy in a data-dependent manner and as leaving open the possibility of an increase in the federal funds rate at the June FOMC meeting.
My articles on Bank of America and Citigroup have often referred to the potential earnings tailwinds after the Federal Reserve decided to kick off a new interest rate cycle late last year. The Federal Reserve increased the target range for the federal funds rate from 0.00-0.25% to 0.25-0.50% last December (the Fed kept the federal funds rate unchanged since December 2008).
While I certainly welcome the Fed's more hawkish language on the interest rate front, I can't be denied that the Federal Reserve is seriously behind the curve. Put differently: The Federal Reserve has been WAY too cautious for too long with respect to raising interest rates, too afraid that higher rates would stifle economic growth. Just look at the unemployment rate: U.S. unemployment decreased from 10.0 percent in October 2009 to 5.0 percent today. The recovery in the labor market should have coincided with gradual increases in the federal funds rate. The fact that rates didn't go up underscores just how accommodating the Federal Reserve has really been, something, by the way, that comes with a huge potential downside: In case of another recession, the Federal Reserve would have no effective tools available to support the economy by lowering interest rates.
Bank of America's Net Interest Income Set To Grow
Banks like Bank of America or Citigroup are sitting on a large asset base that will produce higher earnings when rates rise. In fact, Bank of America said that it expects its net interest income to grow a whopping ~$6.0 billion over the next twelve months (assuming a 100 basis point parallel shift in the interest rate curve). Hence, the pop in Bank of America's share price yesterday.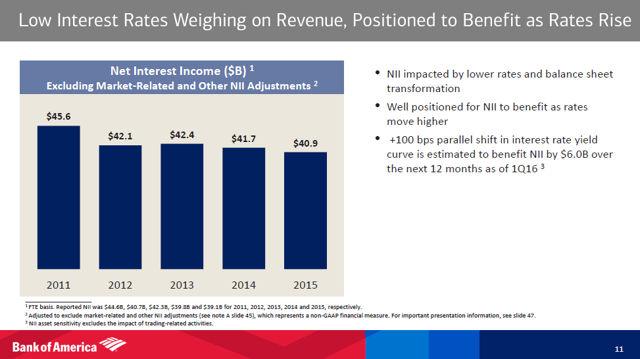 Click to enlarge
Your Takeaway
The released FOMC minutes show that pressure is building within the Federal Reserve to increase the federal funds rate. Expectedly, banks with rate-sensitive assets were in high demand yesterday since a rate hike in June is now a distinct possibility, judging from the FOMC minutes release. Bank of America is one bank whose earnings are going to get a significant lift from higher rates. Buy for capital appreciation.
Disclosure: I am/we are long BAC.
I wrote this article myself, and it expresses my own opinions. I am not receiving compensation for it (other than from Seeking Alpha). I have no business relationship with any company whose stock is mentioned in this article.