I never sell all of my stocks when I feel the market could be ready for a correction, but I do sell most of my holdings and I avoid taking any very significant new positions. For example, I am still holding shares of Genworth (NYSE:GNW), which I believe offer value and a lot of upside potential. I also have a position in Supervalu (NYSE:SVU), which is trading for about 5 times earnings. However, I don't see any reason to be fully invested right now and it makes sense to take some chips off the table; here's why:
First of all, the S&P 500 Index (NYSEARCA:SPY) is now trading for about 18 times earnings and it appears to have "hit the wall" once again at around the 2,100 level. It topped out at around this level in October, and once again just recently, which means this could be a bearish "double top". This can be seen on the chart below.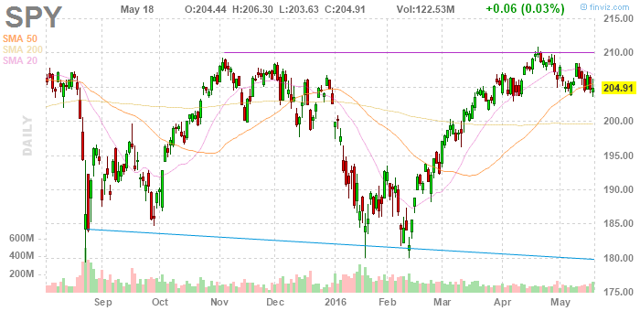 Click to enlarge
Putting the valuation and chart of S&P 500 Index aside, there are a number of other reasons why investors should be extremely cautious now. One of the biggest concerns I have right now is that the U.S. economy and the stock market and other assets like real estate, art, classic cars, etc., have been manipulated and inflated by artificially low interest rates. Extremely low rates have helped fuel a boom in asset prices, but most people have seen incomes stagnate, the job market remains weak, and organic growth is pathetic. We have enjoyed a Fed-induced rally in asset prices for many years now, and the problem is that when the music stops, not everyone will have a chair to sit on. We could now be near the end of the business cycle, and that means a recession might be looming. The problem is that the Fed is starting to raise interest rates and that could further roil the markets, especially with all of the other concerns that loom over the global economy:
Brexit: On June 23rd, the U.K. will vote to decide if it will leave the European Union. I think many Americans are U.S.-centric and have not paid enough attention to this matter. Remember when the markets were going into free-fall over concerns about Greece or "Grexit" leaving the E.U.? If the U.K. leaves the E.U. it could cause a significant market shock. Just the fear of a "Brexit" could do a lot of potential damage to the equity market as we approach June 23. The unknown consequences of a Brexit could be significant and impact everything from currency rates, to banks, and the stock market. It could also prompt other countries like France to also leave the European Union. Recent polls show that more than half of French voters want to vote on a "Frexit". The latest polls show that a vote for Brexit may not win, but it is close, polls can change and this is still a risk investors should consider.
U.S. Presidential Election: Politics in the U.S. could create uncertainty for investors and consumers. For the next few months this political uncertainty could make many people decide to take a wait and see approach when it comes to investments or major new purchases. This could slow down the real economy and we might already be seeing some of this right now. Certain sectors of the stock market like drugs and biotech have been hit hard due to political posturing. Hillary Clinton made comments about drug pricing on Twitter (NYSE:TWTR) that sparked a major decline in the whole sector and those stocks have not yet recovered. It sounds great to many American voters to put caps on drug prices, but the consequence in the future is that less money will be spent/invested to cure diseases (particularly rare ones) that can improve and save lives. If the rewards for taking huge risks to develop a cure are not commensurate, money invested into risky research and development could dry up.
Retail Sales: It looks like Amazon (NASDAQ:AMZN) is turning out to be a winner in the retail space, and traditional retailers like Macy's (NYSE:M), Nordstrom (NYSE:JWN), Target (NYSE:TGT) and others have recently posted disappointing results. Many retail stocks are now trading for about half of the 52-week high. There seems to be no doubt that Amazon is taking market share, but I don't think that many shoppers from stores like Nordstrom, or Tiffany (NYSE:TIF) are suddenly buying only at Amazon. There seems to be a slowdown in consumer spending and that could be a leading indicator that consumers are tapped out now. The last time Macy's saw a drop in sales of more than 5% for the quarter, was back when the Financial Crisis was developing in 2009.
Job and Wage Growth remains Pathetic: While the Federal Reserve's policies have successfully inflated asset prices like real estate, art, classic cars, and stocks, these policies and President Obama's economic policies have failed to create significant job or wage growth. What has grown rapidly under Obama is the U.S. debt which has jumped from about $9 trillion and is expected to reach around $20 billion by the time he leaves office. Seeing all of this money being printed and a massive jump in debt while job and wage growth is stagnate is another reason many Americans are concerned with where this country is headed. Without significant job and wage growth, there appears to be nothing organic about the huge jump in asset prices. Home prices in many areas have nearly doubled in the past several years because of artificially low interest rates, not because wages have double in the past several years.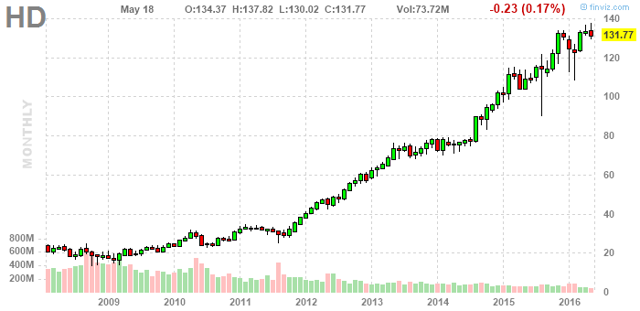 Click to enlarge
The average American worker has not seen huge gains in their paycheck over the past few years, but the average American homeowner has seen gains on their home value. This has helped many consumers and also fueled a boom in spending on home projects which in turn has created a potential bubble in stocks like Home Depot (NYSE:HD). Nothing grows to the skies forever, but it appears that Home Depot shares have done just that-take a look at the chart above. With consumer spending already showing signs of weakness, and with job and wage growth stagnant, what happens when the Federal Reserve continues to back away from low interest rate policies that have fueled an asset bubble? We might be about to find out, and I do not want to be fully invested in the market when the music stops. Analysts at Goldman Sachs (NYSE:GS) seem to agree and recently stated that stocks "do not look attractive". With all this in mind, it makes sense to take some risk off, get some dry powder and wait for a major pullback before putting money back into this market.
Data is sourced from Yahoo Finance. No guarantees or representations
are made. Hawkinvest is not a registered investment advisor and does
not provide specific investment advice. The information is for
informational purposes only. You should always consult a financial
advisor.
Disclosure: I am/we are long SVU, GNW.
I wrote this article myself, and it expresses my own opinions. I am not receiving compensation for it (other than from Seeking Alpha). I have no business relationship with any company whose stock is mentioned in this article.