Earnings adjustments a warning sign? An equity research note from Barclays published this morning points out that the current spread between adjusted and GAAP earnings for small caps is wide by historical norms.
Now, the widening gap between GAAP figures and adjusted numbers has been causing concern for some time as the difference between these two accounting metrics is generally considered a rough proxy for earnings quality. A widening spread indicates that investors have to view public company accounts with increasing scrutiny.
However, alongside the accounting issue, a more ominous theme is starting to emerge. Historical trends suggest that wide divergences in earnings spread are often accompanied by (or signal) market pullbacks and the current spread is near the historical highs seen during the financial crisis.
Over the past 12 months, adjusted figures have diverged significantly from GAAP numbers within the Russell 2000 as seen in the chart below from Barclays.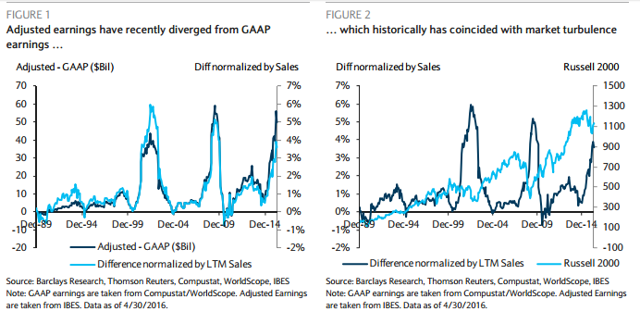 Click to enlargeearnings adjustments
Earnings manipulators: An interesting trend
Digging deeper into the numbers, a more interesting trend emerges. Barclays' analysis shows that nearly half of the recent change in earnings spread for small caps is attributable to the energy sector, with industrials adding an additional 20%. This highly concentrated contribution from the energy sector is similar to the tech crash of the early 2000s when the wide spread (between adjusted and GAAP numbers) at the index level was driven mainly by the tech sector. In contrast, during the financial crisis a large change in earnings spread was seen across multiple sectors.
But while it could be said that the current spread is less worrying than it has been in the past, as it is predominantly concentrated in one or two sectors, it's worth noting that most Russell 2000 sectors have earnings spreads that are higher than their median historical values.
Part of this blowout from the mean can be traced to the increasing use of extraordinary items by companies when preparing accounts post financial crisis, although recently the divergence has been driven by factors other than extraordinary items.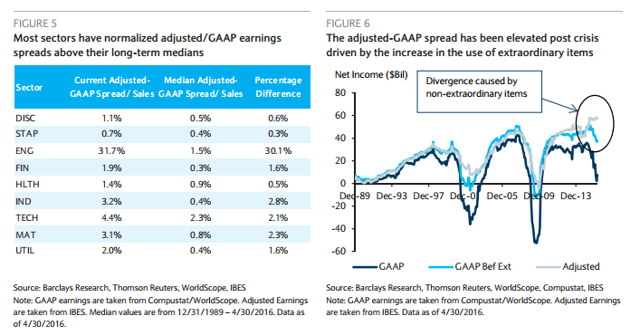 Click to enlarge
Earnings adjustments - Follow quality to outperform
It remains to be seen whether or not the widening spread between GAAP and adjusted earnings points to a market slump ahead. However, one thing that is clear is that companies with a tighter spread, or those companies which don't manipulate adjusted earnings to present a better picture for investors, tend to outperform over the long run - this comes back to the quality of earnings.
Barclays' analysis shows that since 1989, stocks with lower earnings spreads (normalized by sales) have significantly outperformed those with high spreads. Further research leads to the conclusion that while companies with wider spreads underperformed in both up and down markets, the magnitude of outperformance on the downside is meaningfully higher.
In other words, the short-term positive stock performance that may come as a result of accounting adjustments made to present the best possible picture of a company's operations, is unlikely to last in the long run.
If you want to achieve the best investment returns, it may be wise to avoid serial earnings manipulators altogether.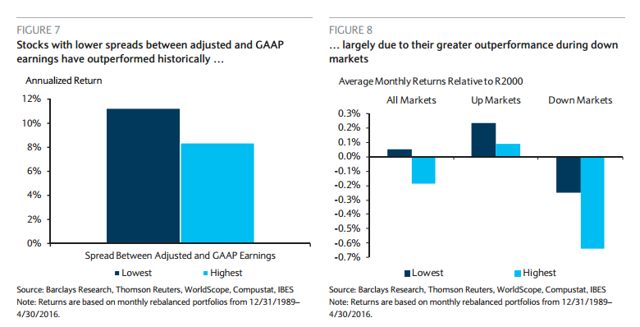 Click to enlarge
Disclosure: Rupert may hold positions in one or more of the companies mentioned in this article. You can find a full list of Rupert's positions on his blog. This should not be interpreted as investment advice, or a recommendation to buy or sell securities. You should make your own decisions and seek independent professional advice before doing so. Past performance is not a guide to future performance.