Earlier this month, Lamar Advertising (NASDAQ:LAMR) reported a solid first quarter. Revenues were up nearly 12% to $338.5M. Adjusted EBITDA climbed 9.8% to $130.2M for the quarter. Lamar made several acquisitions in the past year, including the $459M purchase of assets from Clear Channel Outdoor in early January. These acquisitions drove the majority of the increases in Q1. On a pro forma basis (pro forma folds prior year results from acquisitions into Lamar's historical results), revenues increase 2.6% and adjusted EBITDA climbed 3.1%. Importantly, same unit digital revenues rebounded nicely in the quarter, increasing 3.4%, an acceleration from +0.5% in Q4. This was nice to see particularly after two quarters of negative growth in the middle of 2015. The company did not slow its digital board deployment as a result of the negative performance last year as it felt demand would catch up to supply. It turns out the company was right.
Lamar was pleased with the performance in the quarter and reported that it is on track to hit the upper end of 2016 guidance (pro forma AFFO growth of 3%). Performance was driven by strength in the local advertiser book, which gained 4.5%. The company also expects the national advertising book, which was down 1% in the first quarter, to grow again in Q2. On the earnings call, CEO Sean Reilly noted that overall Q2 is on pace to best Q1, and Q3 is pacing better than Q2. So the company is excited about how the year is shaping up, but is not yet ready to raise guidance for the year. The company has guided to 2-3% pro forma growth in AFFO for 2016. I would not be surprised to see management increase guidance when it reports Q2 if booking continues to hold strong.
My thesis that Lamar is a multi-year dividend growth story that should be bought is based on the fact that the company's free cash flow far exceeds the current dividend payout. Lamar doesn't publish its REIT taxable income, but the company has net operating loss carryforwards totaling $258M at the end of 2015 that it is using to manage the growth in the dividend payout ratio. As you can see below, Lamar generated $367M in free cash flow in 2015, but only paid dividends of $265M. Lamar is committed to 10% annual dividend increases until such time as its payout equals its free cash flow. Below you can see actual and projected results for Lamar through 2020. I used consensus estimates for revenues through 2018, then my own projections. Note that the company made several acquisitions in the last 12 months, hence the 10.8% projected increase in revenues in 2016.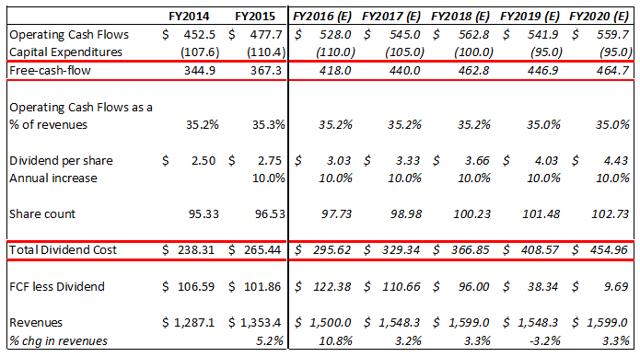 Click to enlarge
In 2015, the company generated $367M in FCF yet only made distributions to shareholders totaling $265.4M. This left an additional $102M for the company to use for acquisitions. It could have also used the excess cash flow for debt paydowns or possibly stock buybacks (the company has a $250M authorization in place that it has yet to use). In 2016, thanks to the acquisitions made in the last year, that excess FCF could climb to $122M if you assume the same operating cash flow generation as a percent of revenues as the previous two years. I suspect the company will use this excess cash flow to make further tuck-in acquisitions in 2016 or possibly reduce debt. So as you can see, there is a runway for at least four more 10% annual dividend increases beyond this year before FCF matches the dividend payout. That would represent a 46% increase from the 2016 dividend level when factoring in the compounding nature of the 10% increases. This would represent a 7% dividend yield in 2020 at today's stock price. The company has previously stated its intention to raise the dividend 10% annually for at least the next few years. With the continuing hunt for yield in this low interest rate environment, I suspect investors will bid up the stock price considerably as well. With this in mind and assuming the U.S. economy continues on its current low growth trajectory, I see annual total returns (dividend plus share price appreciation) of 10-15% per annum. The company also has additional capacity within its debt covenants to add leverage. Here is the company discussing its leverage on the call it hosted to announce the Clear Channel Outdoor assets.

Click to enlarge
With adjusted EBITDA running at ~$655M in 2016, the company could theoretically take on another $890M in senior debt. I believe this would only happen if Lamar found a compelling acquisition it could easily fold into its current operations - which is certainly possible. I'm confident, given Lamar's long history of deal making and operational success, it would be accretive to shareholders. That should only lengthen the runway for 10% annual dividend increases.
So in conclusion, I am bullish on the prospects for Lamar's stock. I think the US economy will continue to grow in the 1.5%-2.5% range and core inflation will be ~2%. This should give Lamar some pricing power, allowing it to grow pro forma organic EBITDA ~3% a year. I have followed this company for a few years. I am a big fan of management and in particular the public voice of the company, Mr. Sean Reilly. He is a no nonsense, tell it like it is kind of guy. Lamar's decentralized approach to its operations puts control in the hands of local managers. Lamar thrives thanks in large part to local advertisers. I would argue that it is the best in the business in terms of courting small and medium-sized businesses across its footprint. This limits the effect of any one customer on overall results. The runway for 10% annual dividend increases is long. If you are looking for a very safe REIT distribution with solid prospects for share price appreciation, I would recommend digging into Lamar further.
Disclosure: I am/we are long LAMR.
I wrote this article myself, and it expresses my own opinions. I am not receiving compensation for it (other than from Seeking Alpha). I have no business relationship with any company whose stock is mentioned in this article.