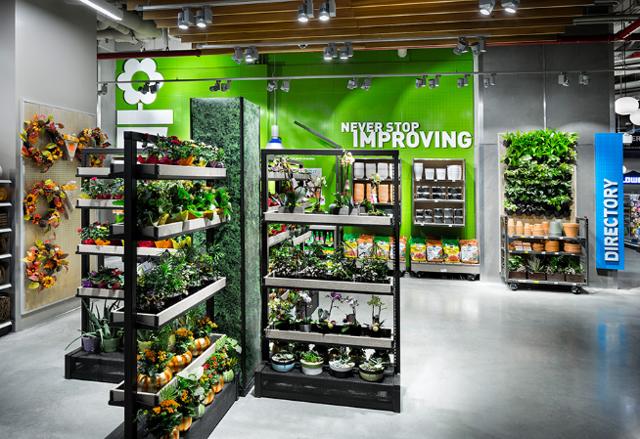 Click to enlarge
Home improvement giant Lowe's (NYSE:LOW) has been a bit of a disappointment for shareholders for the past year or so. The stock has drifted sideways for the most part as the company's results haven't been enough for buyers to bid the stock up over its already-elevated valuation. While bullish on LOW's fundamentals, I haven't been able to pull the trigger because the valuation has been so high in the recent past. But with a strong Q1 report under its belt, Lowe's is making a new high. Is this finally the breakout shareholders have been patiently waiting for?
Note: I'll be using some charts from Simply Wall St. to help me out.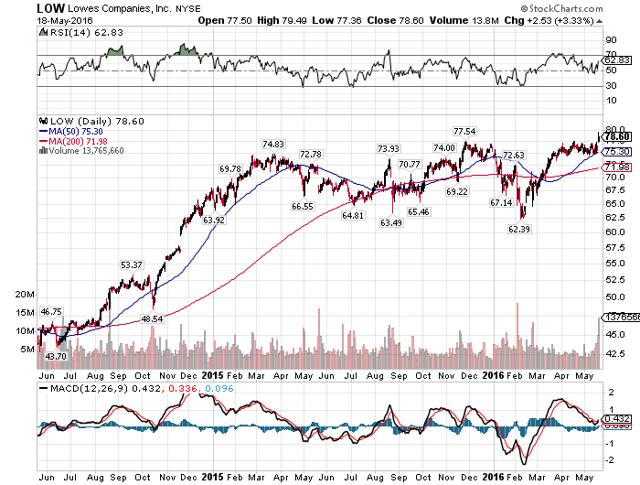 Click to enlarge
Everyone knows the home improvement sector has been the hottest trend in retail for some time now. Anyone and everyone that is in the space including Home Depot has been on fire in terms of comp sales moving higher. The sector's margins are nothing to get excited about but HD and LOW alike have been producing significant leverage on their costs in order to grow profits as comp sales rise. Thus, I've never been bearish on LOW's fundamentals; it was always the price. But given the blowout Q1, has any of that changed?
The story with LOW is all about comp sales and in Q1, it certainly did not disappoint. Comp sales soared in Q1 with a +7.3% print and in the US, the number was even slightly higher than that at 7.5%. Remember that while these numbers are amazing on their own, they are stacked upon gains in prior years; this has been a long term story for the home improvement sector, Lowe's included. To get a sense of just how successful HD and LOW have been at growing comps of late, this heavily shared chart courtesy of Bloomberg shows it perfectly.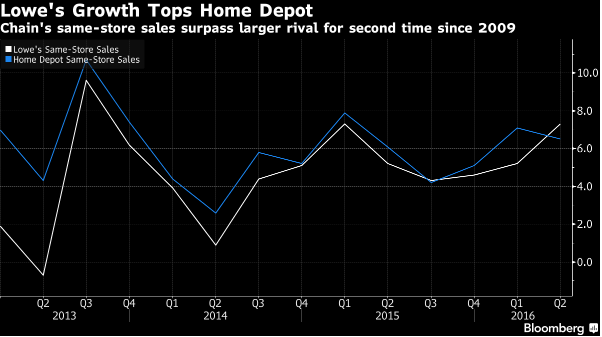 The main thrust of the chart is that Lowe's finally caught HD in terms of comps in Q1 but that's not important to me. What's important is that LOW continues to produce tremendous growth on top of what was already tremendous growth and given guidance for this year, it seems the excellent comp reads are set to continue.
I mentioned that margins don't move around much for LOW and in Q1, they fell 43bps to just over 35%. This has been the same for years for LOW; the company's product margins are maintained in a very tight range and hardly budge. Nothing about that is changing so we can keep that constant in our forecasts.
What is changing - and for the better - is the company's leverage on its SG&A costs. This is the area where a retailer can create the most impact and LOW has been doing a masterful job of just that. In Q1, flying comp sales helped build another 188bps of leverage on SG&A costs and that is money that flows right into operating income. Recall that gross margins fell 43bps but when the tradeoff is a gain of 188bps of leverage on SG&A, any company will take that any day of the week. LOW knows the game is played via trading small amounts of margin for significant cost leverage and the strategy is unequivocally working.
So we've established Q1 blew very high expectations out of the water but what about moving forward? How high are expectations now? This chart gives us a sense of what analysts think the company will do from a revenue perspective for the next couple of years.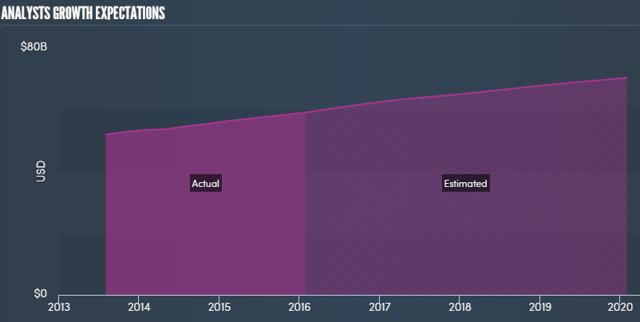 Click to enlarge
The chart looks nice but the main point here is that analysts are looking for mid-single digit total revenue growth annually for the foreseeable future. That number is very achievable as LOW has demonstrated the ability to perpetually hit that level of comp sales in recent quarters. And while there is certainly no way that 7.3% is the new norm, quarters like that can cover up some weakness in future quarters and still allow LOW to hit its own guidance of +4% in comps and +6% in total sales growth for this year. It's difficult to imagine that LOW keeps stacking these gains on top of prior gains but time and again, it delivers. As long as housing prices remain intact, the good times will roll for LOW. And given the relatively low expectations for continued revenue growth, there may be a bit of upside to these numbers.
On the profit side of things, LOW has much higher expectations.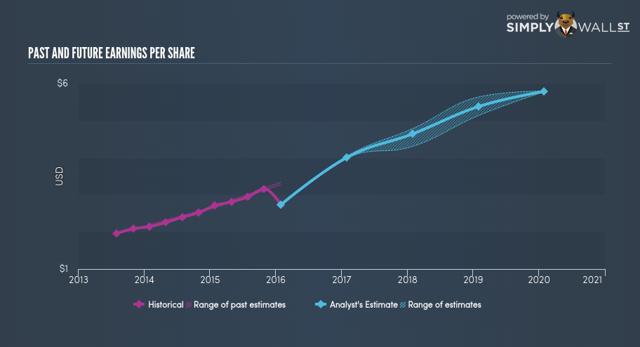 Click to enlarge
Analysts are looking for mid-teens EPS growth for the next few years as Lowe's continues to produce operating leverage from its higher revenue base. Remember that the numbers on this chart depend entirely upon revenue growth providing leverage on the company's SG&A expenditures and by extension, revenue growth depends almost entirely upon comp sales continuing their march higher. That is why comps are really the important component to watch here because without them, you have a retailer with flat product margins; the story isn't nearly as compelling. In essence, betting on LOW hitting this trajectory of EPS means you believe comps will continue to hit mid-single digits for a long time to come.
And that's really where the problem could potential pop up; how long can LOW keep up this run? Its balance sheet has deteriorated in a big way in recent years as the company takes on debt and simultaneously returns capital to shareholders.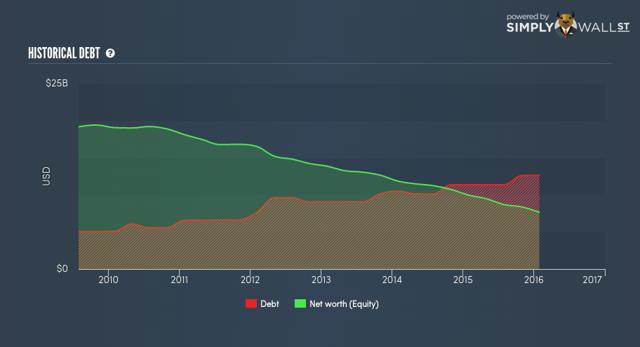 Click to enlarge
While LOW is certainly well financed now, how many more years can it continue to do this until it becomes a problem? Look at the difference between 2010 and today; debt has soared and book value has plummeted. While this isn't a problem by itself, it could become one if the comp sales party slows down in the future. It's just something to think about.
After the rally on Wednesday Lowe's is trading for 19.6 times this year's earnings. And while that isn't nosebleed territory, it isn't cheap either. However, LOW has shown the ability to hang with HD and produce tremendous comp sales gains quarter after quarter. And with prudent expense controls, its operating margins continue to ramp higher. This year's guidance suggests we'll see more of the same and there is no reason to think it won't continue.
In short, LOW is better than what I gave it credit for in the recent past as Q1 has swayed me to the bullish camp. Given the strength in the sector and LOW's ability to capitalize on demand, I can't find any reason not to be bullish. With the stock breaking out, I think we'll see it higher over the course of the year barring some major shock to sales like a housing price collapse. Expectations are high for EPS growth but as long as comp sales continue to move higher - and all indications are that is exactly what is going to happen - shares will follow suit.
Disclosure: I/we have no positions in any stocks mentioned, but may initiate a long position in LOW over the next 72 hours.
I wrote this article myself, and it expresses my own opinions. I am not receiving compensation for it (other than from Seeking Alpha). I have no business relationship with any company whose stock is mentioned in this article.