Last April, I discussed crude oil (NYSEARCA:USO) (NYSEARCA:OIL) and noted that the headline inventory build number was a red herring. Yes, crude oil inventories were rising, but falling US production was the bigger news.
The commodity has since rallied over the past few weeks, up from the high $30s per bbl to nearly $50 per bbl, though was down slightly on Wednesday after the EIA Petroleum Inventory showed that crude oil inventories posted a 1.3 million barrel gain, versus estimates of a 2.8 million barrel decline. This news was a surprise as the API report showed a slight inventory decline. However, the devil is in the details. This was still a bullish report.
A look inside the numbers
While the headline number of a crude oil buildup is bearish, there are bullish signs when we dig deeper. As has been the case for most of 2016, crude inventories gains and declines are largely being driven by imports.
Crude oil imports rose to 7.7 million bpd for the week, up 22,000 bpd from last week and up 8.8% from last year's average of 7.0 million bpd. If imports had stayed flat year over year, the crude oil inventories would have fallen by 3.6 million barrels rather than increasing by 1.3 million barrels.
Keep in mind that imports of oil are very volatile. The trend in 2015 was for falling imports. But, as US production has declined, oil imports have been trending higher. This report also does not likely take into account falling Canadian imports due to the Alberta wildfires. Expect even more volatility in the import data in the short-term.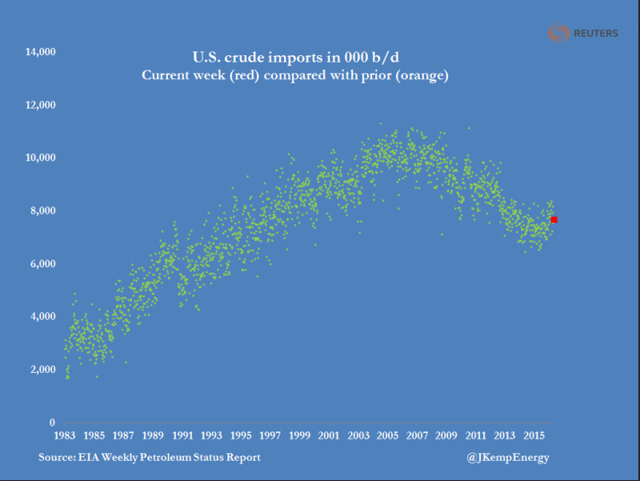 Click to enlarge
Source: Reuters
As for bullish data, the big one is US oil production, which, fell by another 11,000 bpd to 8.79 million bpd. Over the past 4 weeks, production has averaged 8.84 million bpd, down 5.4% from the 2015 average of 9.35 million bpd and down 7% from the 2015 weekly production high of over 9.5 million bpd set in April.
In other words, we are well off the peak levels. US production is down over 700,000 bpd from the highs last year. In addition, the rate of the decline is accelerating. This is wildly bullish for oil prices.
As for the other bright spot, both gasoline and distillate consumption is rising fast. Refiners are running near their YTD highs, processing 16.4 million bpd, up 1% from last week's 16.2 million bpd.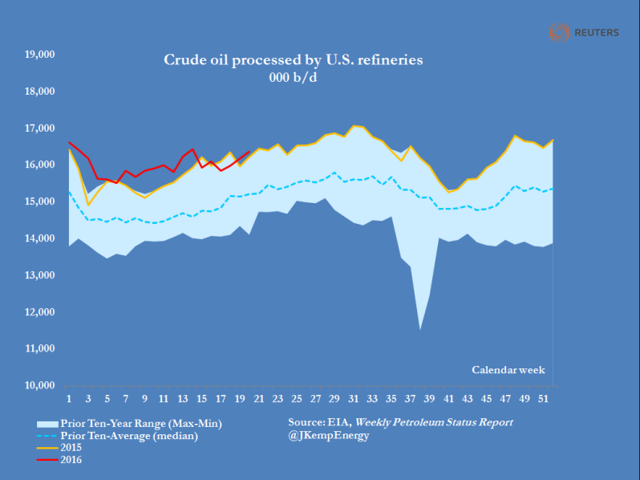 Click to enlarge
Source: Reuters
Despite this, stockpiles of gasoline still fell by 2.5 million barrels. When adjusted for increase consumption, stockpiles are inline with 2015 levels and heading lower.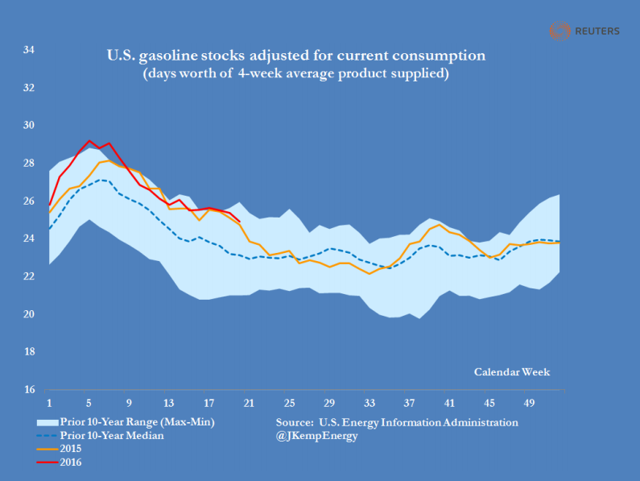 Click to enlarge
As for distillates, stockpiles actually fell by 3.2 million barrels. While the stockpiles are running well above the their 10-year range, when adjusted for increased consumption, current supplies are falling fast.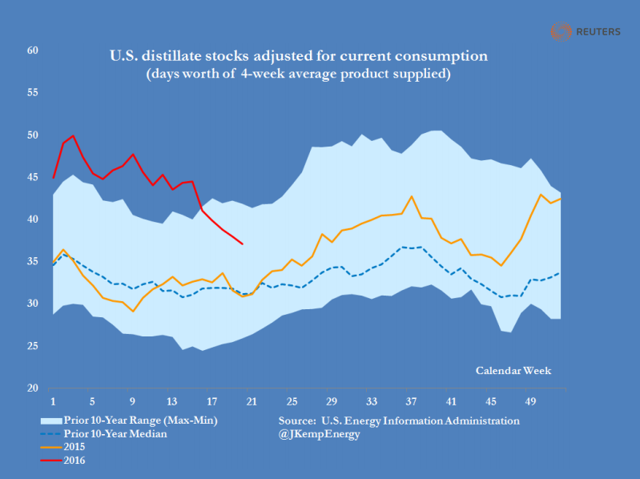 Click to enlarge
Conclusion
To summarize, this was a good report for the bullish thesis on oil. On the supply side, US production is declining. While demand for refined products is surging due to lower prices. I expect even further demand growth for gasoline if prices stay low heading into the summer driving season, which may add yet another tailwind for oil prices.
As for how to play an oil price recovery, I think bigger is better. Most of the oil majors such as Exxon Mobil (NYSE:XOM) Chevron (NYSE:CVX) BP (NYSE:BP) Royal Dutch Shell (NYSE:RDS.A) (NYSE:RDS.B) ConocoPhillips (NYSE:COP) have rallied nicely YTD. These names offer upside if oil rises, while the downside is limited due to their hefty dividend yields.
Disclaimer: The opinions in this article are for informational purposes only and should not be construed as a recommendation to buy or sell the stocks mentioned. Please do your own due diligence before making any investment decision.
Disclosure: I am/we are long COP.
I wrote this article myself, and it expresses my own opinions. I am not receiving compensation for it (other than from Seeking Alpha). I have no business relationship with any company whose stock is mentioned in this article.