I wrote an article recently about the impending top in the precious metals market and followed it up with an article about shorting Newmont Mining (NYSE:NEM) as a contrarian trade over the next 5 to 8 weeks. Well with the mining ETF (NYSEARCA:GDX) losing almost 8% yesterday, it looks almost certain that gold's intermediate cycle has topped. The question is now, where will the whole sector bottom? When will the next big buying opportunity happen in the precious metals complex? Here are a few areas to watch.
First, look at the huge increase in volume that has taken place in the triple bear mining ETF (NYSEARCA:DUST) recently. Big increases in volume are usually signs of smart money entering the fund, which usually turn out to be intermediate tops.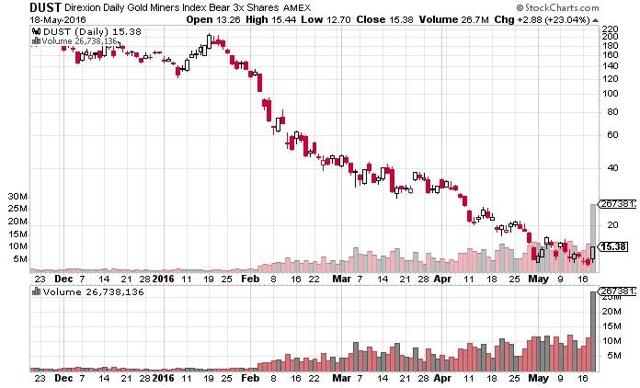 Click to enlarge
Now if you think these leveraged ETFs do not provide an accurate picture, just look at the volume explosion in the bullish equivalent of the above named ETF which took place when the miners printed their own hard intermediate bottom back in January (50% higher than present levels).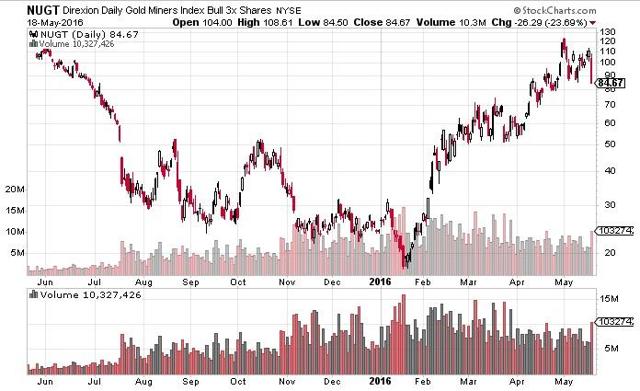 Click to enlarge
Intermediate cycles in the gold sector usually last anything from 25 to 30 weeks and we always print an intermediate cycle low (something which the bulls are missing at present). Here are 2 more indicators that can help us know when a bottom is near.
First is sentiment. At the moment, gold has a sentiment of 60, but if you look at the last two intermediate bottoms (In December and July of last year), sentiment reached ultra bearish extremes (well under 30) which is what we need to get to in order to fuel the next move up in the metals. Profit taking events are needed to reset sentiment. Bulls have to remember this and not let their emotions get ahead of them (like taking on extra leverage at the wrong time)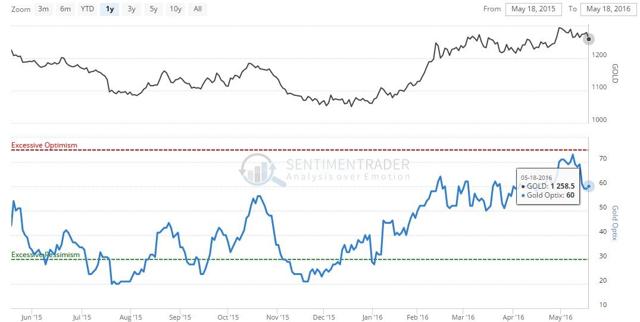 Click to enlarge
Source: Sentimentrader.com
Another indicator we can use to spot intermediate bottoms is the slow stochastics which again became oversold in the last two intermediate cycles. Look where this indicator is at present. This is why I believe gold could easily go to $1150 an ounce in the near term because these indicators are all overbought. When the above three indicators that I have outlined line up, that will be when you should pull the trigger once more in the precious metals sector. It will be difficult especially if you see the complex trading down every day. The masses will be selling. That is when you should be buying.
To sum up, I'm going to be adding a few good dividend and growth stocks to the Elevation Portfolio over the next several weeks, when I see value. It's imperative that they are not correlated and all don't have similar valuations in order to ensure that income is brought in every month; that, over time, will increase our share count. You can follow along by pressing the "Follow" button above
Disclosure: I/we have no positions in any stocks mentioned, and no plans to initiate any positions within the next 72 hours.
I wrote this article myself, and it expresses my own opinions. I am not receiving compensation for it (other than from Seeking Alpha). I have no business relationship with any company whose stock is mentioned in this article.