Realty Income (NYSE:O) recently announced a public offering of 6.5M shares of its common stock. Assuming current prices, around $60 per share, this offering should raise ~$370 million in proceeds for the company. As of this writing, shares are down ~2% in early trading.

Click to enlarge
Why is Realty Income raising capital?
Realty Income noted in its press release that it will be using net proceeds from the offering to repay borrowings under its $2.0 billion unsecured revolving credit facility, to fund potential investment opportunities, and/or for other general corporate purposes.
While vague, we get the picture, Realty Income wants some more dry powder for acquisitions. The company ended Q1 2016 with $1.35 billion of capacity on its revolver. After this offering, this will excess capacity increase to a very healthy ~$1.72 billion.
The company spent $352.6 million in Q1 2016 on acquisitions and investments, inline with guidance. I expect this activity to increase next quarter just how much dry powder they will have. This may provide a tailwind towards annual AFFO above the guidance range of $2.85 to $2.90 per share.
Buy the dip?
That Realty Income is selling stock now is not unusual or surprising. The company likes to raise equity when its share price is high, which it definitely is at the moment given the 30% rally since late 2015. Indeed, as I noted in a recent article, I was expecting the company to do a secondary equity offering soon.
At $60 per share, the stock is trading for over 20x its 2016 estimated AFFO per share, way above normal for the sector. However, is the stock worth buying on the secondary dip?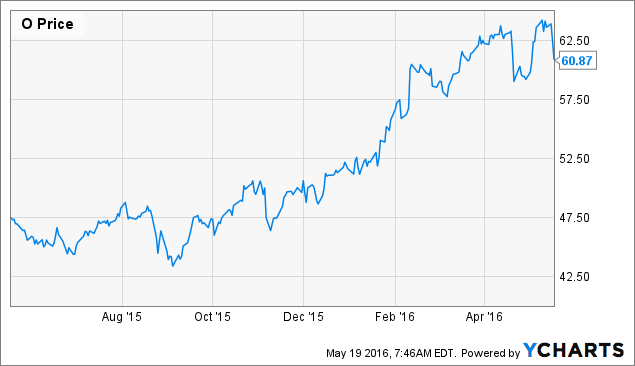 O data by YCharts
The last time Realty Income sold shares via a public offering was back in October 2015 when it sold 10M shares at an average price of ~$46.88 each. At the time, this was ~17.5x 2015 AFFO. Using the 2016 AFFO, Realty Income would need to fall 20% to ~$51 per share to reach that same multiple.
While a sizable secondary dip in the 4-5% range is likely, I don't think the stock will drop to the low $50s on just this news. Though, if it does, I will be backing up the truck and buying. I would settle for $54 per share, which is around the 4.5% dividend yield level.
Disclaimer: The opinions in this article are for informational purposes only and should not be construed as a recommendation to buy or sell the stocks mentioned. Please do your own due diligence before making any investment decision.
Disclosure: I/we have no positions in any stocks mentioned, but may initiate a long position in O over the next 72 hours.
I wrote this article myself, and it expresses my own opinions. I am not receiving compensation for it (other than from Seeking Alpha). I have no business relationship with any company whose stock is mentioned in this article.