By Thom Lachenmann
For months and months, many people asked why Theranos wasn't engaging the public markets. The story was that the company had found a revolutionary way to do blood testing from samples that were much smaller than traditional blood samples. The company, headed up by its charismatic and attractive CEO Elizabeth Holmes, became a star and was touted throughout national media, television, and magazines.
The company was often lumped into the business news, similar to the way that Uber is, because of the anticipation of the company potentially going public one day. Theranos had attracted investors from all walks of life, as people were lined up to throw cash at them and make sure that they were first in line to get a piece of the pie.
Before getting into the fall from grace, it is imperative to note that the Wall Street Journal's investigative reporting was paramount to this fraud being unveiled. The Wall Street Journal broke many of the stories about inaccuracies and poor medical pedigree at the company, which were the stories that got the ball rolling for skeptics to swoon over, and ultimately dismember, Theranos.
In keeping with their fantastic investigative journalism, Wall Street Journal yesterday broke a story that said that Theranos will be recalling two years of test results that it issued using its Edison machine from 2014 to 2015. Here is how it is being reported in the media this morning,
Theranos Inc. has told federal health regulators that the company voided two years of results from its Edison blood-testing devices, according to a person familiar with the matter.

The Edison machines were touted as revolutionary and were the main basis for the $9 billion valuation attained by the Palo Alto, Calif., company in a funding round in 2014. But Theranos has now told regulators that it threw out all Edison test results from 2014 and 2015.

The company has told the Centers for Medicare and Medicaid Services that it has issued tens of thousands of corrected blood-test reports to doctors and patients, voiding some results and revising others, according to the person familiar with the matter.

That means some patients received erroneous results that might have thrown off health decisions made with their doctors.
As the days progress, so will the narrative and the understanding that Theranos doesn't really seem to even have a product of its own that works, and as Zerohedge put it this morning, "Theranos has now told regulators that it threw out all Edison test results from 2014 and 2015, effectively confirming it has no proprietary technology, and also validating that its valuation should be zero."
We think there are a couple things that investors in public companies can learn from the situation and we wanted to share those with the readers this morning.
First, Theranos would have never have made it this far if it was a public company.
If this company was subjected to the disclosure requirements of public companies and the sharpest minds in the world who invest, someone would have caught this prior to the Wall Street Journal. It would have been a huge mess, as short-sellers and skeptics would have likely been crying foul many months ago and would have likely have been written off by the market as "crazy" short-sellers. But at least the allegations and the skepticism would have made themselves into the mainstream further.
Short-sellers would have likely encouraged the public to look at this company with an eye of skepticism instead of euphoria. A company that was valued at $9 billion, whose financials I'm sure were terrible would have been subject to so much more criticism had it have been a public company. Granted, there was a fair amount of skepticism already, but that would have been amplified by the public markets and the well-known investors who make their names questioning situations like the one that Theranos was in. The story of a revolutionary technology commanding a multibillion dollar valuation without any real due diligence being done would not have worked for too long in the public markets.
Granted, similar situations have occurred. Namely, the case of Accelerate Diagnostics (NASDAQ:AXDX), a company that was working in different types of blood testing that claimed to have a proprietary method to save time, but was a little short on providing the details publicly.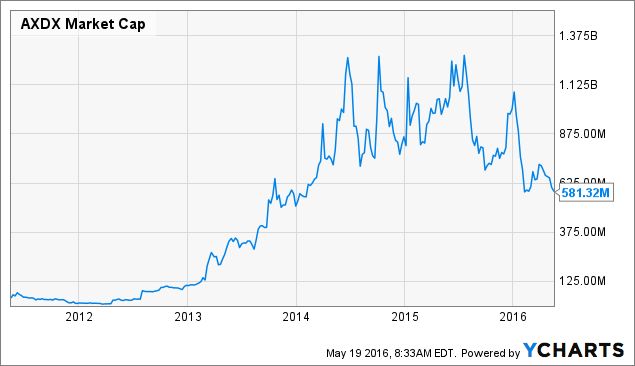 AXDX Market Cap data by YCharts
This company at one point had a market cap of $1.2 billion, before short-sellers like Citron Research started to question exactly how accurate the company's technology is. Today, it has a market cap of $581 million that looks to be on the decline.
We think this type of recalibration would have definitely happened in the case of Theranos.
The second thing investors can learn is that it is very healthy to keep a skeptical eye on companies. Public companies are responsible for a certain amount of disclosure, and they do their best to meet those obligations without exceeding them. A healthy dose of skepticism, especially around "disruptive" stories and companies that are not generating a profit, are warranted. If investors wonder why companies like Tesla bring out a lot of bears and skeptics, it's because huge promises and huge invested sums of capital eventually require huge results. Otherwise, you simply have cash going in with no end result. This can border on fraud.
Investors should learn to listen to skeptics. A great example is Kyle bass with UDF. He came out, he alleged the company was a Ponzi scheme because it continued to raise cash and pay out old investments with new money, and he was vindicated in a very short matter when the FBI took the company down.
It is easy to write off the objection of someone who has not done the research on the company. But when short-sellers and skeptics come out launching allegations about a company that they have clearly done in-depth research about, it is sometimes worth listening.
Third and finally, the main lesson in the Theranos story is to always do your due diligence and get the answers on your own. Do not rely on other people to have done their due diligence, because the Theranos fraud was engineered by a whole group of people all thinking that the other ones had done in-depth research on the company. In fact, it appears that no one had done the research on the company
Whether or not CEO Holmes will face penalties or perhaps even jail time is still up in the air, and will be based on whether she knowingly had the intent to deceive her investors and the public. This story will play out in the coming years.
Aside from doing your own due diligence, investors need to remember that it is as important to read the other side of the trade as it is to know your argument for your trade. If you are bearish, you need to know what the absolute best bullish case is. If you are bullish, you need to know what the absolute best bearish case is. The sooner you get all of the cards out on the table and lay out all of the information available, the more likely you were going to be able to make an objective decision and avoid the next public company Theranos.
Disclosure: I/we have no positions in any stocks mentioned, and no plans to initiate any positions within the next 72 hours.
I wrote this article myself, and it expresses my own opinions. I am not receiving compensation for it (other than from Seeking Alpha). I have no business relationship with any company whose stock is mentioned in this article.