It is easy to explain why Tim Cook wants to recruit 4,000 employees in India to work on Apple (NASDAQ:AAPL) Maps. Apple is elevating Maps as one of its top priorities. This huge need for more manpower is impressive. Apple Maps might finally become as good as Google Maps.
Diminishing the access points where Alphabet can monetize from iOS device owners is always favorable to Apple's long-term strategy. Cook likely wants to eradicate Google Maps inside iPhones/iPads. This is only possible through implementation of more advanced features for Apple Maps.
Apple revealed last December that usage of its Maps app among iPhone and iPad users is already 3x greater than that of Alphabet's (NASDAQ:GOOG) (NASDAQ:GOOGL) Google Maps. However, I suspect that is only through the robust sales of iPhones and iPads is likely why there was a big surge in usage rate of the pre-installed Apple Maps.
Yes, fixing the bugs and adding traffic congestion assistance, and public transport information made Apple Maps more useful too. Making Apple Maps even more useful is very important to the company's long-term growth. Aside from advertising purposes, it is also vital to its secret Apple Car project. A top-notch real-time road navigation app is essential toward making a competent smart car.
The Importance of Apple Maps
Making Apple Maps the sole go-to tool for iOS device owners might help Apple roll out a local-centric advertising business. The Maps Connect feature with its Indoor Positioning offer for small business owners is a strong hint that Apple has future (ad-fueled) monetization plans for its Maps product.
Maps Connect is one step toward making a similar product like local search ads for Google Maps mobile. Apple has no mobile search engine for now. However, with $233 billion in cash, it can easily buy DuckDuckGo or other competitors of Google. The usually-affluent iPhone crowd is a much-coveted audience for targeted location-based advertising.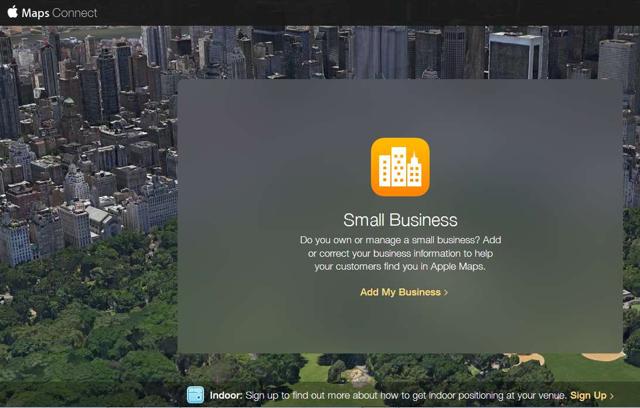 Click to enlarge
(Source: Apple)
I do not know anything about cars but I'm a retiree of the advertising industry. This is the reason why I keep on badgering for Apple to improve its ads-related revenue stream. Alphabet has a much higher valuation (P/E and P/S) than Apple simply because selling ad spaces is still better than directly-selling consumer hardware.

Click to enlarge
(Source: Yahoo Finance)
Selling ad spaces is a less-stressful B2B (Business-to-Business) effort. Selling iPhones is basically dealing with capricious ordinary consumers.
Apple Maps Still Needs Improvements
The quest to elevate Apple Maps to become a monopoly on iOS devices is not going to be easy. Maps by Google is still the most downloaded navigation app among iPhone and iPad users worldwide. SensorTower's data revealed that Maps by Google received 5 million downloads last month from iOS device users. Google obviously still has the superior mapping app.
Going forward, I expect the new 4,000 Hyderabad employees to help elevate Apple Maps to the level of Google Maps. As of now, Apple Maps' avoid-traffic-congestion assistance is still inferior to the Waze-powered guidance available in Google Maps.
Apple bought several mapping-related companies since 2009. However, Apple missed a big opportunity when it let Google buy Waze. Waze is still the undisputed king of crowd-sourced real-time traffic assistance. Waze is helping Google Maps keep its leadership position.
Apple Maps also has no in-depth, global-wide Street View. It will take years for Apple to catch up with Google's Street View advantage. Apple Maps also lacks offline mode. India and other countries outside America need offline navigation because of the unreliable 3G/4G connections.
Conclusion
Apple made the right decision opening an Apple Maps development center in Hyderabad. India has cheap but very competent labor force. Putting up an office there that gives 4,000 jobs to locals is also a nice way to gain political favors.
Like it is doing in China, doing business in India will always require getting in the good graces of local and national politicians.
India is the next growth catalyst for iPhone and iPad sales. It's the fastest growing market for smartphones and yet Apple only has 2% market share there. While China's phone market is slowing down, India is the next logical country that deserves top priority from Apple. India's economic growth is also outpacing that of China's. Pretty soon many residents of India will be able to afford $500-$1000 iPhones.
I have no position in Apple but I rate it as a Buy. Apple still keeps true to its proven strategy... hiring cheap labor for Apple Maps is just the same as hiring cheap Chinese workers to build high-margin iPhones.
Disclosure: I/we have no positions in any stocks mentioned, and no plans to initiate any positions within the next 72 hours.
I wrote this article myself, and it expresses my own opinions. I am not receiving compensation for it (other than from Seeking Alpha). I have no business relationship with any company whose stock is mentioned in this article.