Last month, we saw a steep decline in the gold/silver ratio. Its recent May minimum actually reached 72, the lowest level since October 2015. Currently, it is trading at 74, which is slightly higher than the average value of the first half of 2015.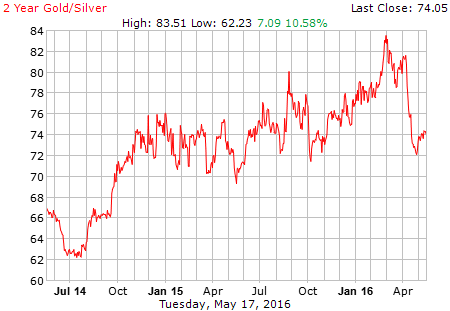 (Source: goldprice.org)
The gold/silver ratio reached its peak of 84 on 29th February, the highest number to date since November 2008. The ratio stayed in mostly in the 80+ zone until 11th April, when it plummeted to 72 and stayed nearly there.
Over the last year, silver fell faster than gold, but then rebounded in the second half of April, causing the ratio to decline.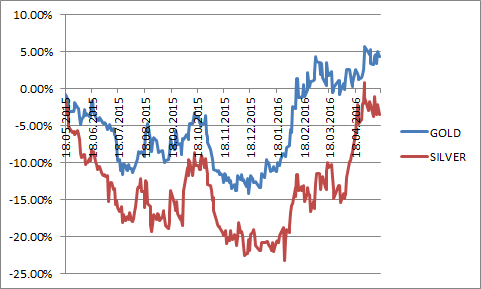 Quite obviously, the following questions arise: 1) Has the gold/silver ratio already fallen too much, so the opportunity is lost? 2) Will it bounce back to the recent highs, or will the ratio fall even more?
The Fed
Despite Fed recently sounding hawkish, it will probably keep rates low, causing bullish pressure on both gold and silver. The impact of low rates is due to two effects: 1) precious metals are relatively more attractive than low income bonds and 2) metal prices are in dollars, and dollar is weaker. The Fed effect is nearly equal on both gold and silver.
Open interest. Open interest in gold futures in COMEX rose by 34% TTM and now reaches 553,560 contracts. As for silver, its COMEX futures rose by 12% only; and there are 201,876 contracts now. This gives a bearish pressure on gold/silver ratio.
Global risks
There are concerns about Chinese growth slowdown, integrity of the European Union, negative interest rates in a number of countries. As gold is more often perceived by many experienced and inexperienced investors as defensive asset than silver, it is likely to pull the gold/silver ratio up.
Gold Demand By Sector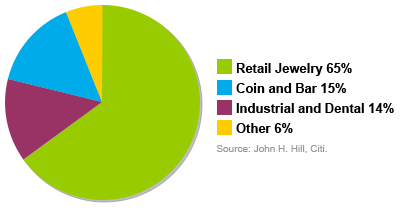 (source: Sprottmoney)
Silver Demand By Sector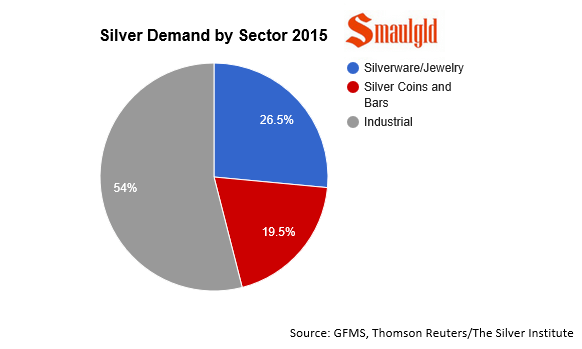 (source: InvestmentWatchBlog)
So, the investment portions in total demands of gold and silver are 15% and 20%, respectively. As forecast industrial demand is likely to be already reflected in precious metals' prices, investment demand will give most effect on future ratio movements.
Conclusion
If we saw a definite bullish case for precious metals due to above mentioned factors, it would be possible to say that the gold/silver ratio will fall. The reason would be that investment demand affects higher portion of silver demand than that of gold. However, as investment demand factors show different directions, I would avoid taking position in gold/silver ratio. Nevertheless, I believe that it is reasonable to take long positions in both gold (NYSEARCA:GLD) and silver (NYSEARCA:SLV) via ETFs. Since ratio declined from 80+ to 70+, it is already too late to take a short bet on the gold/silver ratio. Now it is reasonable to wait for the picture to clarify, mainly to see what Fed will say in its June meeting. Sometimes, you investigate some potential opportunity, but a closer look indicates that there is nothing interesting. This is an essential part of investment practice.
Disclosure: I/we have no positions in any stocks mentioned, but may initiate a long position in GLD, SLV over the next 72 hours.
I wrote this article myself, and it expresses my own opinions. I am not receiving compensation for it (other than from Seeking Alpha). I have no business relationship with any company whose stock is mentioned in this article.
Additional disclosure: The material presented in this article is provided for informational purposes only and is based upon information that is considered to be reliable.