I'll bet most of you weren't aware of the charismatic millionaire behind one of the world's most impactful software innovations, McAfee Antivirus. This sometimes bizarre yet successful businessman has had an appetite for the extreme. Today, as he is thought of as something of a legend, John McAfee is currently cultivating interest in the small-cap universe by potentially pumping his new company, MGT Capital Investments Inc (NYSEMKT:MGT), to the network security and privacy crowd.
Through my new company, John McAfee Global Technologies, we are going to work vigorously on finding vulnerabilities in every avenue possible. -John McAfee, Hack Conference
That may be what my fellow contributors have written about this week! With that in mind, I am not looking to entice anyone to buy MGT at its current level, nor am I asking you to sell your position. What I am asking you to do is examine an objective reason for a long position. Due to the volatile nature of this stock, I'll begin with the bearish argument that has correctly called Wednesday's correction.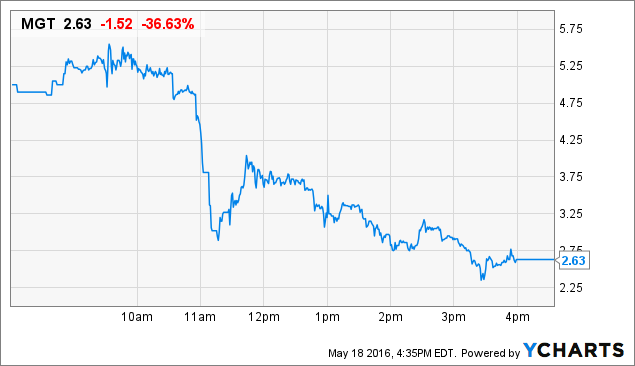 Click to enlarge
Why is this a speculative play instead of pump and dump? Because at this time there isn't enough significant information about the company's rebranding to give investors the scope of operations and potential revenue. Investing before MGT announces its annual figures is purely a gamble. MGT shareholders will vote on the purchase assets from D-Vasive Inc., an anti-spy software firm. The price tag for the deal comes to $300,000 in cash and 23.8 million restricted shares of MGT, or 47% of the company. This is the first potential red flag that a little digging has revealed. Where are those funds really headed?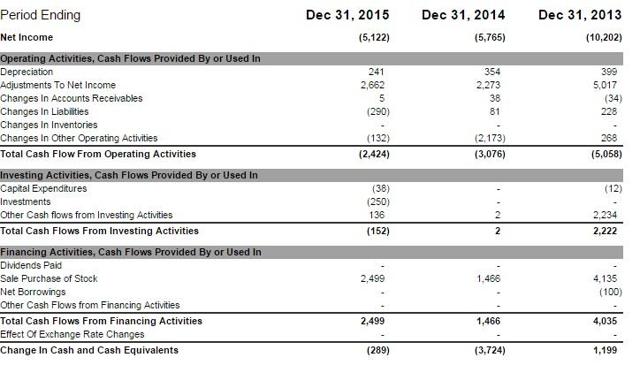 Click to enlarge
The company has appeared to finance itself with the sale of its stock, and as of 2013 has driven the shares down below the $1.00 level. At the end of 2015, MGT had reported $359,000 in cash. McAfee has essentially stripped $300,000 in cash from MGT and moved to his privately held company D-Vasive. For you gamblers, he may have picked up his chips and left the poker table with your money.
Skeptics will tell you that this is the perfect formula for disaster but despite plenty of caution given, thousands have bought into the "Cult of McAfee" without much knowledge of MGT's history. Despite market logic, there may still be a case for a value-based entry if you are willing to believe that McAfee is sincere in his commitment to MGT.
Investing on McAfee's potential
I am truly committed to MGT and the technology company pipeline within Round House and Future Tense as the natural continuation of my life's work. Cybersecurity and privacy are important extensions of people's freedom, and I plan to make this Company into the world powerhouse in the field. -John McAfee via twitter
The news of McAfee signing with MGT may be seen as hype, but it could also be the result of careful planning with long-term shareholder interest in mind. As a company that is initially involved in monetizing disruptive technology, MGT must deliver healthy shareholders' equity if they expect to attract institutional buyers. While the stock has gone flat since falling into the penny stock category, shareholders' equity had returned by the end of 2015.

Click to enlarge
Without getting lost in all the details on all of MGT's acquisitions, the company has shed some interest in online gaming before McAfee's arrival. In September 2015, MGT finalized the sale of its daily fantasy sports asset DraftDay to a new entity formed by Viggle Inc. (VGGL). MGT agreed to receive ~$5.0 million as a result, consisting of promissory notes of Viggle and restricted shares of VGGL common stock. They also retain an equity interest in the new venture as well as exercisable warrants.
McAfee intends to build a peer to peer platform that is secure. By reducing cash burn from DraftDay, McAfee can focus on technologies to help MGT develop and maintain encrypted communications software. For example, D-Vasive is a powerful tool that provides protection against invasive apps used by data mining operations. When you combine that asset with McAfee's Future Tense Secure Systems as well his ownership interest in Round House, MGT now has a pipeline to acquiring technology in areas like communications and cloud sharing.
Before this month's events, McAfee had been working with Demonsaw, a secure p2p networking application that works similar to BitTorrent. This allows users to upload media anonymously to the cloud. No information about the sender is received because it is routed through different hubs in order to 'scrub' the identifying information.
I strongly feel that McAfee and MGT are growing their portfolio to bridge all these technologies into one platform. B-Vasive gives the company a capable platform to secure the user's hardware. Future Tense Secure Systems and Round House puts MGT's technology alongside other security platforms like Demonsaw during the development phase. I expect that the next acquisition will help to confirm the notion of McAfee's intention to build a secure p2p communications ecosystem.
Conclusion
Like most of you, I am not looking to make an entry anytime soon, but if this company can find new ways to monetize its assets, this may prove to be a worthy long-term investment. The surge in volume this month and successful rally show that the stock could continue to lure buyers. As these events unfold, I will wait on the sidelines to see if these speculators will continue to be rewarded.
In situations like this, it may prove wise not to chase profits until the volume settles. There should be corrections as the stock faces the upward battle in legitimacy and climbs towards my target of $6.00. These new buyers are speculating that McAfee will replicate his previous success. I believe in the case of MGT; McAfee doesn't need to repeat history, he only needs to show investors a path to new revenue streams.
I hope you enjoyed this article. If you did, please go to the top the page and click the "follow" button, thanks! It was fun to write and I hope that everyone on both sides of the trade are able to grow their portfolios as well as their knowledge. I look forward to following the unfolding events with this company.
Disclosure: I/we have no positions in any stocks mentioned, and no plans to initiate any positions within the next 72 hours.
I wrote this article myself, and it expresses my own opinions. I am not receiving compensation for it (other than from Seeking Alpha). I have no business relationship with any company whose stock is mentioned in this article.
Editor's Note: This article covers one or more stocks trading at less than $1 per share and/or with less than a $100 million market cap. Please be aware of the risks associated with these stocks.