If you're driving a car and you're headed straight for a concrete wall, doesn't it seem logical that something is wrong? While this might seem rather obvious to many, management at BlackBerry (NASDAQ:BBRY) may not get this. There continues to be a bunch of negative news regarding the company's hardware business, but John Chen and Co. continue to believe in the struggling segment. The longer the company follows down this path, the worse things will be for shareholders.
In April, SA contributor Motek Moyen made an argument for BlackBerry to go cheap, and in that article linked to a BlackBerry Priv phone on Amazon that was going for $499, well below the phone's MSRP. A week or so later, when I called for BlackBerry to just end the hardware misery, that phone was going for $441, which Amazon said was 37% off list price. As seen in the image below, the phone continues to get cheaper and cheaper.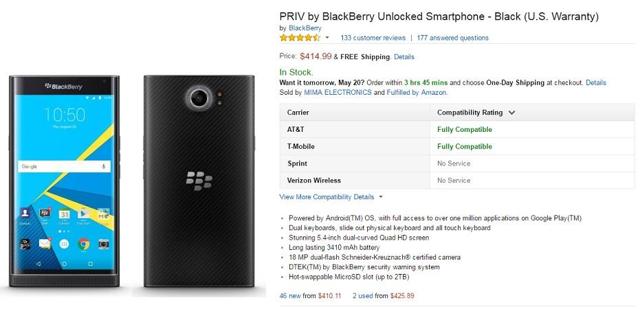 Click to enlarge
(Source: Amazon.com listing)
While the listing price has been removed, this unlocked Priv can now be had for less than $415, down 17% in just three weeks! If John Chen was so insistent on selling phones for $400, well, the Priv is nearly there. If this is any indication of how the Priv is doing, things will not be good when BlackBerry reports its earnings for the quarter ending May 31st. The hardware segment still represented 39% of the company's revenues in the latest fiscal quarter, the largest revenue segment for the firm.
Additionally, a veteran analyst who covered BlackBerry through some of its best days (and was one of its biggest supporters) has returned at a new firm with an Underperform rating on the stock. The analyst said that the hardware business is worth zero, and that BlackBerry should just shut down the struggling segment. Ending hardware sales would boost profit margins and likely increase investor sentiment, according to the analyst.
So why is BlackBerry's management ignoring the obvious? Well, perhaps it is pride, wanting to hold onto the legacy of a once prominent device maker. John Chen may not want to admit he has failed in his turnaround efforts, despite revenues plunging another 50% from when he was looking for growth at a quarterly rate of nearly $1 billion. Unfortunately, ignoring the obvious is not working for shareholders, as you can see below how the stock continues to head towards its yearly lows. Until BlackBerry realizes that hardware is not part of its future, the stock is not likely to see meaningful returns for longs.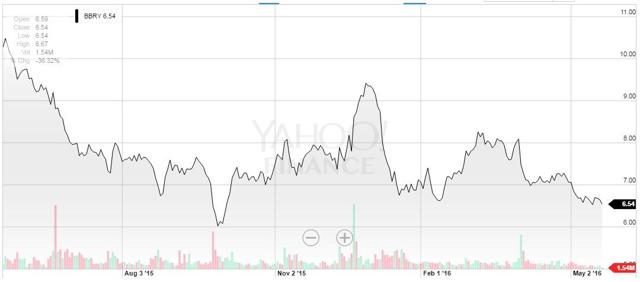 Click to enlarge
Disclosure: I/we have no positions in any stocks mentioned, and no plans to initiate any positions within the next 72 hours.
I wrote this article myself, and it expresses my own opinions. I am not receiving compensation for it (other than from Seeking Alpha). I have no business relationship with any company whose stock is mentioned in this article.
Additional disclosure: Investors are always reminded that before making any investment, you should do your own proper due diligence on any name directly or indirectly mentioned in this article. Investors should also consider seeking advice from a broker or financial adviser before making any investment decisions. Any material in this article should be considered general information, and not relied on as a formal investment recommendation.