Freeport-McMoRan (NYSE: FCX) seems to have dug itself out of the hole. While the company has made some mistakes in the past (e.g., the 2013 acquisition of Plains and McMoRan), rebounding commodity prices have sent shares flying.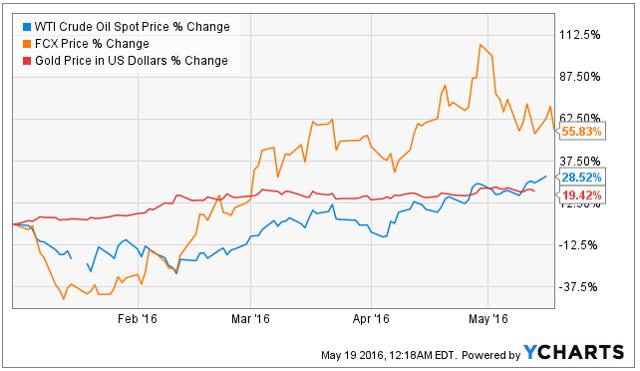 Click to enlarge
A while ago, the company wanted to sell its oil and gas assets. In April, the company decided to axe a few executives and restructure the oil and gas division to cut costs, though assets were largely untouched. Thanks to this delay, rising oil prices have hugely benefited the stock. But despite this tailwind, I believe the company should still divest the assets and focus on its core mining operation.
The company barely scraped by in the first quarter, generating an operating loss of $89 million after adjusting for the $3.8 billion impairment expense. However, Q2 results should be miles ahead of Q1. Looking just at oil, today's price of $47.64/bbl is $18.58 higher than Q1's realized price of $29.06/bbl. Because production is not hedged, the company will fully capture the benefit of the rally. At an annual production volume of 33.2 MMbbl, the jump in oil could translate to $617 million of incremental cash flow. Evidently, volatility is not necessarily a bad thing. However, when you have $20 billion of debt (or ~$17 billion after recent transactions), safety should be your number one priority.
Volatility can generate huge profits if the company has the financial strength to withstand downswings. Unfortunately, the company is still waist deep in debt. Here's what the CEO said during the Q1 conference call:
Our company is over leveraged, I mean in the nature of the business that we are in where you have such high operating leverage from commodity prices, you just should not be this leveraged, because when conditions unfold as they do from time-to-time and your revenues drop because of what's going on the global commodity prices having this kind of debt is a killer and unfortunately we're in a position that were in.
Volatility Works Both Ways
I'm sure many of us know why the company wanted to sell the assets in the first place. Rock bottom energy prices combined with a boatload of debt created the perfect storm. With energy commodities and gold on the rebound, it would seem that the storm has passed and sunny days are ahead. However, I believe that is a very dangerous line of thought.
We must concede that commodity prices are highly volatile. Just because prices have recovered recently, the trend may reverse at any time. Looking at copper prices (accounting for most of the company's production) alone should give you headaches, but even if we look at copper and oil together, there is really no hedge to speak of. In the chart below, we can see that the price movements of the two commodities do not offset each other.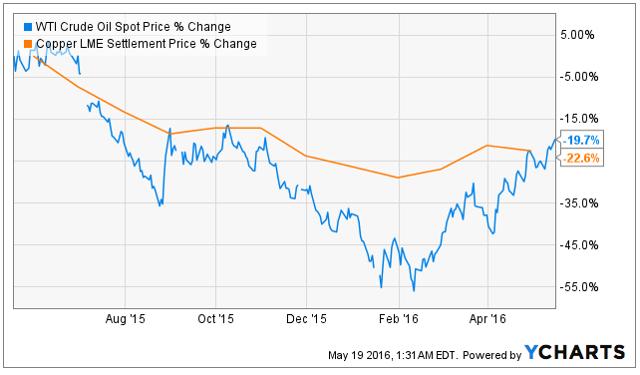 Click to enlarge
In other words, the energy segment just adds another layer of uncertainty.
In fact, one can argue that the gains made by crude recently are unjustified. There has been several local events that cut short-term supply. For example, the wildfire in Fort McMurray reduced production by 1 MMbbl/day. But looking at the big picture, there is little to cheer for. Crude inventory has risen, signaling a sustained supply glut. EIA reported that inventory as of May 13 was 1236 MMbbl, 5.4% higher than a year ago.
On the international stage, there has been little cooperation between oil producing nations despite numerous attempts to come to an agreement regarding a production freeze. The Doha meeting was a failure and Saudi Arabia's new oil minister signaled that Saudi Arabia will maintain its production rate. All of these factors could lead to a reversal in the near future.
The Time Is Now
The time to repair the roof is when the sun is shining. -- John F. Kennedy
The above quote applies perfectly to the situation at hand. It's easy to forget that just a few months ago, the company's stock and bonds were trading as if the company was going under. The sky seems to have cleared, but the management shouldn't wait for another storm before patching the holes. With energy prices on the rise, there may be additional demand out there for the assets. It would be foolish to throw away this opportunity just to chase future gains at the expense of long-term stability.
Note: To understand how I structure the V20 Portfolio (+40% in 2015), whose goal is to compound capital at 20% over the long term, I encourage you to read the introduction to my investment process. If you are looking for some ideas that could complement your own portfolio, you can click the "Follow" button beside my name on the top of the page and be updated with my latest insights. Premium subscribers will get full access to the V20 Portfolio. You can follow my latest weekly update available to all here.
Disclosure: I/we have no positions in any stocks mentioned, and no plans to initiate any positions within the next 72 hours.
I wrote this article myself, and it expresses my own opinions. I am not receiving compensation for it (other than from Seeking Alpha). I have no business relationship with any company whose stock is mentioned in this article.