Another bullish build might sound like an oxymoron, but it's not. Natural gas (NYSEARCA:UNG) build came in at +73 bcf vs. the consensus range of 75-90 bcf. This is considerably more bearish given that last year's build was 98 bcf and the five-year average is 91 bcf.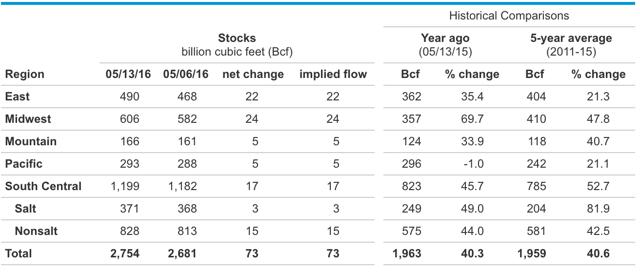 Click to enlarge
Natural gas storage is now 791 bcf higher than this time last year, and 795 bcf higher than the five-year average. This week's natural gas storage report was highlighted by us last week, when we said that colder weather was going to help the storage figures. Given that most market participants pay attention to weather forecasts, natural gas prices are flat.

Click to enlarge
From a technical viewpoint, it's quite bearish given that the $2/MMBtu support level was broken and could possibly result in a retest of $1.60/MMBtu. From a fundamental standpoint, prices should remain range-bound given that the underlying fundamentals are improving and storage overhang is keeping a lid on prices.
We suspect that technical factors will dominate short-term trading, and prices will go wherever the market participants vote it to go. In the long run, prices inevitably have to revert to where fundamentals point to. We believe that's much higher gas prices.
Next week's inventory report should be pretty much in line with the five-year average build of 91 bcf. Market participants currently expect a build of 75-85 bcf, which is slightly below that number. In order for prices to move higher, we will need bullish reports like this on a weekly basis in order for inventory levels to remain tame. We suspect they will, and we continue to monitor the situation.
We hope you enjoy our weekly natural gas storage reports. Be sure to check out some of our previous ones, and click on the follow button above if you would like to receive our "Natural Gas Daily" articles. In addition, we also have a premium subscription platform that's tailored to long-term value-oriented investors. We provide recommendations of stock ideas and portfolio composition. Our HFI portfolio has now outperformed the SPY by 8% since inception. We look forward to you joining the HFI platform.
Disclosure: I/we have no positions in any stocks mentioned, and no plans to initiate any positions within the next 72 hours.
I wrote this article myself, and it expresses my own opinions. I am not receiving compensation for it (other than from Seeking Alpha). I have no business relationship with any company whose stock is mentioned in this article.