Interest rates are so low that is has become a serious problems for many retirees. I often read that investors can't afford to wait low yielding companies to increase their dividend payment through the next 15 years before they reach 4% yield and up. While I totally understand that retired investors or close to soon-to-be retirees need an income immediately, aiming at high yielding stocks always include additional risks.
Based on my 7 investing rules, I've been able to pull out a very interesting list of companies that both offers great perspective along with strong dividend yield.
SEASPAN (NYSE:SSW)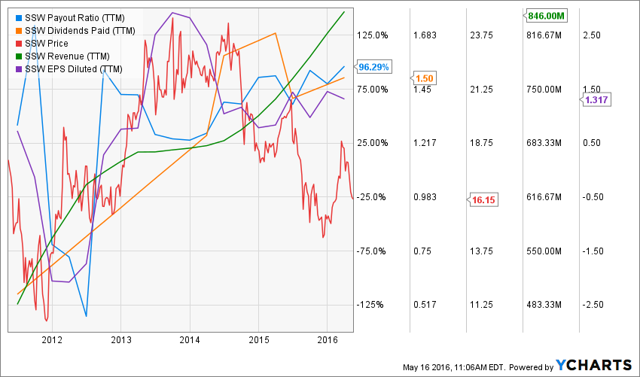 Click to enlarge
Source: Ycharts
5 Year revenue growth: 15%
5 Year EPS growth: -0.68%
5 Year dividend growth: 26.71%
Dividend yield: 8.30%
Payout Ratio: 79.92%
Cash Payout Ratio: -24.60%
Seaspan provides many of the world's major shipping lines with alternatives to vessel ownership by offering long-term leases on large, modern containerships combined with industry leading ship management services.
The company employs over 3,000 employees operating over 100 vessels into three division:
Operating
Newbuilding
Managed
Seaspan is the largest independent charter owner and manager of containerships. The company has built strong partnerships with companies such as COSCO, CSCL, Yang Ming, Hapag-Lloyd, Hanjin, K-Line, MOL, Maersk and MSC.
Their business model is based on long term contracts with their partners enabling the company to planify ahead their dividend payment. It currently has an average of six years remaining on its contracts with only 2% to 3% of its revenue for this year is coming up for renewal. Since transportation is a repetitive business, Seaspan has created a strong money making machine. The company is systematically growing its fleet to keep its competitive advantage: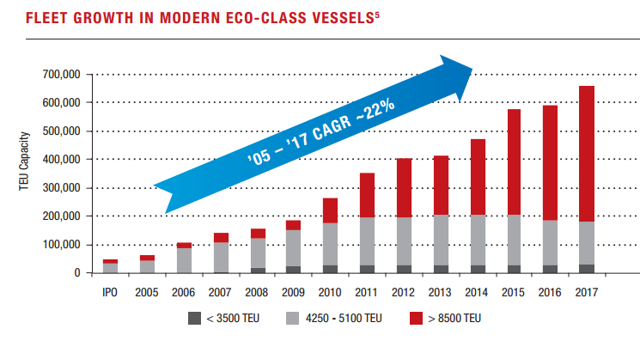 Click to enlarge
Source: SSW FACT sheet
Keep in mind that while SSW is growing continuously its fleet, it's not because they want to flood the oceans with empty boat. The company currently shows 97.2% utilization rate of their fleet.
The company struggled to generate positive free cash flow over the past 5 years, but management has been actively working on the situation. Last year, their revenue increased by 14.3% while expenses only go up by 6.8%. The company was able to increase its available cash flow for dividend by 7.1% last year.
This stock might even fly high to new summits any time soon. Using a very conservative dividend discount model, it seems the stock trades at a great rebate:
| | |
| --- | --- |
| Input Descriptions for 15-Cell Matrix | INPUTS |
| Enter Recent Annual Dividend Payment: | $1.52 |
| Enter Expected Dividend Growth Rate Years 1-10: | 5.00% |
| Enter Expected Terminal Dividend Growth Rate: | 4.00% |
| Enter Discount Rate: | 10.00% |
Calculated Intrinsic Value OUTPUT 15-Cell Matrix
Discount Rate (Horizontal)
Margin of Safety
9.00%
10.00%
11.00%
20% Premium
$41.04
$34.10
$29.15
10% Premium
$37.62
$31.26
$26.73
Intrinsic Value
$34.20
$28.42
$24.30
10% Discount
$30.78
$25.58
$21.87
20% Discount
$27.36
$22.74
$19.44
Source: Dividend Monk Toolkit Excel Calculation Spreadsheet
In any cases, you will be earning an increasing dividend which already represents a 9%+ yield.
OMEGA HEALTHCARE (NYSE:OHI)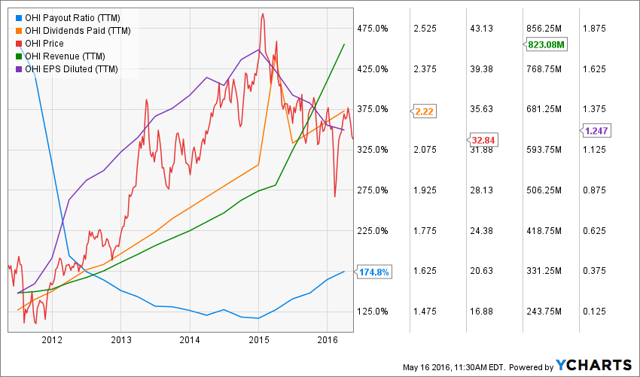 Click to enlarge
Source: Ycharts
5 Year revenue growth: 23.55%
5 Year EPS growth: 25.11%
5 Year dividend growth: 9.74%
Dividend yield: 6.26%
Payout Ratio: 164.70%
Cash Payout Ratio: N/A
Omega Healthcare Investors Inc is a self-administered real estate investment trust. The Company is engaged in investing in income-producing healthcare facilities, including long-term care facilities located in the United States and United Kingdom. After suspending dividends in 2001 to meet debt obligations, this REIT has been on fire over the last decade and growing at a very attractive pace. We can easily understand why as our population is aging and adding more seniors each year. Retirees all come to this point where they can't manage their house anymore and move toward administered senior properties with health services.
The company shows a great diversification on both geographic and client segments: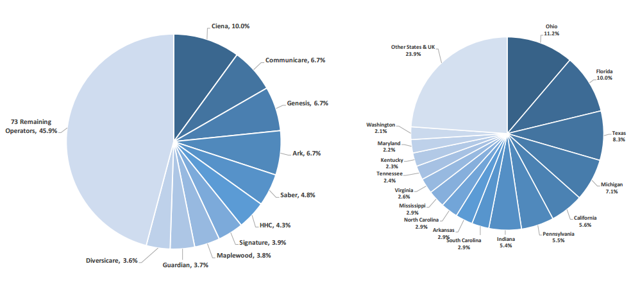 Click to enlarge
Source: Omega Healthcare website
The company business model is based on a repetitive business where it collects rent money month after month. OHI shows a stable occupancy rate between 82% and 84% since 2009 and usually is doing better by 1% than the overall industry.
Finally, the company shows a very interesting characteristics for dividend growth investors; the company has been successfully increasing their dividend over the past 15 quarters. This means that each 3 months, you get an increasing checks from OHI. What is even better is that the company is not sharing all its revenue yet. OHI shows a AFFO payout ratio of 70% leaving enough money for the company to meet its financial requirements and please its shareholders at the same time.
MATTEL (NASDAQ:MAT)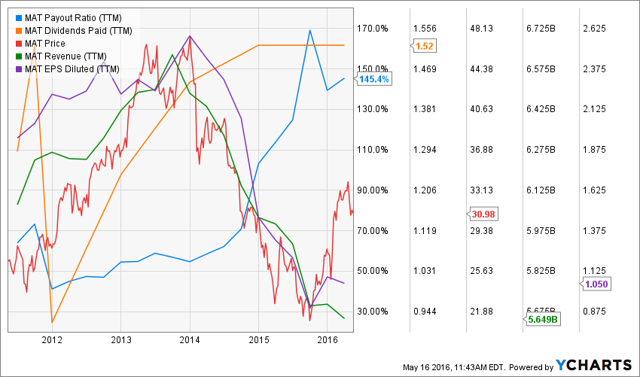 Click to enlarge
Source: Ycharts
5 Year revenue growth: -0.53%
5 Year EPS growth: -10.50%
5 Year dividend growth: 12.86%
Dividend yield: 4.50%
Payout Ratio: 139.40%
Cash Payout Ratio: 107.20%
Mattel is one of the biggest toy manufacturers, marketers and distributors. It has an impressive portfolio of brands including all-star names such as Fisher-Price, Little People, Barbie, Hot Wheels, Polly Pocket along with several Disney, Comic Book and Cartoon characters and their related products. The biggest part of the growth comes from its "American Girl Brands". While Barbie is slowing down, Mattel showed up with the American Girl! Since Mattel's business model sells most of their toys at an affordable price, they also did well in international markets. As you can see on the following graph, the company is still struggling showing growth due to currency headwinds: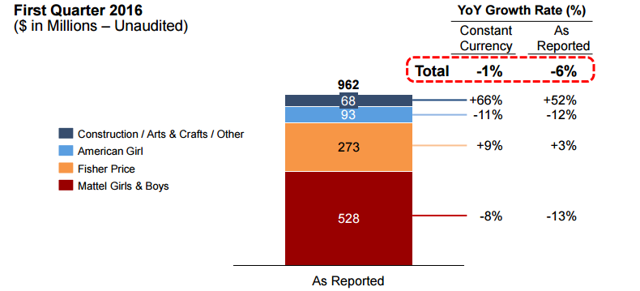 Click to enlarge
Source: Mattel investor presentation
MAT stock has been beaten to death in 2014 and 2015 mainly due to concerns around its ability to generate sales growth. Barbie is having a hard time relationship with investors. However, the stock bounced back by 72% over the past 6 months. This is mainly due to higher hope to see Mattel show sales growth through careful acquisitions, new license products and the revival of toy box brands. Don't take Mattel for dead, after all, the company is among the world largest toy makers which makes it a preferred choice for new license items. Still, I prefer Hasbro at the moment.
BCE (NYSE:BCE)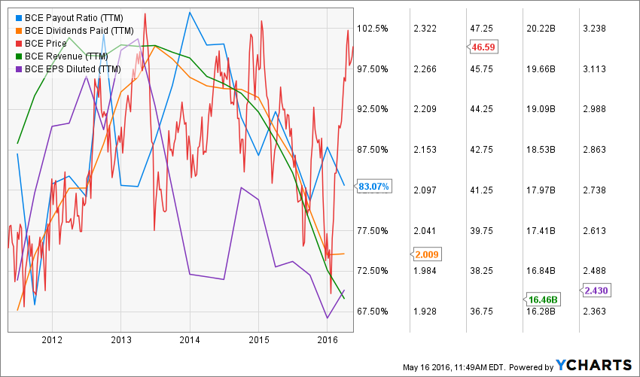 Click to enlarge
Source: Ycharts
5 Year revenue growth: -0.80%
5 Year EPS growth: -2.84%
5 Year dividend growth: 3.28%
Dividend yield: 4.32%
Payout Ratio: 87.84%
Cash Payout Ratio: 112.60%
BCE is the largest communications company in Canada. The company recently acquired CTV for 1.3 billion dollars. This acquisition included major subsidiaries such as TSN. BCE also owns 15% of the Globe and Mail, ownership of Bell Aliant Regional Communications Income Fund and stakes in both the Montreal Canadiens & the Toronto Maple Leafs NHL teams.
BCE is part of the ever high dividend yield in the Canadian dividend landscape. As opposed to REITs and oil industry dividend paying stocks, BCE seems to be alone with a very low volatility profile. While the TSX went up and down over the past 18 months, BCE has a strong leadership position. Bell also has clear objectives which are to Improve Customer Service, Accelerate Wireless business, Leverage Wireline Momentum, Invest in Broadband Networks and Services, and Achieve a Competitive Cost Structure. Bell is definitely strong enough to continue its growth through the acquisition of market share in different communication segments in Canada.
BCE is a diversified media company that is not afraid to use its cash flow to invest in other businesses. They recently acquire Manitoba Telecom (NYSE:MBT) for the sum of $3.9 billion paid in cash and stocks. This goes well with BCE strategy of improving its presence in the wireless business in Manitoba. On the other side, I' m not sure it' s a super deal since MBT hasn't been a skyrocketing business over the past few years. Not to mention that BCE will most likely have to sell a part of MBT postpaid wireless customers to Telus in order to gain regulatory approval.
CANADIAN BANKS?
| | | |
| --- | --- | --- |
| Company Name | Ticker | Yield |
| Roybal Bank | RY | 4.19% |
| TD Bank | TD | 3.84% |
| CIBC | CM | 4.53% |
| BMO | BMO | 4.18% |
| ScotiaBank | BNS | 4.51% |
As you can see, you can easily buy any bank and earn over a 4% yield. Even better, all the above banks are expected to raise their dividend year after year. Some of them even raise them twice a year. This sounds like a bargain for most investors and if you are looking to build a solid core portfolio, I think that Canadian banks should be part of it.
They evolve in an oligopoly and all show strong balance sheet. You can opt for a more international view with BNS evolving in South America, a bank concentrated on wealth management with BMO and RY or more classic loans and savings with TD and CM.
Now, for Americans, those who bought Canadian Banks in 2015 thinking the storm was over, many were hit by the currency exchange rate and the oil . At the moment, the USD has lost steam compared to the CAD and I believe this issue is behind us. In other words, Canadian banks are worth a look for both Canadian and American investors. Last year, I wrote a review of the big 5 on Seeking Alpha, you can read it here
Disclaimer: We own shares of BCE, MAT, RY, TD, in our Dividend Stocks Rock Portfolios.
Disclaimer: The opinions and the strategies of the author are not intended to ever be a recommendation to buy or sell a security. The strategy the author uses has worked for him and it is for you to decide if it could benefit your financial future. Please remember to do your own research and know your risk tolerance.
Disclosure: I am/we are long BCE, MAT, RY, TD.
I wrote this article myself, and it expresses my own opinions. I am not receiving compensation for it (other than from Seeking Alpha). I have no business relationship with any company whose stock is mentioned in this article.