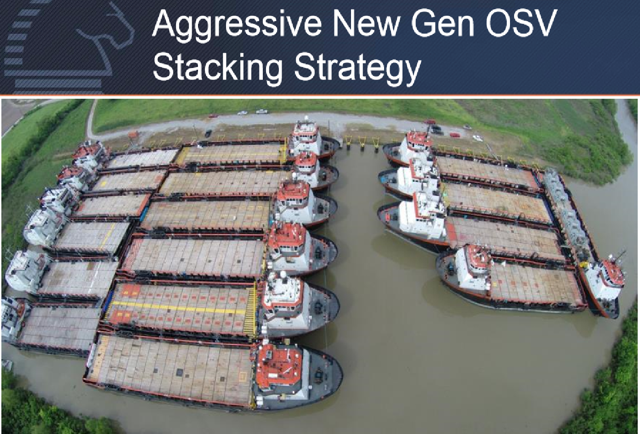 Click to enlarge
Hornbeck Offshore Services (NYSE:HOS) has tried to be diligent while weathering the prolonged downturn in the offshore drilling industry. It has focused on right-sizing its fleet by stacking vessels and on preserving cash. Through 2015, the company had not produced a negative operating margin in eighteen years. Its cost-cutting in 2015 is to be, at least partially, credited for the company's cash build to $259.8 million.
But, Hornbeck's anticipation that competing offshore service providers would also stack vessels or run out of cash has yet to come totally to fruition. In the 2015 third quarter earnings call, CEO Todd Hornbeck stated:
"That's (taking equipment out of the market) going to happen on a more rapid basis, more prudent basis, whether it is by competitors willingly doing it or by their financial institutions forcing them to do it or just running out of cash. Because keeping vessels in the market, I can tell you, is going to burn cash a lot faster than stacking them."
Hornbeck has long insisted slashing rates was not the appropriate answer.
"We can never, through dayrates, ….. whether it's us or any of our competitors, create a job by lowering dayrates. That doesn't create a job in our business. Nor do our customers decide not to drill because our dayrates are too high."
He also shared:
"I think once we get enough tonnage out of the market, that rights itself, right. ..... Once that happens, and I think it's starting to happen on a more efficient basis now that people realize that price is not the driver, that getting equipment out of the market is the driver."
Hornbeck's most recently reported average utilization rate is evidence the market is still over-supplied.
In the first quarter of 2014, Hornbeck's average OSV dayrate was $26,237. It had increased to $26,705 by the first quarter of 2015. But, when Hornbeck reported its first quarter results for 2016 on May 4th, the average OSV dayrate had dropped 8% to $24,601. Hornbeck's effective dayrate is calculated by multiplying the average dayrate by the average utilization rate. In the 2014 first quarter, the effective dayrate was $19,756. By the 2015 first quarter, the effective dayrate was $17,278 - a 12.5% drop after four quarters of industry turmoil. When Hornbeck reported its first quarter results for 2016 on May 4th, its effective dayrate had dropped another 50% to $8,635. Thus, it is obvious - Hornbeck's average utilization rate has dramatically diminished.
In the 2014 first quarter, Hornbeck reported a 75.3% average utilization rate on fleet deadweight capacity of 157.3 tons. In 2015, the first quarter delivered a 64.7% average utilization rate on fleet capacity of 208.5 tons. The first quarter of 2016 saw an average utilization rate of only 35.1% on 219.4 tons. Have no doubt - when utilization suffers, revenue suffers.
Revenue was $136.6 million, $134.6 million and $76.8 million for the first quarters of 2014, 2015 and 2016, respectively. Operating expenses in the 2016 first quarter were $77.6 million. The eighteen year streak snapped. Hornbeck Offshore Services suffered its first operating loss. The operating cash generated in the first quarter was not enough to offset the company's expenses and capital commitments. It burned approximately $4 million of its $259.8 million cash balance.
Yet, that was not the only gloomy message in the 2016 first quarter earnings call.
"We simply have no near-term visibility to a scenario in which demand for our vessels will improve and have no expectation that the next several quarters will be much different from the last quarter."
Later in the call, Mr. Hornbeck predicted an even gloomier scenario.
"We don't know that we're at the bottom yet and we think the next couple of quarters could be worse than the first."
To get ahead of the continuing turmoil, Hornbeck will stack more vessels. At year-end 2015, Hornbeck had stacked 33 vessels. Thirteen more vessels are expected to be stacked by June. Therefore, throughout 2016, Hornbeck expects to stack an average 42 of its 62 OSVs. Should current conditions persist, in 2017, Hornbeck will average 46 vessels stacked. Although 42 vessels represent 68% of Hornbeck's vessel count, it only represents 52% of its deadweight tonnage. The vessels remaining in the water are high-quality, high-spec and best-in-class.
Stacking vessels reduces costs. Hornbeck shared 2/3 of the daily costs associated with operating a vessel are the costs for its crew. When a vessel is stacked, the headcount are laid off. The company, subsequently, reduced its guidance for full-year operating expenses from a range of $170 million to $185 million to a range of $150 million to $165 million. As well, it reduced full-year guidance for G&A expenses.
Less expense means the cash balance stays available for use elsewhere. Hornbeck does still have capital outlays of approximately $87 million committed in 2016 for maintenance and its fifth build program. The majority of the company's long-term debt matures 2019 through 2021. In 2016, Hornbeck will incur a total obligation of $50 million in debt expense with approximately $37 million remaining to outlay. In 2017, capital commitments and debt expenses are estimated at $77 million and $58 million, respectively.
Hornbeck's goal is to operate at a breakeven point where the debt expense and maintenance capital expenditures are covered. The remaining capital commitment for the fifth build program totals $103.8 million. Hornbeck's cash build of $255.8 million is ample to cover the remainder of the build program. Hornbeck would then have $152 million remaining to address the expenses associated with reactivating vessels.
Reactivation includes drydocking charges, maintenance, recertification and rehiring and retraining of crews. Costs could run as high as $2 million per vessel. However, it is important to consider:
all vessels will not be reactivated at once,

Hornbeck will not reactivate a vessel unless the cost is justified,

the lead time to reactivate will be lengthy, and

the active fleet should be generating free cash flow to help offset expenses.
Further, 6 of the 46 vessels will be held in a "lukewarm" state. These vessels will be maintained by two crews. Should an opportunity warrant, a vessel can be ready quickly and can be immediately staffed. The costs to stack these 6 vessels in a lukewarm state will be higher but the reactivation expense will be substantially less. Therefore, in regard to the remaining stacked vessels, Hornbeck's total reactivation expense could range from $40 million to $80 million.
There's little question Hornbeck was expected to survive the market downturn because of the quality of its fleet. Now, there's little question Hornbeck should be able to survive the market downturn because of the health of its balance sheet, specifically its cash balance. Simply, its fleet should attract future demand and its cash should assure its survival.
Disclosure: I am/we are long HOS.
I wrote this article myself, and it expresses my own opinions. I am not receiving compensation for it (other than from Seeking Alpha). I have no business relationship with any company whose stock is mentioned in this article.
Additional disclosure: I belong to an investment club that owns shares in HOS