Alibaba (NYSE:BABA) usually attracts attention to its enormous e-commerce business, its financial business, or even its long-term bets like autonomous cars and ride-hailing industry investments. However, its very successful cloud business receives less attention than the other segments while it presents the most impressive YoY growth. As shown in the chart below, all of Alibaba's revenue streams are growing at phenomenal rates; however, when the core business, both in China and internationally, maintained a relatively steady double-digit YoY growth rate, the company's cloud business increased its growth rate and reached an amazing 175% in the last quarter.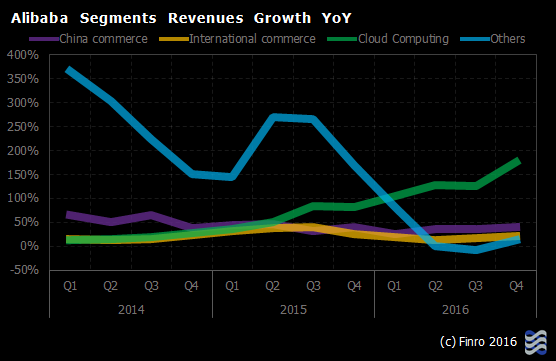 The rising growth rates in cloud computing revenue is an outcome of the global IT trend to move more services to the cloud and utilize the cloud capabilities more than they were utilized so far. This includes tracking, monitoring, and storing user preferences, data, app performance information, transaction details, and more. This worldwide trend to move the workload to the cloud and increase the usage of cloud services supported the rise of cloud service companies and big data analytics companies. As more companies adopt big data analytics capabilities and are required to track, monitor, and store data online, they also benefit from the growth of cloud infrastructure services.
Alibaba's rival Amazon (NASDAQ:AMZN) became one of the biggest players monetizing on the cloud growth when its AWS division recently reported a 64% YoY growth in net income and an impressive 200% YoY growth in operating income, as shown in the chart below. Alibaba is eyeing the same growth potential as Amazon. However, currently, it generates a minuscule amount of revenues from the cloud that equals only 7% of Amazon's AWS revenues, which highlights the gap between AWS and AliCloud.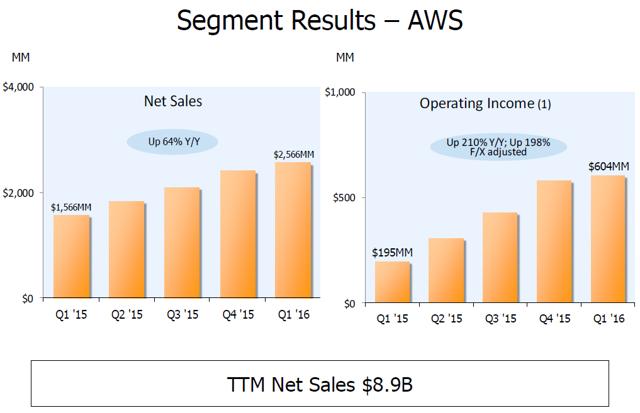 Click to enlarge
Source: Amazon Q1 2016 earnings slides
To accelerate AliCloud's growth and narrow the gap from Amazon, Alibaba accelerated its global expansion and opened its second datacenter in the U.S. to attract customers from Silicon Valley and directly compete with Amazon on its home turf. However, even with the U.S. expansion, AliCloud's global coverage is partial and include datacenters in mainland China, the U.S., Hong Kong, and Singapore and could not threaten AWS. One year after their Silicon Valley expansion, AliCloud partnered with the Japanese firm Softbank (OTCPK:SFTBY) to form a joint venture in Japan that would enable AliCloud to leverage Softbank's extensive network there and attract new and significant customers.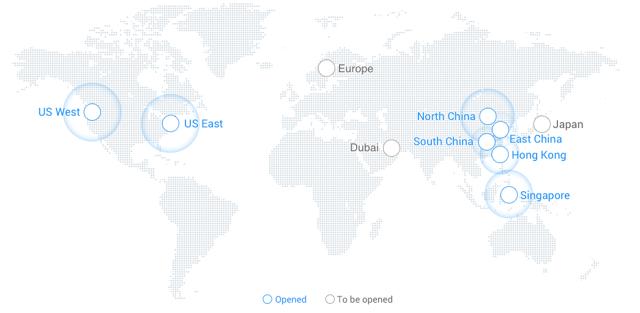 Click to enlarge
Source: intl.aliyun.com
Penetrating the Japanese market with a strong local partner such as Softbank is a substantial move forward for AliCloud; it will strengthen its positioning in the global cloud infrastructure market and accelerate AliCloud's revenue growth. Taking into account that Softbank is one of the biggest shareholders in Alibaba, this partnership is mutually beneficial, and while AliCloud benefits from Softbank's network in Japan, Softbank will benefit from AliCloud's cloud infrastructure offering, and both companies will generate additional revenue.
It is clear that AliCloud's penetration into Japan should not drive investors to buy BABA solely on this news. However, it highlights how serious Alibaba is about its cloud business and how determined it is to become a main player in the market. This move will assist the company with further increasing its cloud business growth rate and, if Alibaba continues with its current pace of global expansion, AliCloud will generate a much more significant portion of Alibaba's revenues.
Alibaba shareholders who hold their shares over the long term should be very satisfied with the direction in which AliCloud is going, and judging by the AWS case, they have very good reason to be optimistic about the business's potential. In the long term, I believe that AliCloud will become as important to Alibaba as AWS to Amazon. Even though it seems like a small development in Alibaba's corporate life, it is a very important milestone in AliCloud's development that should benefit Alibaba's shareholders in the long term.
Disclosure: I/we have no positions in any stocks mentioned, and no plans to initiate any positions within the next 72 hours.
I wrote this article myself, and it expresses my own opinions. I am not receiving compensation for it (other than from Seeking Alpha). I have no business relationship with any company whose stock is mentioned in this article.
Additional disclosure: The information provided in this article is for informational purposes only and should not be regarded as investment advice or a recommendation regarding any particular security or course of action. This information is the writer's opinion about the companies mentioned in the article. Investors should conduct their due diligence and consult with a registered financial adviser before making any investment decision. Lior Ronen and Finro are not registered financial advisers and shall not have any liability for any damages of any kind whatsoever relating to this material. By accepting this material, you acknowledge, understand and accept the foregoing.
Editor's Note: This article discusses one or more securities that do not trade on a major U.S. exchange. Please be aware of the risks associated with these stocks.