In the past month, Penn West Petroleum (NYSE:PWE) shares have tanked over 31%, with most of the decline taking place this week after the company expressed concern regarding defaulting on its financial covenants by the mid-year. In Penn West's words, (as reported by TheStreet.com):
"Our ability to continue as a going concern depends on the ability to enter into amending agreements with our lenders. We are engaged in discussions with our lenders with a view to entering into agreements to amend these financial covenants prior to the end of the second quarter of 2016, which if successful will mitigate the risk of default."
As a result of such a development, Penn West shares have crashed more than 16% this week after reporting its first-quarter results and the accompanying statement on May 16. Now, taking a stake in Penn West in spite of such a development might look like a risky proposition, but I believe that investors should take advantage of this opportunity as the company is aggressively making fundamental improvements that will allow it to weather the storm and strike a favorable deal with lenders. Let's see why.
Cost reductions are bearing fruit
For the first quarter, Penn West reported a net loss of $0.20 per share, a decline of 58% as compared to a net loss of $0.48 per share in the year-ago period. This decline in Penn West's net loss was despite the fact that its revenue for the quarter declined approximately 32% on a year-over-year basis.
This decline in Penn West's net loss can be attributed to its excellent cost control measures that have allowed it to lower its operating and G&A costs remarkably. For instance, Penn West's operating expenses last quarter fell to $13.02 per BOE, a drop of 41% as compared to operating expenses of $18.61 per BOE last year. Additionally, Penn West managed to lower its G&A costs by 35% to $2.88 per BOE on a year-over-year basis.
The company has been able to achieve these cost reductions on the back of improved drilling techniques and well designs, which are allowing it to shorten cycle times. For instance, last quarter, Penn West was able to reduce the spud to first production cycle time significantly to just 14 days from 90 days in the same quarter last year at its Cardium play. As a result of this decline in drilling time, Penn West lowered its well cost by $1 million on each well.
On the other hand, at the Viking play in Dodsland, Penn West is increasing the application of "the 12 ton 12 stage completion techniques on the half mile laterals," according to management. Looking ahead, Penn West is now deploying a one mile well bore design as the wells completed using this design are performing better than the current type curves.
More importantly, as a result of these cost reductions and production efficiency improvements, Penn West has been able to bring its gross margins and operating cash flow back on track. As shown in the chart below, Penn West's gross profit margin has been improving this year, while the rate of drop in its operating cash flow has come down: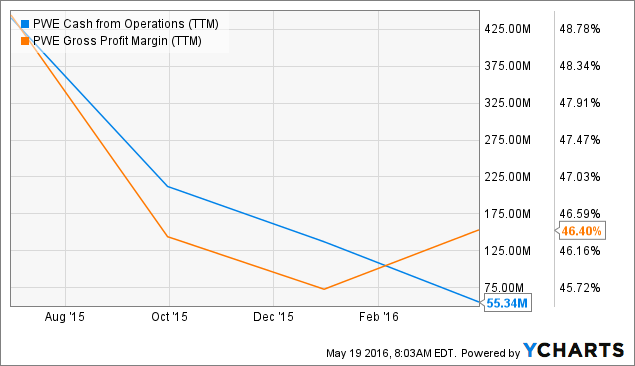 PWE Cash from Operations (TTM) data by YCharts
Hence, as Penn West is bolstering its operational profile, the company should be able to improve its cash flow and margin performance going forward, which will help it meet its obligations and strike a favorable deal with lenders.
Penn West has managed aggressive debt reductions
The impressive part about Penn West Petroleum is that the company has managed to lower its net debt impressively in recent quarters. For instance, the company paid down approximately $200 million of its net debt during the first quarter of 2016. In fact, Penn West has reduced its net debt by 19% to $1.7 billion on pro-forma basis as compared to the net debt of $2.1 billion in the last six months.
This reduction in Penn West's net debt is due to its asset disposition moves, with the company selling assets worth $230 million last quarter. The following chart shows Penn West's impressive debt reduction in the past six months: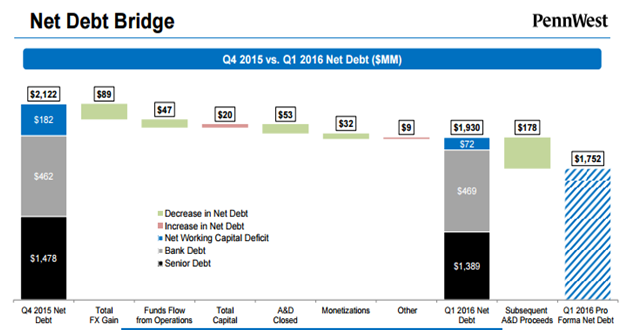 Source: Penn West Petroleum
Looking ahead, management is confident that Penn West can sell off more assets. This will allow the company to bring down its net debt further and help it stay within its covenants. For instance, last quarter, Penn West's senior debt to EBITDA ratio was at 4.4x, which is lower than the required covenant of 5.1x.
Now, the good thing is that as Penn West has been reducing costs, the company's EBITDA margin is moving into positive territory since it is minimizing its losses. This is shown below: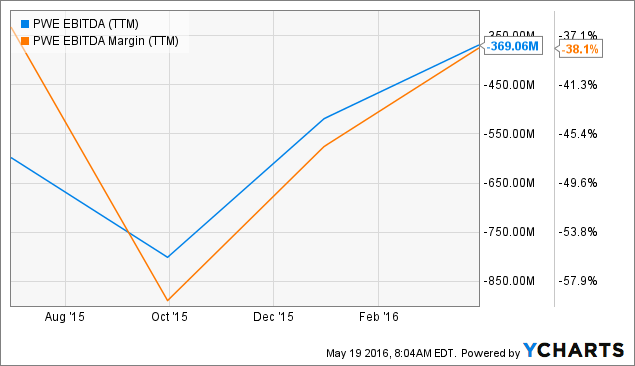 PWE EBITDA (TTM) data by YCharts
Thus, the combination of a reduction in the net debt and an improvement in the EBITDA profile should ideally help Penn West stay within its covenants going forward, especially as oil prices have recovered in the ongoing quarter.
Conclusion
There is no denying the fact that Penn West Petroleum has been making the correct moves to overcome the challenging oil environment by lowering its expenses and debt aggressively. As a result of these strategies, the company has been able to improve its gross margin, EBITDA, and cash flow. Along with an improvement in oil prices, Penn West should be able to satisfy its debt covenants going forward, especially as the company is lining up more asset sales to lower the debt. Hence, it might be a good idea to bet on Penn West Petroleum and take advantage of the weakness in its stock price given that the company can make a comeback.
Disclosure: I/we have no positions in any stocks mentioned, and no plans to initiate any positions within the next 72 hours.
I wrote this article myself, and it expresses my own opinions. I am not receiving compensation for it (other than from Seeking Alpha). I have no business relationship with any company whose stock is mentioned in this article.
Editor's Note: This article covers one or more stocks trading at less than $1 per share and/or with less than a $100 million market cap. Please be aware of the risks associated with these stocks.