Wal-Mart (NYSE:WMT) just released their first quarter earnings and the stock is on a tear. The day prior to the report, it was Target's (NYSE:TGT) earnings that sent the whole sector down. Now that Wal-Mart reported their first quarter earnings, the investors seem to be remembering that customers do still shop at Wal-Mart. Was it a huge shock to the investing world? It sure seems like it. Wal-Mart has only 30% institutional ownership and Wall Street doesn't seem to care much about the stock. If dividend champions are trading on a yield of about 3% and with a payout ratio below 50% are for suckers, then I'm one of them. On 05/14/2016, I announced my decision to purchase Wal-Mart. I bought the first set of shares at about $65 and planned to double down if it went to $60. It looks like execution there is very unlikely.
Prior to my purchase, I also highlighted Wal-Mart as one of three large-cap dividend champions worthy of holding for decades. The focus was on finding the great bargains that were hiding in the open.
Looking Into Earnings
The following slide from Wal-Mart's Q1 presentation demonstrates the latest figures and their year over year comparisons: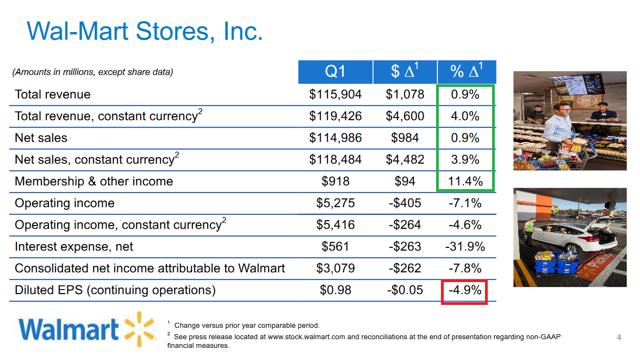 Click to enlarge
The green box highlights the positive factors such as the increase in revenue and sales on both a GAAP basis and a constant currency basis. As I pointed out in my decision to buy Wal-Mart, the dollar has been weakening recently which should result in stronger year over year performance in future periods under GAAP since sales and income from foreign countries would be translated into dollars at a stronger rate.
The red box indicates the loss in diluted EPS from continuing operations. That would be a concern, but I also predicted that earnings would be weak for 1 to 2 years as the company was making some significant moves such as investing in their workforce. By my estimations, those investments should be expensed in the period the cost is incurred and the profits will show up a couple years later. The result is a weaker income statement, but the dividend is still easily covered. The $0.98, down from last year, can easily cover a quarterly dividend of $0.50. Some investors may be scared that the payout ratio is above 50% for the quarter, but earnings for retailers are lumpy and Q1 doesn't have Black Friday or Christmas shopping.
If investors are thinking: "Dividends are paid from cash flows, not earnings", then I would point to the free cash flows for Wal-Mart. While consolidated net income was about $3.1 billion, the free cash flows were almost $4 billion.
The following chart shows the dividends and shares repurchased:

It might seem like dividends are declining, but the dividends paid per share were still increasing. The total cash flow to dividends was simply lower because the share count was reduced so effectively by repurchasing shares. Unlike many corporate management teams, Wal-Mart created and executed a share repurchase plan with their shares at exceptionally low levels. I find repurchasing shares at around 13 times earnings to be vastly more appealing than repurchasing shares at 30 times earnings, but it seems many corporations take the opposite view.
Sam's Club
The numbers for Sam's Club were solid as well: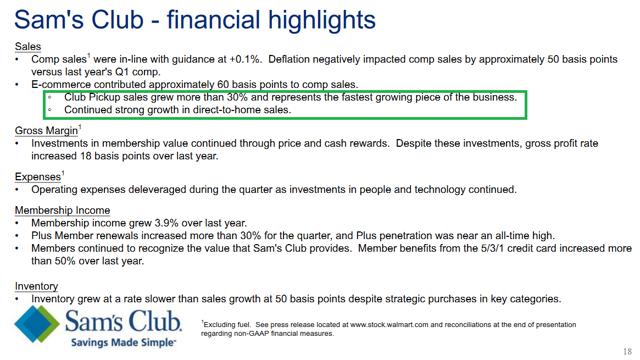 Click to enlarge
The green box here is highlighting their success with having customers order online and pick up from the club as well as growth in orders shipped to the home. This is another important sign as Wal-Mart continues to roll out a grocery pickup for the Wal-Mart stores. The program is succeeding in the markets that have it currently and Sam's Club is doing well with a somewhat similar program. The theme is simple. Customers want simplicity and speed. Being able to order online and have all the items ready results in a simpler process. There are only a few other retailers with the size to match this kind of program. For instance, Costco (NASDAQ:COST) and Target can both run this kind of program and I expect the three companies to continue dominating the sector.
Holding Both Major Retailers
I had a good chuckle this morning when Wal-Mart opened up with such a strong performance. I bought Wal-Mart over Target for a couple of reasons. Near the top of the list was the exceptionally cheap valuation on Wal-Mart (measured by fundamental ratios), the sheer size of the pullback in share prices, and the belief that dividend champions trading at 11 to 14 times earnings are a massively better buy than the S&P 500 as a whole. While Wal-Mart is soaring, Target took a massive nose dive.
Extremely Specific Disclosures
With Target trading down to around $67 today, 05/19/2016, I put in an order and bought some shares of Target to go with my shares of Wal-Mart.
I don't own shares of Costco because I am unwilling to pay the high price. It is an exceptional company, but I feel it is fully valued. I believe Wal-Mart remains cheap, but I would have enjoyed seeing the share price remain lower for longer, so I could buy more at lower valuations (if it hit $60) or so repurchasing shares would be more effective (if it floats near $65).
I am long both WMT and TGT (bought TGT about an hour ago) and may add to either if the share price falls. My target (no pun intended) prices for doubling down are WMT at $60 and Target at $62. I do not expect to buy any Costco unless there is a substantial decline in the share price.
My timeline on holding these individual companies is indefinite. I am happy to engage in trading in the mortgage REIT sector, but I buy dividend champions for the long haul. If they were trading at 25 times earnings, I would be forced to reconsider my timeline.
Disclosure: I am/we are long WMT, TGT.
I wrote this article myself, and it expresses my own opinions. I am not receiving compensation for it (other than from Seeking Alpha). I have no business relationship with any company whose stock is mentioned in this article.
Additional disclosure: Information in this article represents the opinion of the analyst. All statements are represented as opinions, rather than facts, and should not be construed as advice to buy or sell a security. This article is prepared solely for publication on Seeking Alpha and any reproduction of it on other sites is unauthorized. Ratings of "outperform" and "underperform" reflect the analyst's estimation of a divergence between the market value for a security and the price that would be appropriate given the potential for risks and returns relative to other securities. The analyst does not know your particular objectives for returns or constraints upon investing. All investors are encouraged to do their own research before making any investment decision. Information is regularly obtained from Yahoo Finance, Google Finance, and SEC Database. If Yahoo, Google, or the SEC database contained faulty or old information it could be incorporated into my analysis.