Oil prices took a hit after the release of the Federal Open Market Committee (FOMC) meeting minutes and they opened even lower on Thursday. Indeed, the Fed is not your friend if you are long oil, given dollar and economic repercussions, but there is no need to dawn crash helmets just yet. This impact to oil prices is temporary, as sector dynamics demand it and the economy continues to show improvement.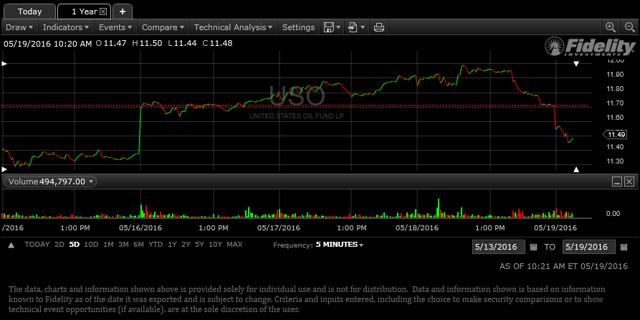 Click to enlarge
5-Day Chart of USO at Fidelity
The United States Oil (NYSE: USO), which tracks WTI Crude, opened lower by 1.0% Thursday after falling by 1.8% on Wednesday. The catalyst was the same one that weighed on stocks, the release of the last FOMC meeting minutes. The Fed's notes indicated a greater likelihood of an interest rate increase for June than the market had previously understood.
Fed rate hikes matter for oil for two key reasons. First, rate hikes absent troublesome inflation, are likely to raise the value of the dollar. Such an increase in the greenback, in turn, prices down everything priced in dollar terms. Oil is one of those commodities bothered by fluctuations in relative dollar value, and so oil fell as the dollar reacted yesterday. The same should hold true if the dollar continues to gain ground. I expect it will this year, given my expectation for European recession and two Fed rate hikes, but that is another story that should play out down the road in my estimation. For now, dollar gains could be manageable for oil because of sector dynamics and the improving U.S. economy, and the lack of that European catalyst for now.
Higher interest rates weigh on the economy because they raise the cost of capital to the government, corporations, businesses and individuals. However, in a healthy economy, higher rates are justified by robust growth which also keeps demand coming for oil. In such an environment, more normal monetary policy with higher interest rates helps to control inflation. Getting back to that first point about the value of the dollar, healthier levels of inflation would serve to control that as well. It would also help if China were to begin to recover, which I do anticipate sometime this year.
Mainly, oil should regain its lost ground toward $50 for Brent Crude because of the improving economy and favorable current sector dynamics. As I have stated in recent other reports against gold and for stocks, the economy appears to be rounding a corner. After a tough first fourth of the year, I believe due to the impact of a negative feedback loop, where poor stock market performance stalled the early year economy; April data is starting to show something different. The improved stock market restored spending activity for autos, housing and for retail sales, and the data all reflect that. A stronger economy strengthens the case for higher oil prices, and this is a situation that is only just becoming understood by the broader market.
On the supply side, I turned favorable oil when the Alberta wildfires demanded it. Some of my critics ignored that important change in information that required me to change my view on oil, but when the facts change so must my analysis and opinion. When roughly 1 million barrels a day of oil equivalent production come offline for an uncertain duration, considering the importance of inventory supply to oil prices today, we had better account for it because oil prices certainly will. Those dynamics remain in place today, exacerbated by the disruption in Nigeria. Last week's inventory data showed a build in crude supply in the U.S., but there was a coinciding greater draw in distillates and in gasoline. Look for net draws to continue for petroleum until production is restored and as the energy complex prepares for the summer driving season.
| | |
| --- | --- |
| Energy Relative Shares | 05-19-16 Intraday |
| SPDR S&P 500 (NYSE: SPY) | -0.4% |
| United States Oil | +0.7% |
| iPath S&P GSCI Crude Oil (NYSE: OIL) | +0.6% |
| United States Natural Gas (NYSE: UNG) | +2.5% |
| Energy Select Sector SPDR (NYSE: XLE) | -0.1% |
| SPDR S&P Oil & Gas E&P (NYSE: XOP) | -0.6% |
| Market Vectors Oil Services (NYSE: OIH) | -0.5% |
| Exxon Mobil (NYSE: XOM) | +0.4% |
| Chevron (NYSE: CVX) | -0.2% |
| B.P. (NYSE: BP) | -0.3% |
| TOTAL S.A. (NYSE: TOT) | -0.8% |
| ConocoPhillips (NYSE: COP) | +0.1% |
| Phillips 66 (NYSE: PSX) | -0.8% |
| Occidental Petroleum (NYSE: OXY) | -0.0% |
| Schlumberger (NYSE: SLB) | +1.4% |
| Weatherford Int'l (NYSE: WFT) | -4.2% |
| Halliburton (NYSE: HAL) | -0.1% |
Between the moment I started this report and the time I submitted it Thursday, oil prices had already started to recover. They said it was bold to call $50 for oil two weeks ago. I suppose then, given what happened yesterday, to say we're going back to $50 is at least as bold. I cover oil closely and invite relative interests to follow my column here at Seeking Alpha.
Disclosure: I/we have no positions in any stocks mentioned, and no plans to initiate any positions within the next 72 hours.
I wrote this article myself, and it expresses my own opinions. I am not receiving compensation for it (other than from Seeking Alpha). I have no business relationship with any company whose stock is mentioned in this article.