Introduction
Kinder Morgan (NYSE: KMI) is the largest energy infrastructure company in North America headquartered in downtown Houston. The company operates approximately 84,000 miles of pipelines, spread across 180 terminals. The vast majority of these pipelines, roughly 82.14% of them, are natural gas pipelines meaning the company's earnings and prospects are largely dominated by natural gas.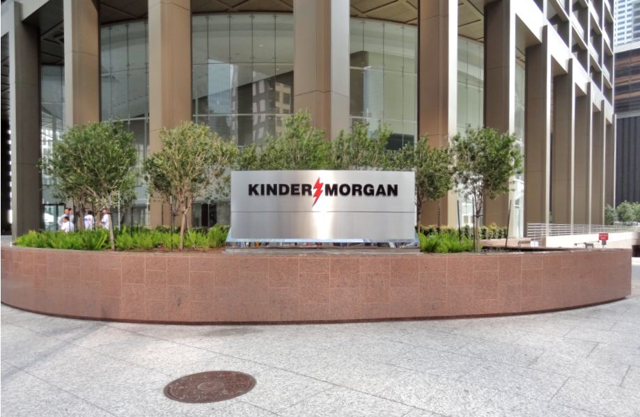 Click to enlarge
Kinder Morgan Building - BP Blogspot
Recent Developments
Despite Kinder Morgan's impressive asset footprint, the company has had a difficult time, stemming from fears of the company's ability to both maintain its promises and survive the oil downturn. These fears led to the company's stock price rapidly dropping from highs of over $44 just over a year ago to just $12 in January 2016. This drop wiped out $70 billion in shareholder equity and ended the company's ability to issue equity for cash.
The lack of ability to issue equity for cash covering the company's spending subsequently presented a threat to its investment grade credit rating. This forced the company to cut its dividend by 75% to $0.50 per share, a move that widely disappointed investors. At the same time, the company no longer provides a timeline for dividend increases.
Part of this fear over Kinder Morgan's valuation stems from the fact that Kinder Morgan's earnings have been more affected by the crash than expected when the company's reported revenue down by 11% in Q1 2016 and lowered guidance for the remainder of 2016.
Increasingly investors have realized that if the oil crash becomes drawn out, even with the company's fee-based pipeline model, it will continue to lose out as customers go bankrupt or no longer have the capital to pay. This fear has been evidenced with occurrences like Peabody Energy's bankruptcy, which is expected to decrease Kinder Morgan's EBITDA by approximately $30 million.
Capital and Returns
I believe, however, fears of the company's inability to grow, even in the present oil environment are unfairly extreme. The company's dominant position in the American pipeline business allows it to continue identifying low-risk high-return investments and the company's dividend cut will allow it to spend billions of internally raised capital on these projects.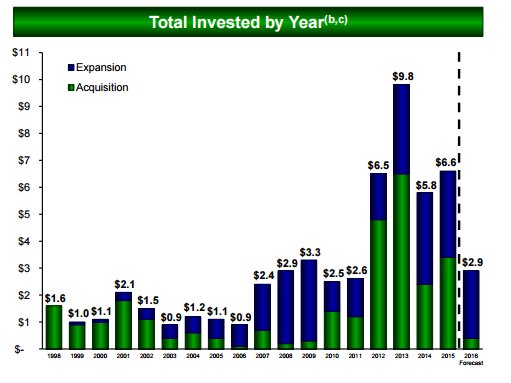 Kinder Morgan Total Invested By Year - Kinder Morgan Investor Presentation
The above image provides an overview of Kinder Morgan's annual investment along with information as to what that money was invested in (organic expansion projects versus acquisitions). The image provides several important trends that I think need to be taken note of to explain the investment proposition in Kinder Morgan.
The first is the focus on internal growth. After its initial creation phase when the company spent billions on acquisitions, the company increasingly turned towards growth by organic expansion for the years of 2003 - 2009. However, during the most recent oil boom from 2010 - 2015 the company chose to instead ramp up the pace of acquisitions rather than continuing focus on expansion projects.
While acquisitions are often accretive in the long run, they bring with them numerous other difficulties such as the integration of corporate cultures. Kinder Morgan's own personal focus on high-return high-potential pipelines means its own selected projects are often noticeably ahead those of its competitors. Personally, I would like to see Kinder Morgan take after Exxon Mobil (NYSE: XOM) by ramping up spending during the high-opportunity periods of downturns and improving its balance sheet during the peaks. The company appeared to do that during the 2008 crash but rather than improving its balance sheet during the next market peak, it simply continued to spend.
However, 2016 makes me optimistic for the company as it shows a return of the company to what worked in the past. While the company's dividend cut was extremely painful, the company now expects $2.9 billion of spending in 2016 fully funded by its internal cash generation. The vast majority of this spending is expected to go towards organic projects as opposed to acquisitions. This spending will allow the company to go after high-return projects cheaply increasing its long-term cash flow.

Click to enlarge
Kinder Morgan Returns - Kinder Morgan Investor Presentation
Kinder Morgan's commitment to intelligent spending can be seen in the chart above which documents the company's return on equity for the past fifteen years. The company has consistently returned between 14.3% and 25.2% on its equity, and the lowest return of 14.3% can still be considered a very respectable rate of return.
By matching up the company's return on equity with its annual spending, we can see why I want the company to return to what worked on the past. Kinder Morgan's return on equity dropped off significantly in 2013 the same year the company's annual investment increased from $6.5 billion to $9.8 billion. The company's 2012 - 2015 investment period had significantly higher volumes than the company's previous levels of investment and the returns of equity show the company's desperation for new projects even if they did not match up with the company's previous standards for return.
As a result, I expect the return on equity to go up significantly in the coming years as the company uses its internally generated cash on identified expansion projects. The company's $2.9 billion of investment this year, in line with its 2007 - 2011 spending and less than half of its 2012-15 spending, will allow Kinder Morgan to focus on the highest return projects.
Despite these returns, there is a downside to be seen. Kinder Morgan's carbon dioxide segment has had a difficult time recently and the company's return on CO2 projects have dropped significantly. The company's 2015 CO2 return on investment of 16.2% was the first year the company returned below 20% on CO2 investments and represents a significant drop in income. As a result, the company overall returns may be driven down in the long run by lower returns on this sector.
2016 Budget and Earnings
Now that we have discussed Kinder Morgan's recent developments along with the company's capital and returns, it is now time to talk about Kinder Morgan's 2016 budget and earnings.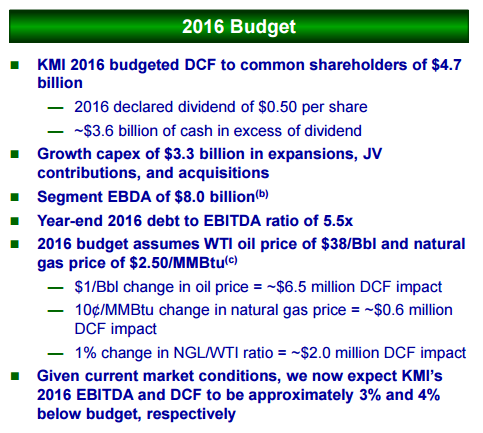 Kinder Morgan 2016 Budget - Kinder Morgan Investor Presentation
The above image, which shows the numbers for Kinder Morgan's 2016 budget, indicates that the company's distributable cash flow (DCF) is $4.7 billion. The company defines its distributable cash flow as cash available to common shareholders after payment of the preferred dividend. However, due to reasons we will later discuss about Kinder Morgan's new focus on internally funding its projects, it is unlikely the company will issue additional preferred equity thereby decreasing its distributable cash flow. For perspective, the company's last preferred equity issuance was 7 months ago and decreased its distributable cash flow by approximately $150 million annually.
What is significant, however, is the company's $4.7 billion forecast DCF is a 6% drop compared to the $5 billion in distributable cash flow forecast at the end of 2015. This drop, while disappointing, is respectable in a time when the oil outlook has changed from $40 in late 2015 to less than $30 in early 2016. At the same time, the oil picture has changed with recent prices recovering to almost $50. That means the company's cash flow should recover.
From this budget the company expects a growth capex of $3.3 billion and its year-end debt to EBITDA of 5.5x. With the company's dividend eating up most of its remaining cash, this means that the company will not spend the year paying off its debt. In a sense this is a return of Kinder Morgan back to what once worked. The company's debt hasn't increased and isn't expected to increase, instead it is expected to remain near what it has been for many years. Despite this, I would like to see the company attempt to pay off some of its debt which would allow it to take advantage of a future major acquisition should present itself.
More so, there is something positive to be seen here. Despite Kinder Morgan's fee-based revenue model, changes in prices do slightly affect the company's earnings. The company's 2016 budget assumes a WTI oil price of $38/barrel along with a natural gas price of $2.5/MMBtu. At the same time, the company states that each $1 barrel change in oil price will change its distributable cash flow by $6.5 million while each $0.1/MMBtu change in natural gas prices will change its distributable cash flow by $0.6 million.
At the present time, Henry Hub prices are at around $2 per barrel while WTI crude prices are at $48 per barrel, significantly above the $38 per barrel assumed in the budget. As a result of the above numbers, the oil price difference should increase the company's distributable cash flow by $65 million while the natural gas price difference should decrease the company's distributable cash flow by $3 million.
That means, should prices remain where they are, the company's distributable cash flow will increase by $62 million above what is forecast. This increase in distributable cash flow will make up 20% of the company's forecast $300 million drop in distributable cash flow. While not perfect, this potential recovery in distributable cash flow is at least a respectable start for the company.
As stated above, the company expects KMI's 2016 EBITDA and DCF to be approximately 3% and 4% below budget respectively. To make up for this drop oil prices will need to recover significantly, almost doubling along with natural gas prices. That means most of the revenue decrease was likely caused not by contract cancellations but paying contractors going bankrupt. Still, even with the bankruptcies, the company is still bringing in respectable revenue.

Click to enlarge
Kinder Morgan Top Customers - Kinder Morgan Investor Presentation
This next image provides an overview of Kinder Morgan's customer risk. Kinder Morgan's top 25 customers are mostly rated A- or better with the vast majority (86%) rated as having substantial credit support. Overall, the top 209 customers remain strong with 75% as having strong credit support and only 5% B- or below. More so, the spread of the customers revenue over a large number of customers means a single failing will not lead to a significant crash in revenue.
This last section indicates not Kinder Morgan's return to what once worked but instead its continued focus on what does work. Kinder Morgan is one of a few major service providing oil companies that has not been put at a difficult position at any point in its life due to deriving too much revenue from one customer. By continuing to spread out its revenue over a large number of well-rated customers, Kinder Morgan will keep situations like the Peabody Energy Bankruptcy from having too significant of an impact.
Conclusion
Kinder Morgan has seen a brief recovery recently in its stock price partly due to news that Berkshire Hathaway (NYSE: BRK.B) (NYSE: BRK.A) opened a position in the company. Despite this, the company remains at less than half of its highs from just over a year ago and shows no signs of a rapid return to its previous dividend yield or stock price.
However, Kinder Morgan's potential comes from a return back to what once worked. The company has cut down investment to focus on higher-yielding projects and has cut its dividend by 75%. This 75% dividend cut will allow the company to continue growth without having to issue debt or dilute shareholders. Given all this, I recommend investors use KMI's pricing weakness to open a position in the company.
Disclosure: I am/we are long XOM, BRK.B, KMI.
I wrote this article myself, and it expresses my own opinions. I am not receiving compensation for it (other than from Seeking Alpha). I have no business relationship with any company whose stock is mentioned in this article.