Technology pioneer and 2016 presidential candidate John McAfee is a name to be reckoned with. None can validate this statement more than the shareholders of a small Harrison-based company engaged in acquiring, developing and monetizing assets in the online and mobile gaming space as well as the social casino industry. I am talking about MGT Capital Investments Inc (NYSEMKT: MGT) which recently named John McAfee as its Chief Executive Officer.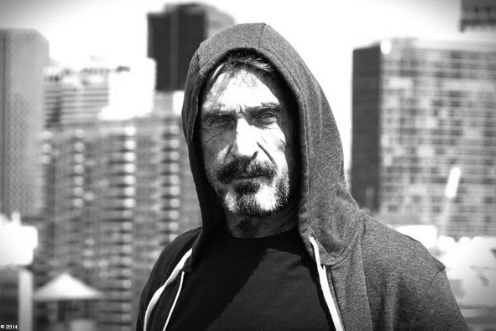 Source: Twitter
The Chairman is putting his full faith in the company and has posted a series of tweets announcing his complete commitment. One of the latest ones read:
As I said yesterday. I'm in this company for the long haul. Announcements coming in a couple of weeks.
A famed personality as eminent as John McAfee joining as the CEO of a tiny company (worth just ~$47 million) was bound to be a huge positive. The stock traded for $0.36 on May 6 but touched a peak of $5.58 in Wednesday's trade - a massive, unfathomable return of 1450% in less than two weeks. At the time of writing this analysis, the stock price was flirting with $3.
About MGT
MGT and its subsidiaries - Medicsight, Inc., MGT Sports, Inc., MGT Studios, Inc. and MGT Gaming, Inc. - operate with a focus on risk mitigation coupled with large potential upside. MGT faces stiff competition from leaders with abundant financial resources at their disposal such as FanDuel, Inc., DraftKings, Inc., Zynga, Inc. (NASDAQ: ZNGA) and Caesars Acquisition Company (NASDAQ: CACQ).
At the end of December 2015, the company and its subsidiaries had a total of only two full-time employees.

Click to enlarge
Way too less I would say!
MGT has never declared or paid dividends and does not intend to do so in the foreseeable future.
Sources of Revenue
Licensing - The company derives the license fee revenue from the licensing of intellectual property.
Gaming - Gaming revenue is derived from entry fees charged minus prizes paid out in contests.
Doubt Over Going Concern
One of the very serious points that investors seem to be missing in the John McAfee-led frenzy is that the independent auditor Friedman LLP had raised serious doubts about the company's ability to continue as a going concern.
The audit firm had said in the 2015 Annual Report:
"The Company has incurred operating losses during the year ended December 31, 2015, and has negative cash flows from operations of $2,424,000. These factors raise substantial doubt about the Company's ability to continue as a going concern. Management's plans in regards to these matters are also discussed in Note 2. The consolidated financial statements do not include any adjustments that might result from the outcome of these uncertainties. If the Company is unable to successfully refinance or raise capital to fund ongoing operations, there would be a material adverse effect to the consolidated financial statements."

Click to enlarge
But, if the negative operating cash flow of $2.4 million is worrisome now, then why wasn't it frightening at the end of 2014 when it stood at $3 million and Marcum LLP was its independent auditor? What's changed fundamentally except the external auditor? It seems fishy, doesn't it?
This cautions me to not blindly follow John McAfee in this investment.
The Management Is Simply Disappointing
John McAfee will have to bring about an attitudinal change in the way the management works. There are just too many areas where the management looks incompetent, primarily being the financing of the operations.
The company, under the leadership of the ex-CEO Robert B. Ladd, had gutted the stock with repeated stock devaluations for raising capital even as its operations ran into huge losses. As of December 2015, the company had amassed a deficit of $303,944 since inception.
MGT has been aggressively resorting to equity financing, reducing the stake of each shareholder, and will continue to do so as it has no concrete plan to meet its funding requirements. There is a big red flag for those willing to see.
Another thing that irks me is the way promotions were being awarded. Robert B. Ladd joined the company in Dec 2010 as a Director, was named Interim President and CEO in February 2011, and appointed President and CEO in Jan 2012. These were pretty swift promotions considering that the company did not earn a new dollar during these years. To me, this is very disappointing, and I would refrain from investing in this company. Because when you invest your money, you do not invest in the ticker, you invest in the product and the management as well.
Conclusion
The stock isn't worth investing now when there's so much hullabaloo. The management is weak, and we have seen from numerous evidence what a poor top-level team can do to a stock.
Speculators are running this game, and they will book their profits sooner or later.
Disclosure: I/we have no positions in any stocks mentioned, and no plans to initiate any positions within the next 72 hours.
I wrote this article myself, and it expresses my own opinions. I am not receiving compensation for it (other than from Seeking Alpha). I have no business relationship with any company whose stock is mentioned in this article.
Additional disclosure: I would love to hear your feedback in the comments below. Thank you for reading this. If you learned something new, please share this analysis or follow me via the Follow button. That would be very helpful! Thanks,
Editor's Note: This article covers one or more stocks trading at less than $1 per share and/or with less than a $100 million market cap. Please be aware of the risks associated with these stocks.