There are several headwinds that negatively affected Virtusa's (NASDAQ:VRTU) stock price recently. First, the large Polaris acquisition and its expected negative near-term EPS effect. Second, the slowdown of revenue growth, and third, a drop in margins. Many of the headwinds and concerns should abate to some extent and Virtusa should return to more solid top and bottom line growth after this upcoming quarter. As a result, I believe the recent almost 50% drop in the stock price from the top presents a unique buying opportunity between now and the next few months as the company is likely to keep growing its top line and continue increasing its EPS faster than sales over the long term.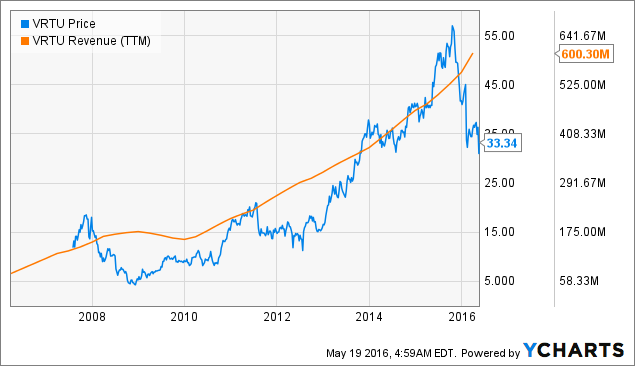 VRTU data by YCharts
How much is the growth slowing down?
At the same time last year when I wrote my previous article on Virtusa, the company logged a 4.5% sequential and 22% YoY revenue growth. For calendar Q1 of this year, organic revenue excluding the Polaris acquisition was 1.2% higher sequentially and 21% higher YoY. So this is not a significant slowdown. Currency headwinds took away roughly 1 percent from the growth. There's a larger slowdown expected in the company's future guidance as seen toward the end of this article. That's what is most probably causing the price to fall, along with Polaris uncertainty.
Lower growth of operating cash flow partly temporary
Operating cash flow gain decreased to just $5M or 2.9% of sales primarily due to increased days of sales outstanding. A rising DSO is usually not a good sign, most often signaling either lower end user demand or increasing competitive pressure where the seller has to extend payment terms to clients. Nevertheless, this cash should still be collected and has been merely delayed by a few days or weeks. In other words, if the jump in DSO was a one-time issue, OCF should return back closer to previous levels in the upcoming quarters depending on the margins.
What caused the Q1 softness?
When management looked deeper, the calendar Q1 business slow-down seems to have nothing to do with the acquisition of Polaris, which is positive. Here are the factors that seem to have caused it.
Renewals declined due to a few large clients going through a restructuring, especially in banking, including the expected Citi restructuring. There also was softness in insurance clients, spread out across a few clients, so this almost seems to be an industry-wide issue. Although AIG (NYSE:AIG) was never specifically mentioned by management, it is industry consensus that this company is at least partly to blame for Virtusa's weakness.
There also has been weakness among UK telco clients. No company was mentioned specifically. However, BT (NYSE:BT) has been a key strategic partner so any softness coming from the UK should be watched carefully in the future. On the other hand, BT could see some renewed investments as its margin outlook is likely to improve relative to previous expectations following the surprising halt to the Hutchison/Telefónica UK merger proposal.
My take on Virtusa's long-term growth prospects
My take on Virtusa's growth outlook is that as much as the company grew on the winds of the strong banking and insurance industry and telco verticals - exacerbated by the Polaris acquisition which also is partly tied to the financial sector through Citibank (NYSE:C) - the large dependency on those same industries may prove to be a headwind when these industries slow down or contract.
Banks and insurance companies have been burdened with ongoing regulation and requirements, coupled with some weak recent financial results reported by some of them. As a result, many banks/insurance businesses are undergoing restructurings, divestitures and other forms of cost and capital optimization. This can only result in sales disruptions and margin pressure for Virtusa until the M&A and restructuring wave is over.
While some of the revenue fallout may be temporary (due to spending freezes or curbs during the M&A integration phase), where/if lower margins we negotiated, they are likely to stay because I believe the margins on the renegotiated deals are unlikely to revert back higher. The competitive landscape for the banking, insurance and telco clients' IT deals is fierce and this market landscape is unlikely to change toward less competition.
Polaris now expected to be accretive to FY2017 numbers
One positive factor that could play into Virtusa's cards is its size. As I've mentioned in my previous article, Virtusa is 10 or 20 times smaller (in terms of revenue) than some of its largest peers. These competitors thus enjoy higher margins due to economies of scale. In this respect, the recent large acquisition of Polaris is a big positive. The risk is that Polaris' business sales and/or margins could continue to shrink if Citibank or other financial/telco clients demands more price or volume cuts. Nevertheless, Virtusa's management currently forecasts growing organic sales from Polaris as well as the legacy business for FY2017, so they are probably confident there will be no more business cuts.
Additionally, the telco industry has been maturing, the margins have generally been falling in most developed countries and top line growth has often stalled. I used to work in a large telco and in this environment every deal is scrutinized and attempts are being made to renegotiate the conditions as soon as possible or write a new tender to find a cheaper partner. I believe this is what is currently hitting Virtusa's top line growth and margins.
Next quarter outlook
Using the latest information from the conference call that captures weeks after the Q1 books were closed, the management seems confident they can meet guidance because the pipeline looks strong and they have seen a pick-up, especially in the late-stage projects.
In the back end of FY2017, synergies are really expected to start happening from the Polaris acquisition, so not much synergies are built into the FY2017 guidance. This is a conservative approach. On the other hand, the delivery of the FY2017 numbers heavily depends on the back half performance since the company guides for a negative sequential organic growth for the current FQ1 2017. FQ1 is typically a lower-margin period due to annual visa renewal costs and lower revenue having to cover the same fixed costs, so we will probably see the trough of the current weakness in the upcoming reporting quarter (calendar Q2).
Next fiscal year should see first synergies from Polaris acquisition
The full FY2017 updated guidance now calls for revenues to hit $905M at mid-point and non-GAAP EPS to reach $2.2 at a mid-point of the range. This would represent a mid-single digit growth for both revenue (including Polaris) and non-GAAP EPS. While this is a clear slowdown from previous growth levels, I believe FY2017 will be a year of the big transition as Polaris gets fully integrated into the company and as synergies slowly start to kick in during the back half of the fiscal year. So this past or the upcoming quarter's financial results could very well prove to be the low point of the current slow-down in terms of the growth rates, if the conditions in the financial and telco industries don't deteriorate. Hence, now is an excellent time to enter a long position in the stock.
The organic growth for Virtusa ex Polaris would have been guided at mid-single digits for FY2017. It is positive that the core business still seems to be growing but the growth rates are clearly slower than in the past.
Risks
I've addressed some Polaris aspects throughout the article but I would like to mention that the acquisition is still causing some anxiety. After all, it represents roughly half of the pre-acquisition total sales. And one analyst also indirectly questioned the quality of the Polaris business during the recent conference call. So it will be crucial to see how the acquisition performs in the upcoming quarters. Should there be no synergies or should margins or sales from this business shrink, the stock price could be punished some more.
I already mentioned Virtusa's dependency on the financial and telco sectors so any adverse development in these industries would threaten Virtusa's top line growth and margins.
Valuation
Virtusa paid roughly 1.5x trailing sales for Polaris and just below 10x GAAP earnings. Interestingly, Virtusa's own stock price has now fallen close to that P/S level, with the company trading at ~1.7x trailing sales. Given my outlook that blended sales should continue rising in mid-single digits - as also expected by the company - and given the sales boost delivered by the acquisition of Polaris, the forward P/S ratio is now very attractive at just 1x forward sales.
As I expect the blended long-term FCF margin to be around the 8% level in the long run (lower than my previous 9% expectation before the Polaris acquisition roughly by the amount that Polaris seems to be affecting the margins now already), the current 50% stock slide offers a very attractive entry point where Polaris trades at just 13x P/forward FCF. Given the future growth prospects, I consider this to be one of the best VRTU entry points in the past several years.
Conclusion
Virtusa has been through several headwinds, some of which are temporary in nature. The stock price has fallen almost 50% to more than reflect this new slower growth, compensated by the one-time sales boost from the Polaris acquisition. This upcoming quarter should prove to be the low point in the sales and EPS growth numbers, and as the short-term headwinds abate and Polaris synergies start to slowly kick in over the upcoming quarters, we should see better sales, margins and stock price performance. This is the best time to buy VRTU in years.
There' plenty of additional interesting information about Virtusa to share but I will leave that for one of the future installments. If you would like to receive future free updates on Virtusa and other interesting companies, please click the "Follow" button at the top of this page next to my profile name and picture unless you are my follower already. Thank you for reading and I'm looking forward to your comments.
Disclosure: I/we have no positions in any stocks mentioned, and no plans to initiate any positions within the next 72 hours.
I wrote this article myself, and it expresses my own opinions. I am not receiving compensation for it (other than from Seeking Alpha). I have no business relationship with any company whose stock is mentioned in this article.