Sirius XM Holdings (NASDAQ:SIRI) announced that its subsidiary - Sirius XM Radio, Inc. - had priced $1 billion of 5.375% 10-year Senior Notes at 100%. The company also announced that it would use a portion of the net proceeds from the offering to:
...repay all borrowings outstanding under its revolving credit facility. The company intends to use the remaining net proceeds ...[for] the repayment, repurchase, redemption, defeasance or tender of its outstanding indebtedness, including any future borrowings under its revolving credit facility, dividends or loans to SiriusXM, its parent corporation, to fund share repurchases of SiriusXM common stock and the payment of the cash consideration for, and fees related to, SiriusXM's previously announced recapitalization of SiriusXM Canada Holdings Inc.
The SiriusXM Canada recapitalization referenced above included a $275 million cash infusion and took the company's economic stake up to 70%, although it only controls 33% of the vote. What about the other uses? Well, here's what we know:
The company had drawn $600 million against its revolver as of the end of Q1.
April 1st through 26th, the company spent another $123.26 million to repurchase 31,500,000 shares of common stock.
At the end of Q1, the company had a cash balance of $102 million, accounts receivable of $228 million and accounts payable of more than $600 million.
While the company still had $1.15 billion undrawn under its revolving credit facility, it was obvious that it would be returning to the debt markets... except to CFO David Frear. Here's what Frear said in his prepared remarks on the Q1 conference call that took place last month:
Total debt now stands at $5.7 billion with no maturities in the next four years. Leverage is 3.4 times trailing adjusted EBITDA. We ended the first quarter with $102 million in cash and $1.15 billion available under our revolver. This is plenty of liquidity to invest in the business, pursue strategic investments, and return capital to shareholders.
Apparently, it wasn't quite enough liquidity, at least not enough to prevent a quick return to the debt markets. For those who don't have a calculator handy, with the revolver paid off and $1 billion added in long-term debt, the company has now passed $6.1 billion in debt. And here's another issue to consider: If the company had to use $875 million to fund the pay-down of the revolver and the SiriusXM Canada recapitalization, how soon before it will need to start drawing down the revolver again? For a company that has guided to $1.4 billion of free cash flow and is expecting to continue aggressively buying back stock, it shouldn't take long before that $6.1 billion of debt resumes its upward trajectory.
According to my calculations, the annual cash interest payments on the debt are now $335,562,500, or just under $84 million per quarter. Below is a chart showing the long-term debt maturing each year: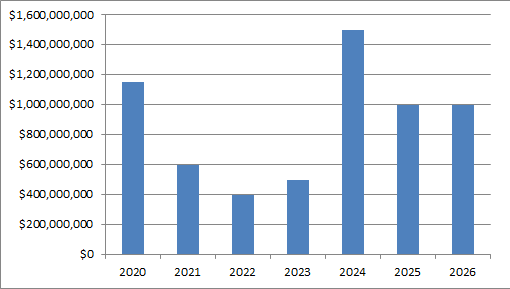 The $1.15 billion due in 2020 that will need to be refinanced or paid off will come at a time when Sirius will be paying cash taxes and probably have lower levels of free cash flow than it has today. Not only is the current debt level the highest in the company's history, but also the annual interest payments are higher than the levels back in 2009 when the company needed to be bailed out by Liberty Media (NASDAQ:LMCA). At that time, the debt was referred to as toxic, but in today's low interest rate environment, many investors are thrilled to have the company leveraging up the balance sheet in order to fund its massive share repurchase program.
As the debt level - and leverage ratio - continues to rise, investors may begin to wonder how high the company will take its leverage. That 3.4x figure cited by Frear was based on $400 million less debt. As the leverage ratio rises and Frear talks about keeping liquidity available in order to pursue strategic investments, investors may also need to rethink whether the company can maintain spending $2 billion per year on the share repurchase program.
It's unclear how long interest rates will remain low and when future increases will take place. The latest release of the Fed minutes earlier this week indicated that a rate hike in June was more likely than the market had previously expected, and the markets reacted accordingly. According to the Wall Street Journal:
After the release, traders in futures markets put a 34% probability on a move by the June 14-15 meeting, up from just 4% a few days ago. The Fed could still wait to move instead at its meetings in July or September. By late Wednesday, traders put a 56% probability on a move by July, up from 20% on Tuesday.

The shift in expectations sent markets for a loop. The Dow Jones Industrial Average dropped by more than 180 points after the release of the minutes, then rallied late into the day and finished nearly flat.

Yields on 10-year Treasury notes rose 0.123 percentage points to 1.882%, while the prices on these notes, which move inversely to the yield, dropped. The value of the dollar rose 0.8% against a broad basket of currencies.
Note that the interest rates edged higher on the expectation of a move, not an actual move. What happens if we now start seeing somewhat regular increases in the rates as the Fed struggles to move away from near-zero levels and attempts to normalize rates?
It can't be good news for Sirius.
Disclosure: I am/we are long SIRI.
I wrote this article myself, and it expresses my own opinions. I am not receiving compensation for it (other than from Seeking Alpha). I have no business relationship with any company whose stock is mentioned in this article.
Additional disclosure: In addition to my long position, I have $4 covered calls written against a portion of my position and I regularly trade blocks of Sirius. I also may sell $4.50 covered calls against my uncovered position at any time. I may also decide to sell Sirius shares and buy one or more of the new Liberty Sirius tracking stocks at any time. I have no positions in any of the other companies mentioned in this article.