After touching its seven month high levels, oil prices fell this Thursday with WTI trading at $47.68 and Brent trading at $48.33 at the time of writing this article. The current fall has been attributed to the strong dollar (due to US fed rate hike speculation) and rise in US crude oil inventories. With the current fall in oil prices, many traders and analysts have started believing that the recent surge in oil price was temporary and the much talked about rebalancing of global supply - demand may take more time. Let us have a look at some of the factors that are affecting oil prices at the moment.
1. Wildfires of Canada
It was earlier assumed that wildfires that started in Fort McMurray might not spread as much and production loss of around 1.2 million barrels a day will not have a major effect on oil prices. However, the wildfire is still on and is posing a threat to Canada's critical oil production facilities, resulting in evacuation of around 4000 workers from a dozen camps in northern Alberta. Some of these workers belong to Suncor Energy and Syncrude Canada. With this, it will take time before oil production from northern Alberta returns to normal and the shutdown could prolong even further. This can put an upward pressure on oil in the coming time as production losses can increase even further.
2. Nigeria's supply disruption along with Venezuela
As reported last week, major international oil companies like Exxon Mobil (NYSE:XOM), Royal Dutch Shell (NYSE:RDS.A) and Chevron (NYSE:CVX) have all reduced their Nigerian supplies substantially. Although Exxon declared a Force Majeure because of an accident which caused an oil spill, Chevron and Shell suspended their supplies because of militant attacks from a group called Niger Delta Avengers. The latest victim is Italian Giant Eni SPA which stated that some of its oil production had been disrupted because of an attack on its oil pipeline. Nigeria is currently losing around 800,000 barrels a day because of these incidents and its oil production has been down to a 20 year low level. Moreover, if these militant attacks continue the way they are, this supply disruption won't end anytime sooner and this will support oil prices to rise in the coming time. As per the latest update, Nigeria's largest oil terminal Qua Iboe which exports around 300,000 barrels per day has been closed due to a threat issued by militants.
Even Supplies from Venezuela continue to drop and ANZ bank predicts that supplies can fall below 2 million barrels per day in May 2016, when compared to 2.4 million barrels per day in 2015.
3. US Crude Oil Inventory
As per this week's data from EIA, the US commercial crude oil inventories increased by 1.3 million barrels to 541.3 million barrels for the week that ended on May 13. The latest fall in oil price is also attributed to this unexpected development. However, EIA even reported a reduction in the stockpiles of refined products like gasoline and diesel. This made gasoline and diesel future surge by 1.48 cents and 1.57 cents respectively this Thursday, their highest levels since 2015. "We did have a hefty drawdown in gasoline and distillates. It's going to support higher prices in the short term. I think $50 is around the corner," said Market Economist Perter Cardillo. However, we need to consider the consistent rise of US crude oil stocks since the year 2014 (refer the below figure) which presents a bearish case for oil.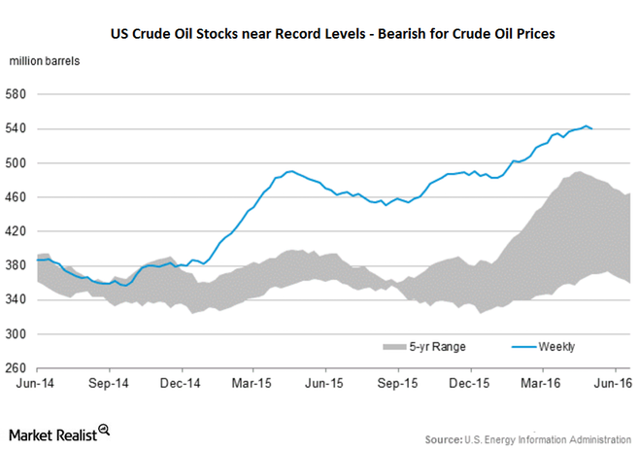 Click to enlarge
4. Saudi Arabia, Iran and US Shale
Saudi Arabia's decision to increase, decrease or maintain its production levels would definitely have a significant impact on oil prices. Saudi Arabia produced around 1.3 million barrel a day in April 2016 and with its upcoming summer season, it would naturally increase its production to meet its electricity requirements. However, it is highly unlikely that Saudi Arabia would be increasing its production levels substantially as it this would require additional costs, significant time and more drilling rigs. It is Iran that can put downward pressure on oil once it starts exporting more oil to Europe and Asia from May this year. Iran can easily increase its production by around 1 million barrels a day.
It seems that many US Shale players are unable to sustain themselves at $45-$50 price level as five companies that have filed for bankruptcies in last one week. This includes SandRidge Energy, Linn Energy LLC, Penn Energy, Berry Petroleum Co., and Breitburn Energy Partners. Deloitte has even estimated that around 175 drilling companies that can go bankrupt in the coming time. However, it needs to be noted that these bankruptcies will alone not result in a significant drop in oil production and companies like SandRidge expect to recover from bankruptcy without any disruption in their production levels.
Takeaway
We can see that most of the current factors are supporting the prices to move further up. However, it is seen that the current supply outages are still not big enough to completely offset the effects of bloated crude oil stocks. "We suspect the oil market has moved too high, too far, too soon" said French Bank BNP Paribas. In my opinion, the supply- demand rebalancing will indeed take some more time and we might have to wait a while for oil to stabilize at $50- $55.
Disclosure: I/we have no positions in any stocks mentioned, and no plans to initiate any positions within the next 72 hours.
I wrote this article myself, and it expresses my own opinions. I am not receiving compensation for it (other than from Seeking Alpha). I have no business relationship with any company whose stock is mentioned in this article.