The sustainability of HSBC's (NYSE:HSBC) dividend has been an area of significant market debate since 2015. HSBC management held firm to its commitment to a progressive dividend, declaring USD0.51 for FY15 up from USD0.5 in FY14. On the 1Q16 analyst call, management remained committed to a dividend progression and commented that the only scenarios under which it would consider a dividend cut likely are a widespread recession or material changes to capital requirements. However, while underlying earnings are still able to cover the dividend and there is a significant (circa 30%) scrip component, the headline payout ratio >100% for 2016/2017 suggests a concern around dividend sustainability.
Rising Headwinds For Earnings And Dividends
1. Revenue pressure.
The current operating environment has clearly added to uncertainty on revenue prospects. Although 1Q16 results revealed some good signs with the FICC outperforming peers (-8% y/y vs. -25% y/y) and retail (ex. the wealth management) and commercial banking grew by 2%, revenue pressure remains the biggest headwind for HSBC. This is a far from unique position, with a negative revenue outlook a challenge for most global banks given weak capital market conditions and a low/negative interest rates environment. The key concern for investors is HSBC's exposure to Emerging Markets - the group generated 54% of its 2015 revenues from EM o.w. Asia 39%, Latin America 11% and MENA 4%. We see two key issues, which could have a significant negative impact on HSBC's revenues in the Asia region:
We think the Chinese Yuan devaluation is far from over. Although the People's Bank of China may insist that it has no intention to devalue the yuan, capital flows are putting significant downward pressure on the currency. Moreover, the Chinese Yuan is the most overvalued currency in EM - it is now 31% overvalued relative to its long-term average real effective exchange rate (REER) of 8.58!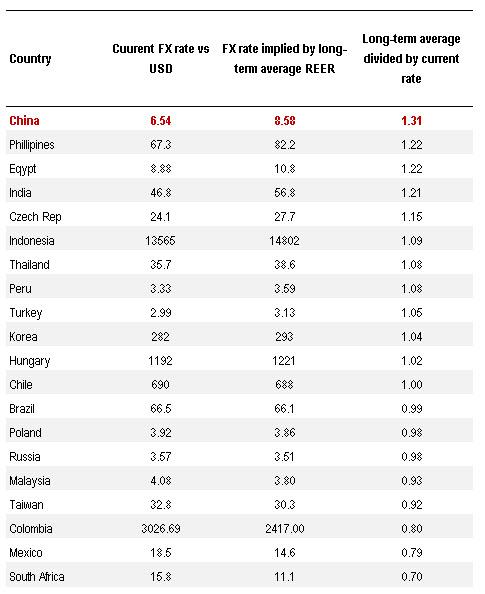 Source: Bloomberg, Renaissance Research
Chinese sovereign CDS have been a good indicator of Chinese credit stress. While they have somewhat stabilized in May, there are still significant concerns as anecdotal evidence (delayed payments, rising NPLs, delayed bond issuance, widening corporate bond spreads, etc.) suggest that Chinese credit risk is on a rising trend.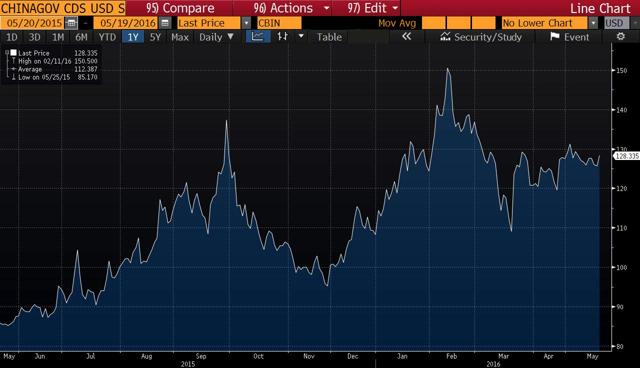 Click to enlarge
Source: Bloomberg
2. Asset quality
JPM Research has recently published a note, highlighting that the 20-year average impairments rate for HSBC is 105 bps and even after excluding US which has had significant impairments due to Household Finance's sub-prime exposure, the average 20-year impairment rate is 73 bps. The current group impairments are running at just 39 bps; hence, investors should expect a normalization of impairment charges, which is definitely to pressure earnings.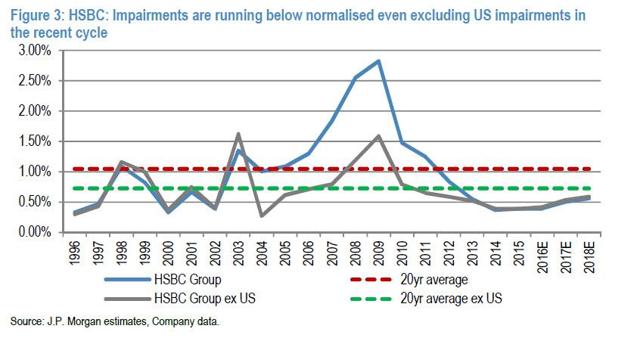 Click to enlarge
Source: JPM Research
3. Outstanding litigation cases
We are concerned that the likely settlement with the U.S. Justice Department (DoJ) could be more expensive than many expect as there are no rules of thumb for estimating penalties levied on banks by the DoJ. The correlation between scale of fine and scale of misdemeanour is very weak. In fact, there are huge discrepancies between FHFA and DoJ settlements (see the table below).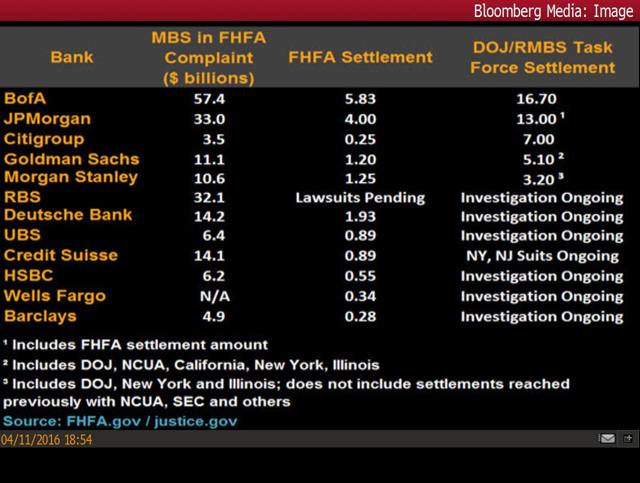 Click to enlarge
Source: Bloomberg
4. Pressure on BoCom earnings
Bank of Communications (BoCom) is the smallest of the big five state-owned Chinese banks and HSBC is the third-largest shareholder in BoCom (after MOF and HKSCC Nominee Ltd.). HSBC holds a 19% stake in the company.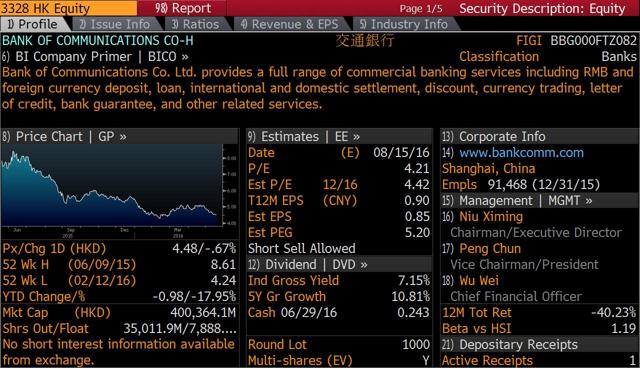 Click to enlarge
Source: Bloomberg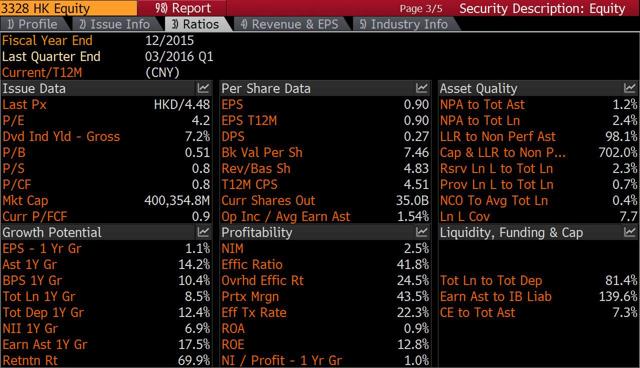 Click to enlarge
Source: Bloomberg
BoCom accounted for circa 15% of HSBC group clean earnings in 2015. Its risk profile is more aggressive than the risk profiles of its big 5 peers due to a higher growth in interbank assets and investment receivables, and, hence, reliance on interbank liquidity. BoCom also has a weak deposit franchise, resulting in higher funding costs and a contracting NIM. We expect BoCom's contribution to HSBC's bottom line to stay flat at the very best.
5. BoCom earnings recognition
Under IFRS, associate stakes are regularly tested for impairment by comparing their recoverable amount (higher of "value in use" and fair value less costs to sell) with their carrying value (i.e. book value of BoCom recorded by HSBC). If carrying value were to exceed "value in use," HSBC would stop recognize BoCom's earnings as a share of net income and instead would reduce BoCom's contribution just to the dividend payments. One important thing to note is an inability to recognize BoCom's retained earnings would be capital neutral for HSBC.
6. The Brazil unit sale
A circa USD 2bn accounting loss is expected on completion of the Brazil sale, depressing earnings in 2016. Having said that, the Brazil sale should add circa 60 bps to the CET1 ratio.
2016-2017 Dividends: What Are The Scenarios?
Scenario 1: Management will hold firm to its commitment of a progressive dividend policy.
Under this scenario, headline dividend payout ratio would exceed 100%. However, the dividend would be supported by the HSBC's strong capital position and additional capital releases due to RWA rationalization. The CET1 ratio came in at 11.9% in 1Q16. Completion of the sale of Brazil should add 60 bps to the CET1, while further RWA cuts should boost the ratio by another 130 bps. Hence, adjusted for these factors, the "pro forma" CET1 ratio was at 13.8% in 1Q16, which bodes well for a progressive dividend policy and would allow HSBC's headline payout ratio to exceed 100% in 2016-2017.
One important thing to note is a scrip dividend option, which would dilute those who take cash dividends and, hence, cushion a negative impact on the capital.
Scenario 2: HSBC will move to an ordinary/special dividend framework, similar to UBS (NYSE:UBS).
To recap, UBS surprised the market with a split special/ordinary dividend for FY15, seemingly signalling a lower baseline and lower payout expectation for FY16. Consensus was expecting a CHF0.79 ordinary dividend, but instead, the bank announced a CHF0.60 ordinary plus CHF0.25 special that "reflects substantial 2015 deferred tax assets write-up." Considering the ordinary dividend as a percentage of earnings before the tax benefit, the pay-out ratio was 54%.
We would not rule out a similar move by HSBC. That would provide more flexibility to the bank on dividends with a special dividend likely depending on a capital-build, the asset quality or regulatory requirements.
Scenario 3: HSBC will cut dividends, abandoning its progressive dividend policy.
Although we think it is a highly unlikely scenario, we would not rule out that. Many HSBC shareholders are there for the dividend and HSBC's management will likely be unwilling to cut the dividend having given guidance for progressive dividends. However, asset quality deterioration or stricter regulatory requirements might force the bank to cut dividends.
Valuation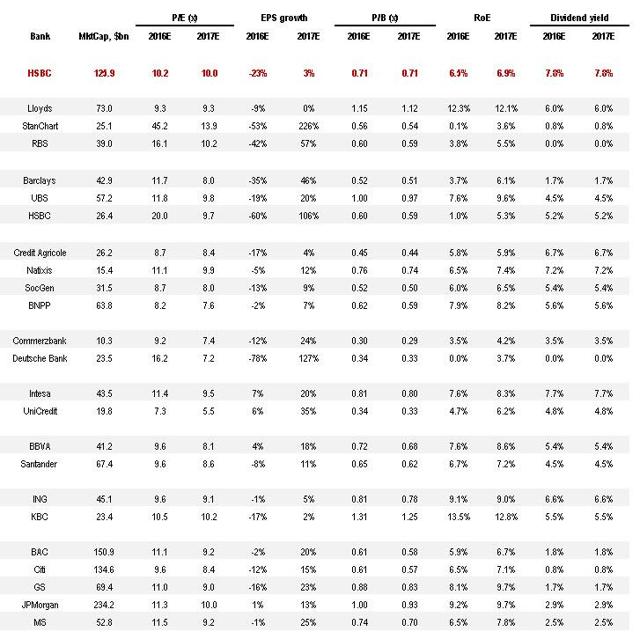 Click to enlarge
Source: Bloomberg, Renaissance Research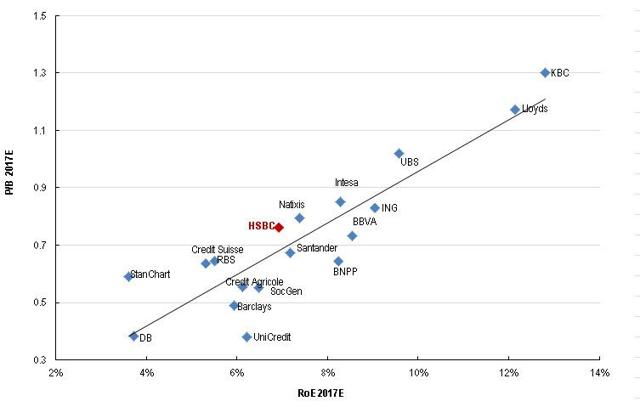 Click to enlarge
Source: Bloomberg, Renaissance Research
Bottom line
HSBC is facing significant headwinds in the Asian region and, on pure fundamentals, we do not see any reasons to buy the stock. Having said that, many of the company's shareholders are there for the dividend, and we think the bank's management acknowledges that the dividend is a cornerstone of HSBC investment story. Hence, our base-case scenario is that the management will hold firm to its commitment of a progressive dividend policy, thanks to a strong capital position.
Disclosure: I/we have no positions in any stocks mentioned, and no plans to initiate any positions within the next 72 hours.
I wrote this article myself, and it expresses my own opinions. I am not receiving compensation for it (other than from Seeking Alpha). I have no business relationship with any company whose stock is mentioned in this article.