Unfortunately, I was unable to attend Realty Income's (NYSE:O) 2015 shareholder meeting in San Diego this week. I was hoping to make the trip west but I was forced to stay close to home since I have a deadline looming for my upcoming book, The Trump Factor.
Nonetheless, another Seeking Alpha contributor, John Alford, was in attendance and if you haven't yet, I suggest you read his excellent recap HERE.
Speaking of my book, many of you have asked me when The Trump Factor would be published.
I'm laser-focused on the manuscript, and thanks to the other journalists and analysts (including Seeking Alpha's very own Chris Demuth), I am anxious to dispel the pundits and debunk the mysteries behind the many businesses owned by Trump.
By now, most of you know that I don't operate at a high level. I like getting into the weeds and breaking down the puzzle, piece by piece. It has taken me three years to dissect the Trump Empire and I am now getting close to the finish line.
One of the more interesting topics as it relates to Trump is the billionaire's brand equity. I'm going to save that for my book, but I can assure that my valuation approach is a mathematical model. In other words, my analysis is no "pie in the sky" piece, or as Joe Friday would say, it's "just the facts Ma'am."
Speaking of brand equity, I'm sure you have all noticed that Realty Income has pulled back to $59.05 per share.
Perhaps well timed since the REIT sector has pulled back due to a potential Fed rate hike in June. Realty Income priced 6.6 million shares at $59.35 for gross proceeds of around $385.8 million (before bank fees).
One way to validate the brand equity of Realty Income is to examine the consensus NAV pricing of $43.00 per share. Looking back over the last few years (since March 2009), Realty Income has been trading at an average premium of around 20%. (Source: SNL Financial)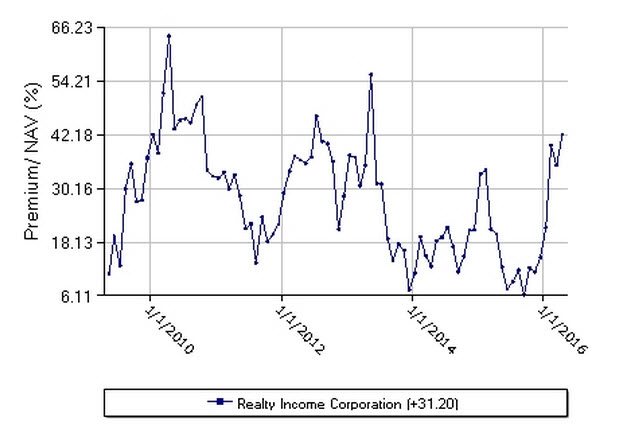 It's just no fluke that Realty Income's valuation deserves premium pricing and I applaud the management team for not getting too cute. Public Storage (NYSE:PSA) is the only other equity REIT that has maintained a 20% premium price to NAV since March 2009.
The last equity raise was in October when Realty Income priced shares at $47.00 and I applaud management for taking advantage of the recent Fed opening. Oftentimes, Mr. Market jumps to conclusions when rates move (selling on speculation), and I congratulate the company for not waiting two months for a "wait-and-see" approach.
We are living in uncertain times and by addressing equity funding now, Realty Income has enhanced balance sheet flexibility. The company had $656 million outstanding on its credit facility, and the new proceeds will free up the $2 billion line, so there will be around $1.7 billion of liquidity available.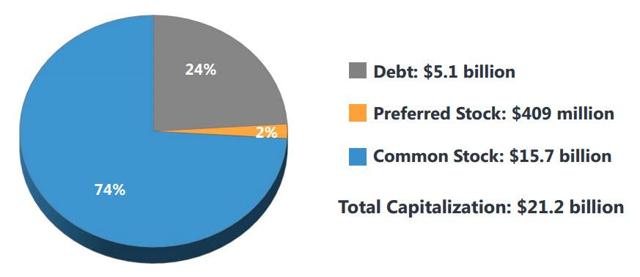 Click to enlarge
More importantly, Realty Income's balance sheet is stronger than ever, with net debt + preferreds/EV at 25.3%, much better than the sector average of 36.7%. Also, Realty Income's net debt + preferred/EBITDA is now 5.3x.
Many analysts don't consider brand equity relevant. Why not?
Warren Buffett likes to own strong brands because they create a protective 'moat' around the business. Much like Realty Income, Buffett likes to own businesses that earn excellent returns while commanding a sustainable, long-term advantage.
For Realty Income, it's obvious that the REIT's most powerful form of differentiation is being a low cost producer. I have written numerous articles on the subject (here and here), and the point that I always make is that the moat is getting wider and wider. It's plain to see that the peer group is getting further and further behind and increasingly harder to view in the rear view mirror.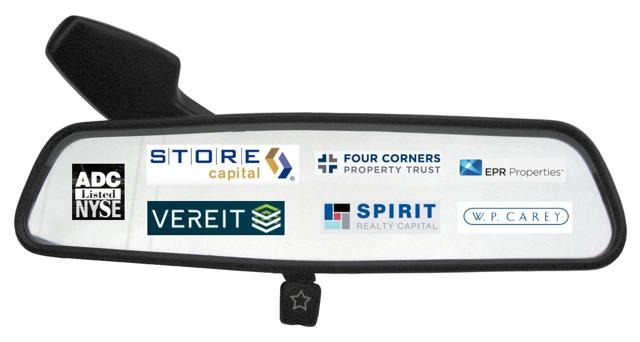 Click to enlarge
Should I Buy Realty Income Now?
Whenever there's a pullback, I get lots of emails from subscribers and investors.
First off, I'll remind you that I wrote a post-earnings (Q1-16) article on Realty Income HERE, and the only changes since that time are referenced above (Fed announcement and equity offering).
Realty Income did not adjust its guidance with the equity offering. As you recall, in late April, the company maintained its 2016 FFO guidance of $2.82 to $2.89 and AFFO guidance of $2.85 to $2.90.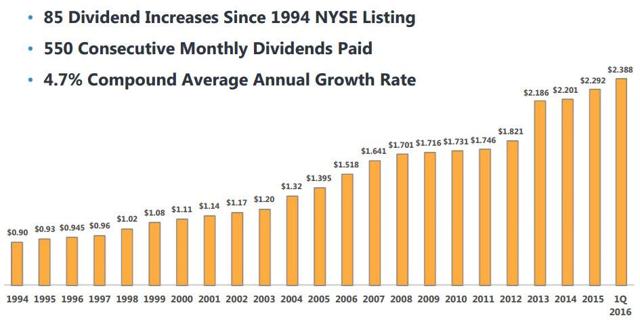 Click to enlarge
Also, remember that over the last 12 months, Realty Income's dividend has been raised five times for a total of 5% (the company has raised its dividend 85 times since the IPO in 1994).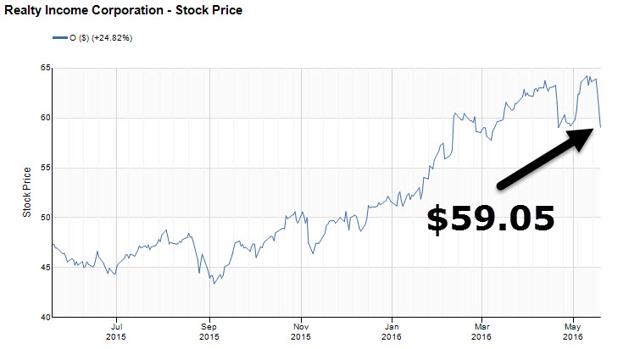 Click to enlarge
The current share price of $59.05 is not a bad entry price; however, I would recommend a tapered strategy. I would not try to overthink this and as I have suggested in the past, I see no catalyst to support shorting the stock. The only catalysts that the pundits preach is an interest rate reaction, and if you are buying that argument, call yourself a market timer.
A powerful brand is one of the most recognizable economic moats. While it's considered to be an intangible asset, it is possible to measure brand value in dollar terms. As I said earlier, I will save the Trump brand for my upcoming book, reducing the mysteries to math.
In terms of Realty Income, there is absolutely no mystery. Mr. Market is a leading brand expert as he has been consistently telling us that the "monthly dividend company" is a blue chip REIT with a wide moat model of repeatability. As Warren Buffett reminds us:
Your premium brand had better be delivering something special, or it's not going to get the business.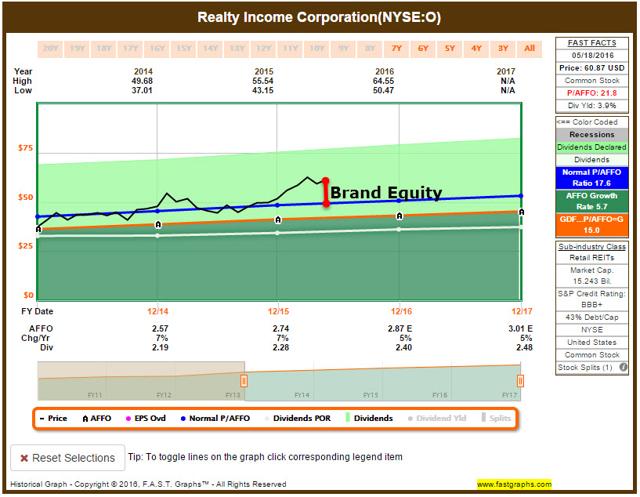 Click to enlarge
Follow me on Seeking Alpha HERE.
Author's Note: I'm a Wall Street writer, and that means that I am not always right with my predictions or recommendations. That also applies to my grammar. Please excuse any typos, and I assure you that I will do my best to correct any errors if they are overlooked.
Finally, this article is free, and my sole purpose for writing it is to assist with my research (I am the editor of a newsletter, Forbes Real Estate Investor) while also providing a forum for second-level thinking. If you have not followed me, please take five seconds and click my name above (top of the page).
The only guarantee that I will give you is that I will uncover each and every rock I can, in an effort to find satisfactory investments that "upon thorough analysis promises safety of principal and satisfactory return. Operations not meeting these requirements are speculative." (Ben Graham).
Sources: SNL Financial, FAST Graphs, and Realty Income website.
Disclosure: I am/we are long O, DLR, VTR, HTA , STAG, GPT, ROIC, HCN, OHI, LXP, KIM, WPC, DOC, EXR, MYCC, TCO, SKT, UBA, STWD, CONE, BRX, CLDT, HST, APTS, FPI, CORR, NHI, CCP, CTRE, WPG, KRG, SNR, LADR, HCP, PEB, BXMT, IRM.
I wrote this article myself, and it expresses my own opinions. I am not receiving compensation for it (other than from Seeking Alpha). I have no business relationship with any company whose stock is mentioned in this article.